Apple Cinnamon Oatmeal Porridge
Jump to recipe
Breakfast is the most important meal of the day, and helps in maintaining a healthy lifestyle. Oatmeal is a popular breakfast dish world over. All of us have our own method of making it, and rightly so. I'm  sharing my recipe for those who like me keep looking for variations, and are fellow Apple cinnamon lovers.
While earlier I would use instant Oats a lot (I still do, for certain recipes). I'm veering towards rolled Oats, as the are relatively healthy and retain most of the bran. Oatmeal contains many antioxidants and must become a part of our diet.
The Oatmeal and the Apple cinnamon topping can be made ahead and stored in the fridge for a fuss free breakfast, just to be assembled 5 minutes ahead. Do I hear a "Yes"? Just add in your favourite fruits and enjoy a hearty and healthy breakfast. This recipe can be made vegan by adding plant based milk instead of dairy.
As said earlier, I have used Rolled Oats, one can use Instant ones too. Only the proportion of water varies. Since this is a very easy recipe, I have not gone into step wise picture detailing.
Feel free to ask queries in the comment section, and I shall answer as soon as possible.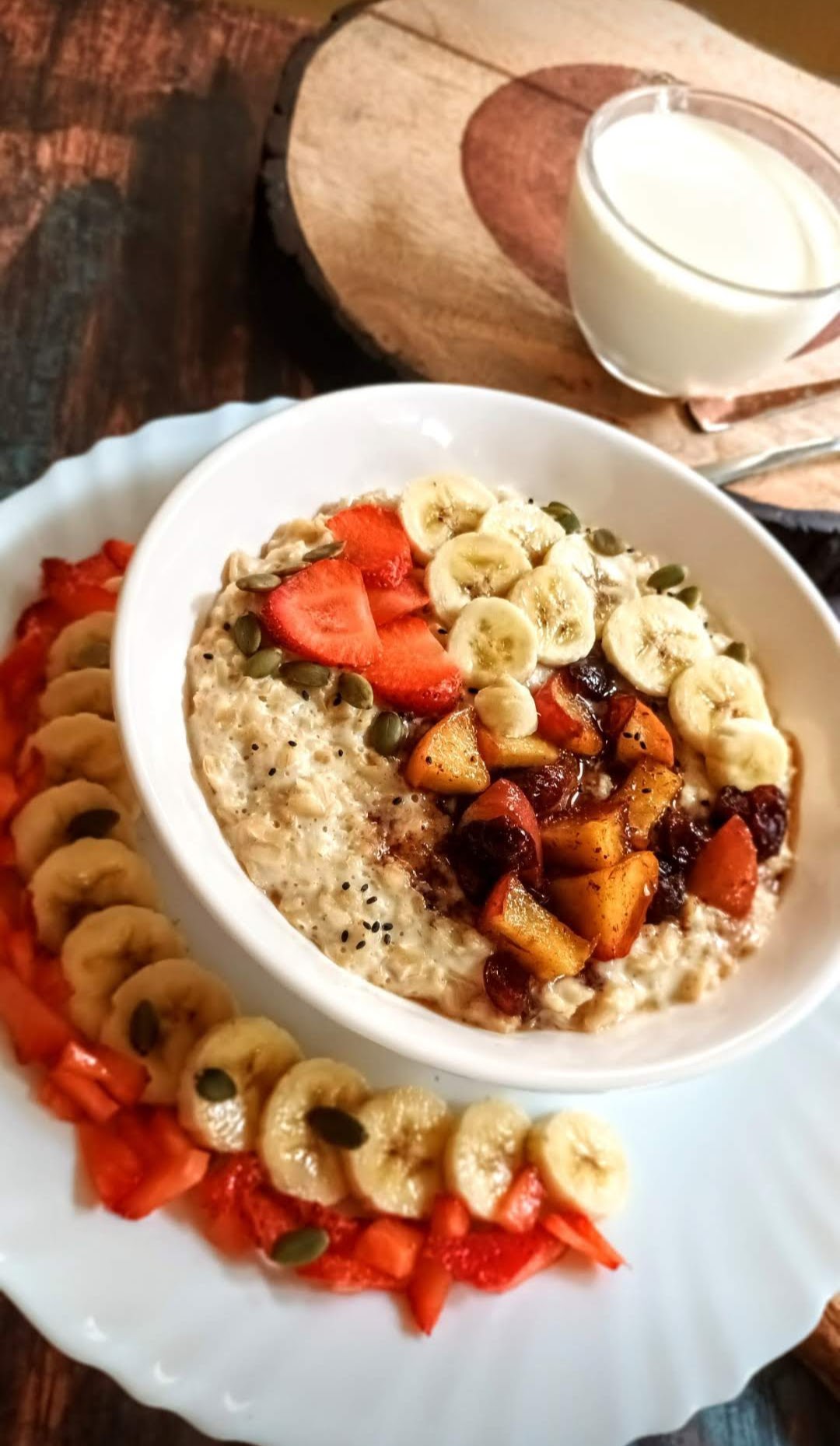 Ingredients
Rolled Oats 1 cup
Milk 2 cups
Water 1/2 cup
Apple 1/2 of 1 whole chopped with skin preferably
Cinnamon powder 1/4 tsp
Brown Sugar/ Jaggery/Honey 1 tbsp
fresh fruits of your choice (I used Banana, strawberry) optional
Nuts/seeds of choice (I used Melon and Chia seeds) optional
Berries of choice ( I used dried cranberries) optional
For Oatmeal Porridge:
In a Pan take the rolled Oats(for instant Oats check Notes), add the milk and water, and put it over the flame. Cook over medium heat for 2 minutes. Thereafter, reduce flame to low and cook for 4-5 minutes until the Oatmeal is completely cooked and soft. Most of the milk will be absorbed at this stage. Stir in 3/4 tbsp of the sweetener(reserve 1/4 tbsp for the Apple), and set aside.
For the Apple Cinnamon Topping:
In a small sauce pan, add the chopped apple, pour 1/4 cup water and cook for 3-4 minutes. The Apples should turn soft, but not mushy. Now add the cinnamon powder, and the remaining sweetener and cook for 2 more minutes. Switch off the flame. Set this aside.
To Assemble:
Transfer the cooked porridge to a bowl, add the apple Cinnamon topping , sprinkle some berries, nuts, seeds, and fresh fruits of your choice and start your day the healthy way. Goes without saying, if the Porridge is too solid, add in more milk to adjust consistency to your preference.
Notes:
If using Instant oats, for 1 cup Oats take I cup milk.
While assembling, if the consistency of the porridge is too thick, add more milk to adjust.
The Porridge can also be cooked in just water, and milk added as required towards the end.
The Porridge and the apple Cinnamon topping can be made the previous night and stored in the fridge in separate containers.
Get yummy recipes delivered to your inbox!
Be the first one to know about our new recipes. Leave your email below and get notified as soon as new recipes are published!