Moong Beans Salad
Jump to recipe
A Salad is an assortment of vegetables and (or) fruits, of which atleast one is raw. A salad is often dressed and served at room temperature. Typically there are five types of salads- Green salad, Fruit salad, Rice and Pasta salads, Bound salads, Dinner salads and dessert salads.
This Moong Bean Salad belongs to the first type, as i have used green and colourful vegetables both. Since this salad is an accompaniment, I have kept it simple and light. This Moong bean salad is made almost everyday in my house.
Though ready made sprouts are available in the market, it is always best to use home sprouted ones and the process is pretty simple. Soak the moon beans for 5 to 6 hours or overnight. The next morning drain all the water and tie them in a cotton cloth and leave them in place that is not very sunny. In humid climate the sprouts grow almost with 12 hours and in colder climes it may take longer. I plan and soak for the week.
While you are here check out the Korean carrot salad recipe. Here is the recipe of Moong bean salad.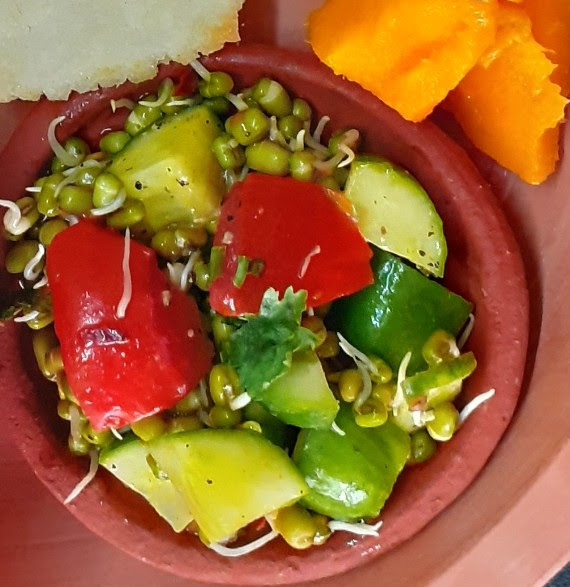 Ingredients
Ingredients
Moong Beans (Soaked, drained and sprouted) 1/2 cup
Cucumber 1 medium diced
Tomato 1 large roughly chopped
Raw Mango ( optional) a tiny portion
Salt as required
Red chilli flakes 2 tsp
Pepper powder 1/2 tsp
Lemon juice of half a lemon
Olive oil 2 tsp
In a bowl Take the diced cucumbers, add the chopped tomatoes and sprouted Moong beans. (raw mango also can be added). Now add salt, red chilli flakes, pepper powder, lemon juice and olive oil. Mix everything well and its ready to serve.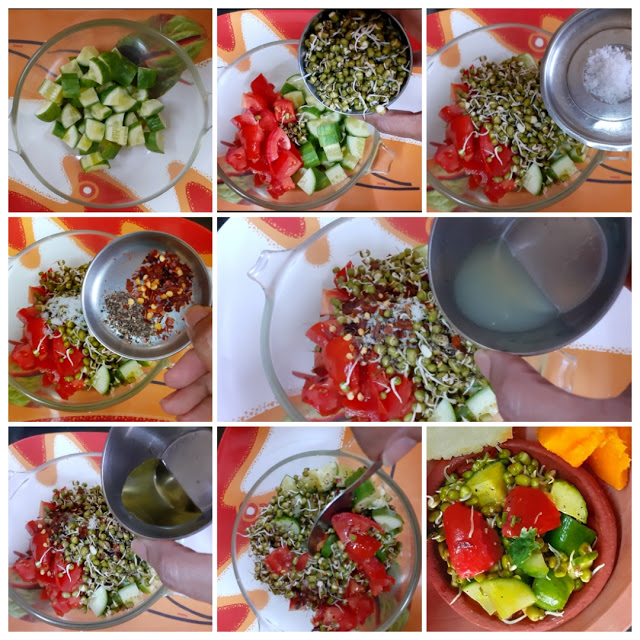 Notes:
The same recipes can be followed with Black eyed beans and Kabuli chana( brown chickpeas), but they to be boiled/cooked ahead.
Ripe mangoes that a firm also give a good taste varition to the salad.
Herbs of your choice can be added too.
Get yummy recipes delivered to your inbox!
Be the first one to know about our new recipes. Leave your email below and get notified as soon as new recipes are published!