Stuffed Mushroom Tikka
Jump to recipe
I have always struggled with cooking Mushrooms in the initial years of my cooking. Every time I made a subji ( side dish), it would run watery and I had almost given up on making the vegetable at home. Then I chanced upon an article on the right way of cooking Mushrooms and I got back to making them again at home, and that too with near perfection. Thereagter, Mushrooms went on to become one of my favourites, and I have quite a few mushroom recipes here.
This recipe is a starter and though a lot of steps are involved, they are pretty simple. Serve it at home to make a simple meal special, or at a party, and you'll have friends asking you the recipe. You can bake, Tava/ grill  roast or deep fry the tikkas. Please check the notes section for some tips and pointers.
While you are here I request you to check out other mushroom recipes like Mushroom DoPyaaza, Mushroom soup, Daliya Mushroom Risotto, here on the blog. Let's get to the recipe right away.
This recipe was first published on 1st July 2020 and was modified on 30th July 2021.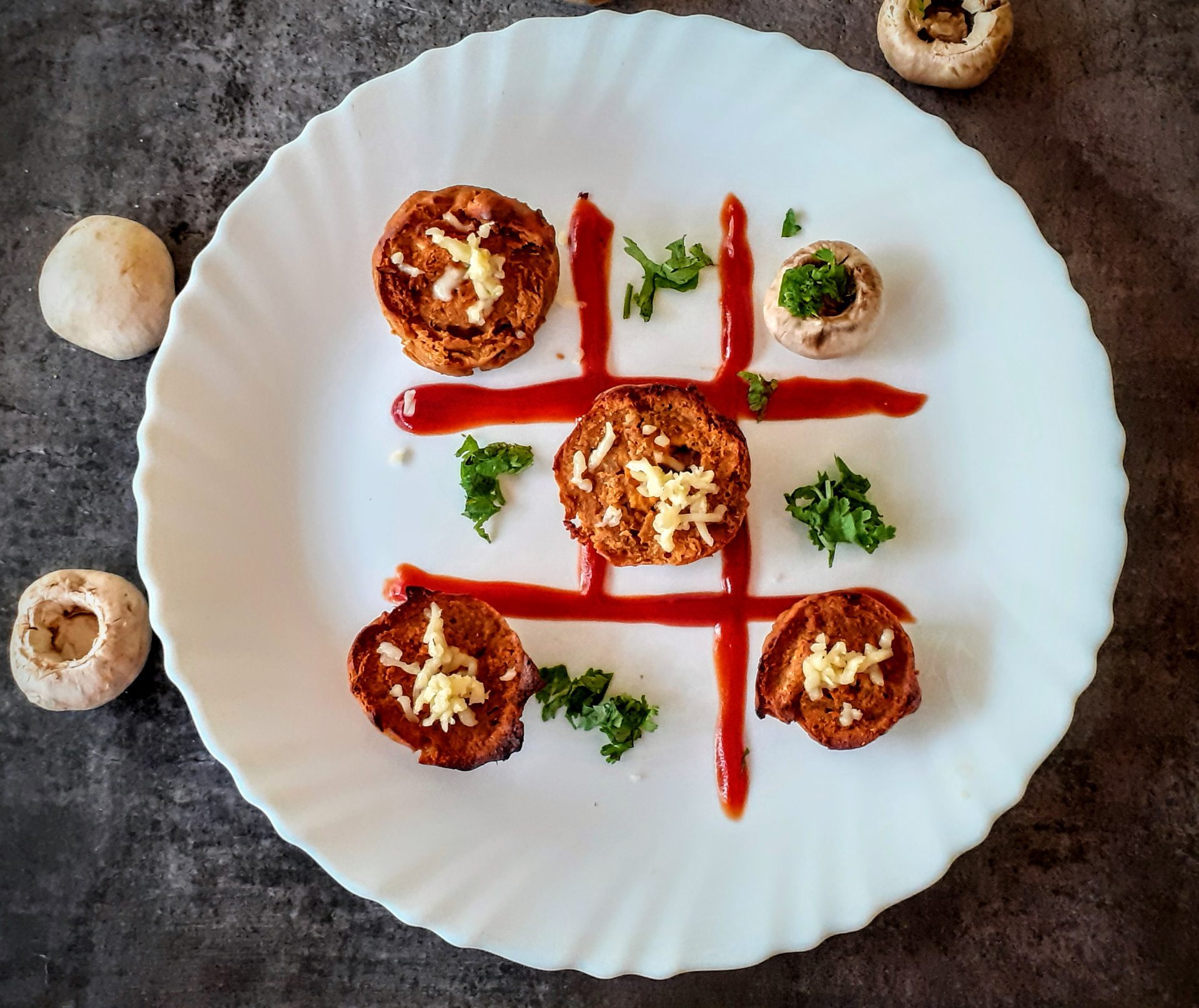 Ingredients
Ingredients
Button Mushrooms 1 packet
Paneer/ cottage cheese 200 gms grated
Gram flour/ Besan 1 cup
Curd 1 cup
Fresh coriander 1tbsp finely chopped
Salt to taste
Red chilli powder 2 tsp( 1 tsp each for filling and tikka mix)
Coriander Powder 2 tsp( 1 tsp each for filling and tikka mix)
Turmeric 1/2 tsp
Chat Masala 1/2 tsp
Garam Masala 1/2 tsp
Green Chilli 2 finely chopped
Mushroom stalks finely chopped
Remove the stalks from the Mushrooms. Set it aside and chop the stalks very finely.

For the filling crumble the paneer. Heat a karahi, pour oil and heat. Put in the green chillies, turmeric, and the mushroom stalks and fry on high heat until mushrooms release water and become dry again. now add the crumbled paneer and all the dry spices, and mix well. Add the finely chopped fresh coriander and put off the stove. allow the mixture to cool.

For the batter take the curd in a dish and add all dry spices mentioned in ingredients, add salt, and mix. Add the gram flour/ Besan little by little until you have a thick batter.

If the batter is too thick,add a tablespoon of water to adjust consistency. Fill the mushroom caps with the filling and set aside. Now coat each mushroom well with the batter. Place them Filling side facing up in a tray.
To bake them preheat oven to 180 degrees, grease a tray and arrange the mushrooms, filling side up and bake at 180 degrees for approximately 30 mins. Midway turn around the mushrooms and continue to bake until they are done. They will turn golden brown.

You can also cook them on a Tava or deep fry them.  I have baked them in a microwave for this recipe.
Mushroom Preparation:
Wash the Mushrooms well under running water and pat them dry with an absorbent towel. Gently break away the stalks from the mushroom. Chop the stalks finely and keep them aside( we will use it for the filling).
Directions for the tikka mix:
In a dish take the curd and add all the dry spices- salt, red chilli powder, coriander powder, garam masala( don't add the chat masala), and mix nicely. Add the gram flour little by little and make a thick batter. Don't add any water the curd will be enough. You can add 1 tsp lemon juice if you like a little sourness, this is totally optional. Don't add the lemon juice if the curd is sour. Keep aside.
Directions for filling:
Crumble the paneer/ Cottage Cheese, or grate it. In a pan take 1 tbsp oil and heat it. To this add turmeric and chopped green chillies and saute. Put in the chopped Mushroom stalks and saute on high flame. The mushroom will release water and dry out again. Now add the crumbled paneer to this and mix. Add salt, red chilli powder, coriander powder, and Chaat masala( mix of cumin powder and black salt. It is available in stores). Saute well. Add the finely chopped coriander and turn off the stove. Allow the mixture to cool.
Overall directions:
Fill the mixture into the mushroom caps. Fill up to the brim and gently press so that they get packed. Coat each mushroom with the prepared batter nicely and arrange on a plate filling side up. If not serving immediately you can refrigerate it and then either bake it, Tava roast it or deep fry it.
If Baking, Preheat oven to 180 degrees,  grease a tray and bake at 180 degrees for 30 minutes. Since microwaves have temperature variations, look out for doneness between 20 to 30 minutes. Arrange mushroom on a baking tray, facing the filling side up. Midway stop and turn over the mushroom to the other side and continue baking. When the mushrooms turn a golden brown and the batter is not raw, the mushrooms are done.
If Tava Roating, drizzle oil on the Tava and heat. Arrange the mushrooms Filling side down. For this method, you should have coated the mushrooms well with the batter. Once a side is done flip it over and cook the other side.
If DEEP FRYING,  take a small quantity of oil in a Karahi and heat it. Drop the mushrooms gently a few at a time, the filling side facing up. In a few seconds gently turn over and cook the other side. Once they are golden in colour, remove from oil and place on kitchen tissues. This method needs the batter to be coated well on the mushrooms or the filling could spill into the oil.  Arrange the Mushrooms In a tray/ plate and decorate with cheese shreddings. sprinkle some chat masala and the Mushroom Tikkas are ready to pop in. Enjoy. Bon Appetit.
Notes:
If the mushrooms are large, it's better so that you can fill them up well.
This recipe is good to prepare ahead and bake or fry just before serving.
In case you prepare it ahead, then keep them refrigerated until half an hour to serve. From the refrigerator, they can directly be popped into the oven.
Serve it as a snack with some green chutney or as a starter with mint curd dip.
Garnish with grated cheese.
Recently I made this again experimenting baking the mushrooms in an OTG. They turned out harder than the Microwave ones. Therefore, I recommend that you either use a microwave for baking or Tave/ Pan  Roast them .
If Chaat Masala is not available use a mix of lemon and Cumin powder.
If you tried this recipe and liked it please comment below. I would love to hear from you.
Gallery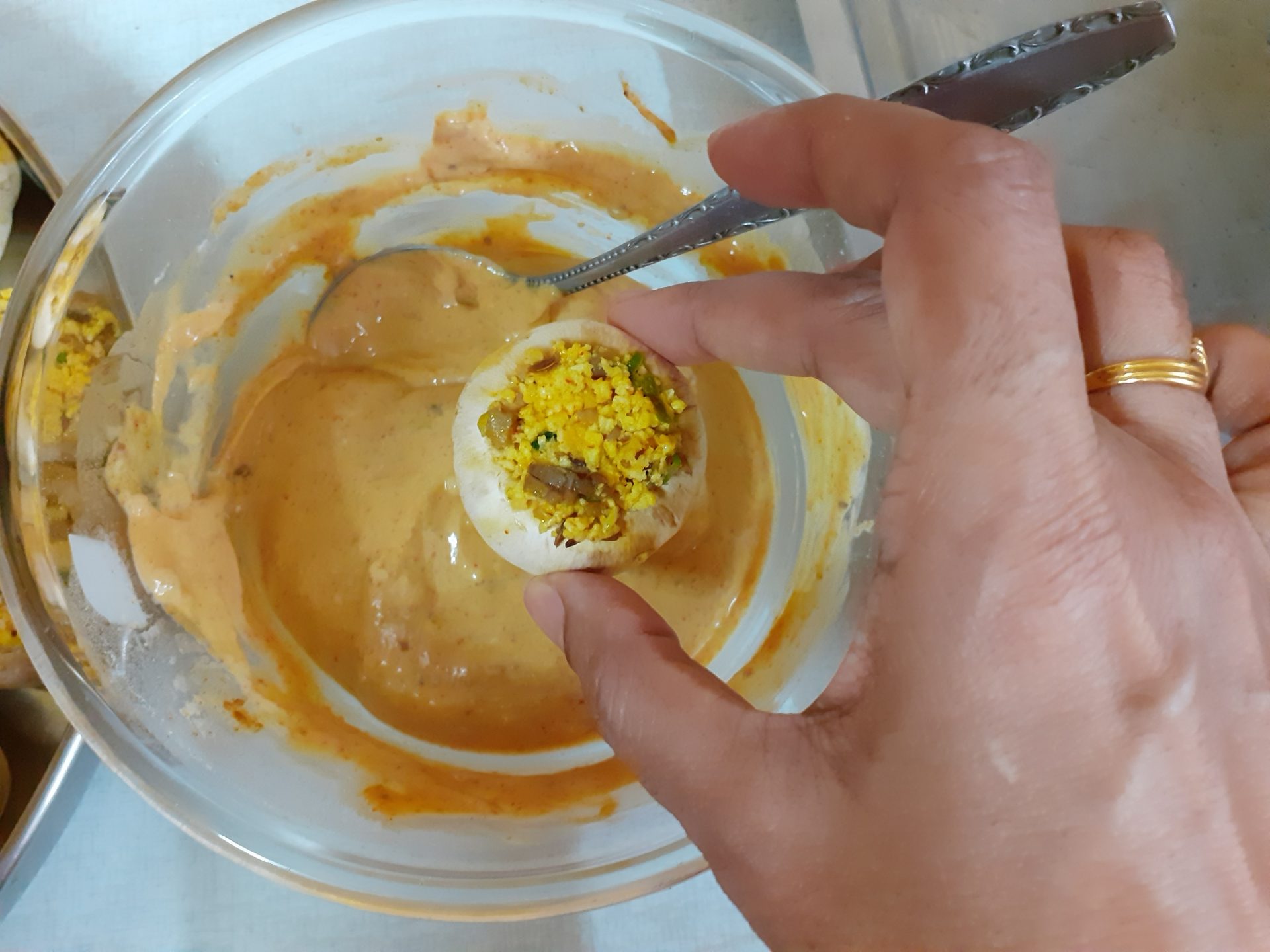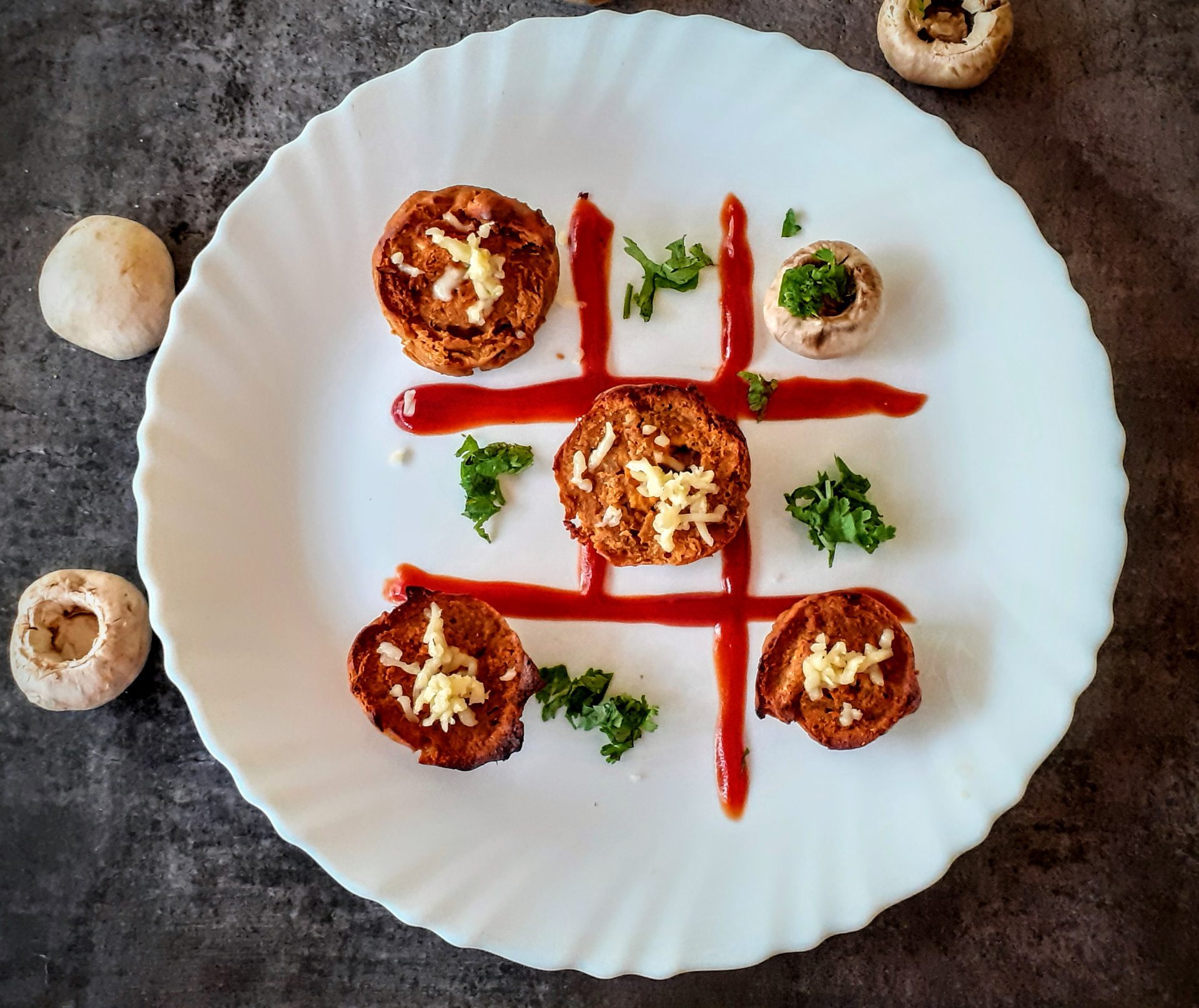 Get yummy recipes delivered to your inbox!
Be the first one to know about our new recipes. Leave your email below and get notified as soon as new recipes are published!