Palak Paneer
Jump to recipe
Palak Paneer is a dish I have relished since childhood, as I love Palak and Paneer both. This dish is popular in North India and is one of the most popular Paneer dishes. It is usually served with Roti, Parathas, and other Indian Bread. It goes really well with Plain Rice, Jeera rice and Pulav too. In this dish, the Palak is pureed and made into a thick gravy with spices and the Paneer pieces are cooked in it. This dish is a great way to add Palak/Spinach to your diet.
Spinach/Palak is loaded with Iron and fibre and the Paneer is rich in proteins and so this makes it a healthy recipe.
Well, there are loads of Palak Paneer recipes that recommend using cashewnuts paste for a thicker or creamier gravy, I feel that this makes the dish heavy. Palak by itself when pureed after blanching has volume, plus the onions and tomatoes sauteed and ground also adds body to the dish, so adding cashew paste is not absolutely necessary, though if one likes the taste of it, then no harm in adding them too. That said it does not make much of a difference to the dish. I usually use a teaspoon of  cream only as a garnish.
Here is the recipe of Palak paneer for you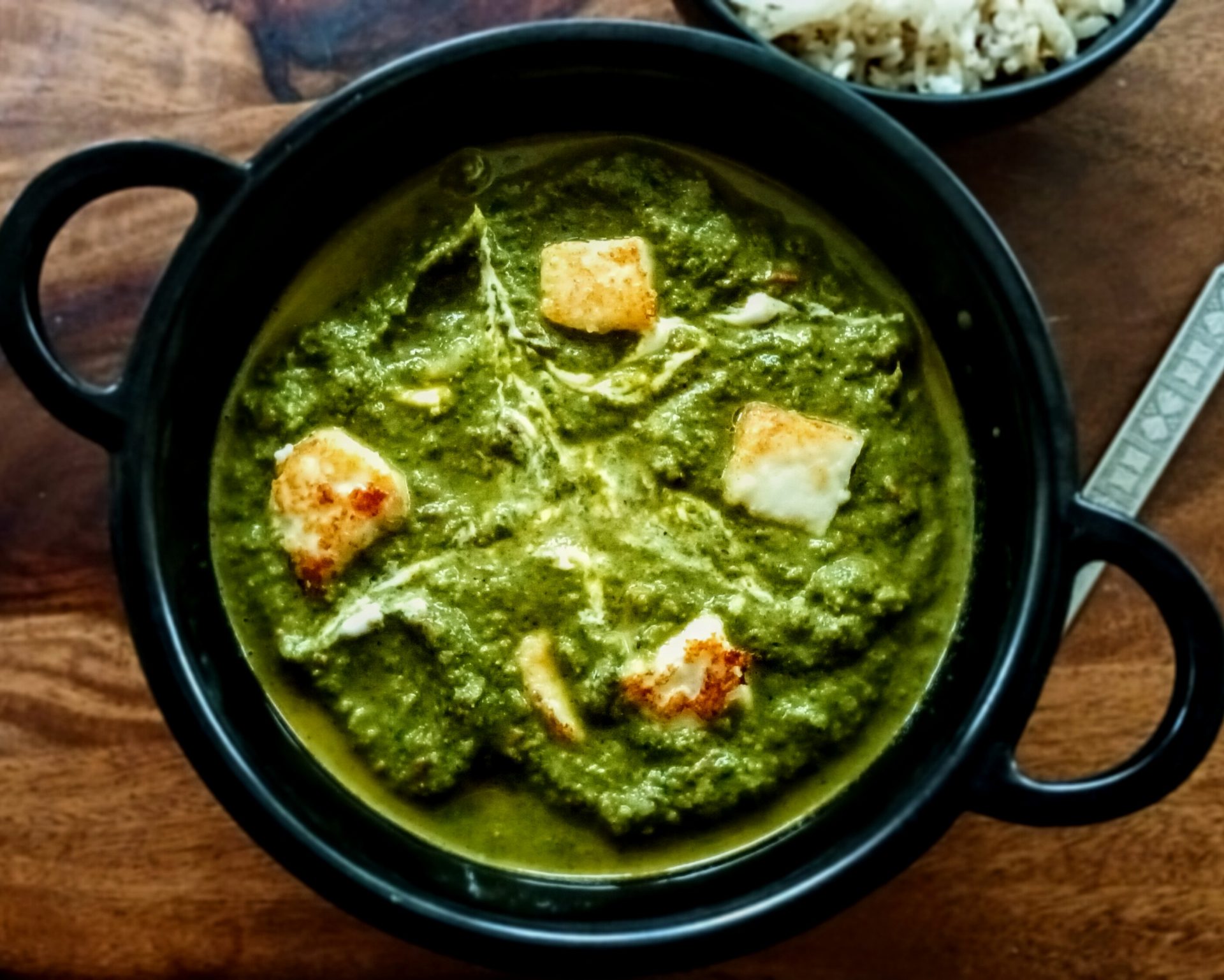 Ingredients
Ingredients
Palak 1 bunch
Paneer 200 gm
Onion 1 large or 2 small
Green chillies 2
Tomato 2 large to medium size
Ginger- garlic paste 1 tsp
Cloves 2
Cumin seeds 1 tsp
Turmeric powder 1/2 tsp
Salt as required
Garam masala powder 1/2 tsp
Coriander powder 2 tsp
Fennel Powder 1 tsp
Red chilli powder 1 ts
Oil for sauteeing
Fresh Cream 1-2 tsp for garnish
Assemble all ingredients. Blanch the Palak, cube the Paneer, chop onion and tomatoes.

Puree the Palak and set aside. In a karahi take oil and heat. Put in the cloves and cumin seeds, and as the cumin splutters add turmeric powder followed by onions and sauté for a minute. Add the green chillies and sauté for 30 seconds and now add the tomatoes and sauté until mushy. Cool and grind to a purée, along with 1 tsp ginger garlic paste.

In the same karahi take 2 tsp oil and heat. Now add the cumin seeds and pour in the tomato and onion paste and fry nicely in the oil.

Now pour the Palak purée and stir nicely. Add the salt, red chilli powder, coriander powder, fennel powder and stir. Cook on medium flame until combined, approximately 4 minutes.

Now add the cubed Paneer pieces to the gravy and cook covered for 2 minutes. Finally, add garam masala powder and turn off the flame. The delicious Palak Paneer is ready.

Chop the Palak roughly and blanch them, I usually put them in the microwave for 2 mins. Alternately just put them in boiling water for 5 minutes. Drain the water and pour cold water over the Palak, this helps in keeping the green colour intact. Puree the Palak and keep ready.
Now in a karahi pour some oil and heat. Add 2 cloves followed by Cumin seeds and drop in the chopped onions. Saute for a minute, add the green chillies and continue to saute for 30 seconds, finally add the tomatoes and cook until the tomatoes turn mushy. Cool them. Now blend the onion-tomato mixture to a puree. In the same karahi take another 2 tsp of oil and heat.  Add the cumin seeds followed by turmeric powder and pour the onion-tomato mixture. Fry it nicely in the oil,  now add the Palak puree and stir. Cook for about 3 minutes on medium flame and add salt, followed by coriander powder, red chilli powder, fennel powder and continue to cook. Be careful as the palak splutters a lot while cooking, you can keep the karahi partially covered.  After about 3-4 minutes of cooking the Palak and tomato mixture will come together, at that stage add the cubed paneer and cook for another 2 minutes on medium flame so that the Paneer absorbs the masala. The delicious Palak Paneer is ready to serve.
Serving suggestions: with Rotis, Parathas, Kulcha, with rice varieties like Jeera rice, Mayar Pulav,
Flavoured rice, vegetable pilaf etc;
Notes:
Blanching ( putting the Palak in hot water) is a critical step followed by dipping it in cold water.
I don't usually fry the paneer before adding it to a subji or gravy unless the recipe demands it. While you are readying the gravy just put the cubed paneer in fresh water until it's time to put it in the gravy. It will absorb the flavours better.
Don't overcook the Palak, it loses its colour and taste.
If you tried this recipe and liked it please comment below. I would love to hear from you.
In case you wish to receive recipes as email, please leave your id in the homepage near the mail icon. Whenever Rajjo's Kitchen has a new post the recipe will be mailed to you. Your privacy is important to us and we will not share your id with anyone.
Gallery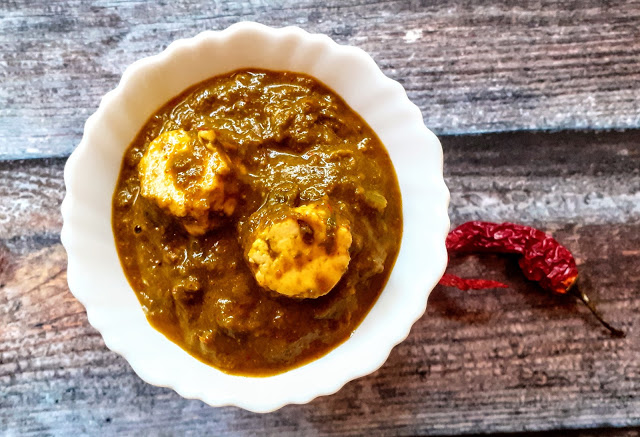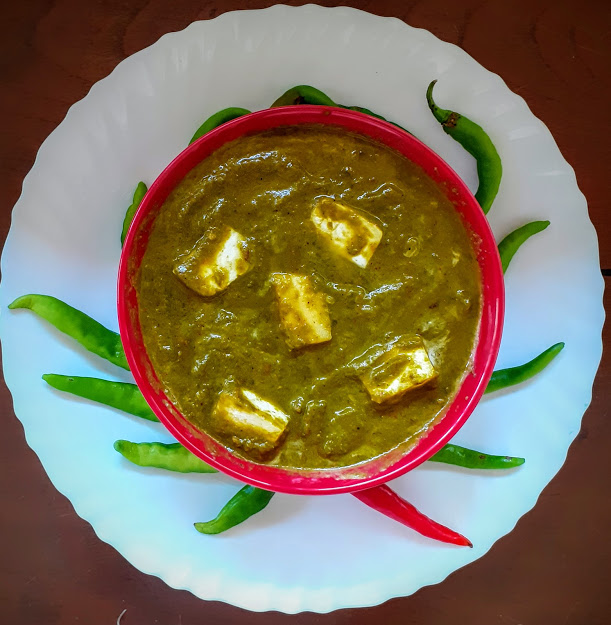 Get yummy recipes delivered to your inbox!
Be the first one to know about our new recipes. Leave your email below and get notified as soon as new recipes are published!