Flavoured Rice
Jump to recipe
On days that  I'm bored ofcooking Jeera (Cumin) Rice, I instantly switch to making this quick rice recipe. High on flavour and low on spice, because of which it becomes ideal to go with spicy and gravy dishes or even a simple dal. The use of whole spices in this rice makes the whole house so fragrant, the rice soaks up all those flavours too. I have also used a variety of dry fruits and nuts like Walnuts, Pistachios and Sultanas to make it healthy and delicious. This time I wanted to add dried Creanberries, only to realise I had run out of stock. The Sultanas and berries are like little surprise packs in the dish.
This dish is an adaptation of a similar rice dish that one of my dear Jammu friend makes, whenever she makes Rajma. The Rajma recipe on the blog is also one I learnt from her many years ago, which has undergone a little modification during this time. In this Flavoured rice recipe, my twist to the original one is adding Caramelized onions, and believe me these are a game changer.
Since dehydrated caramelized onions are now available in the market, one can use that also instead of going through the whole process of caramelizing them.
This is a  very simple yet flavourful rice. You can make it on the days when you want no masalas. Since there are no pungent spices this Rice goes well with a lot of accompaniments like dal fry, Raita, Rajma, Choley and more. Flavoured rice and simple dal fry make for soul food. Let's get to the recipe right away.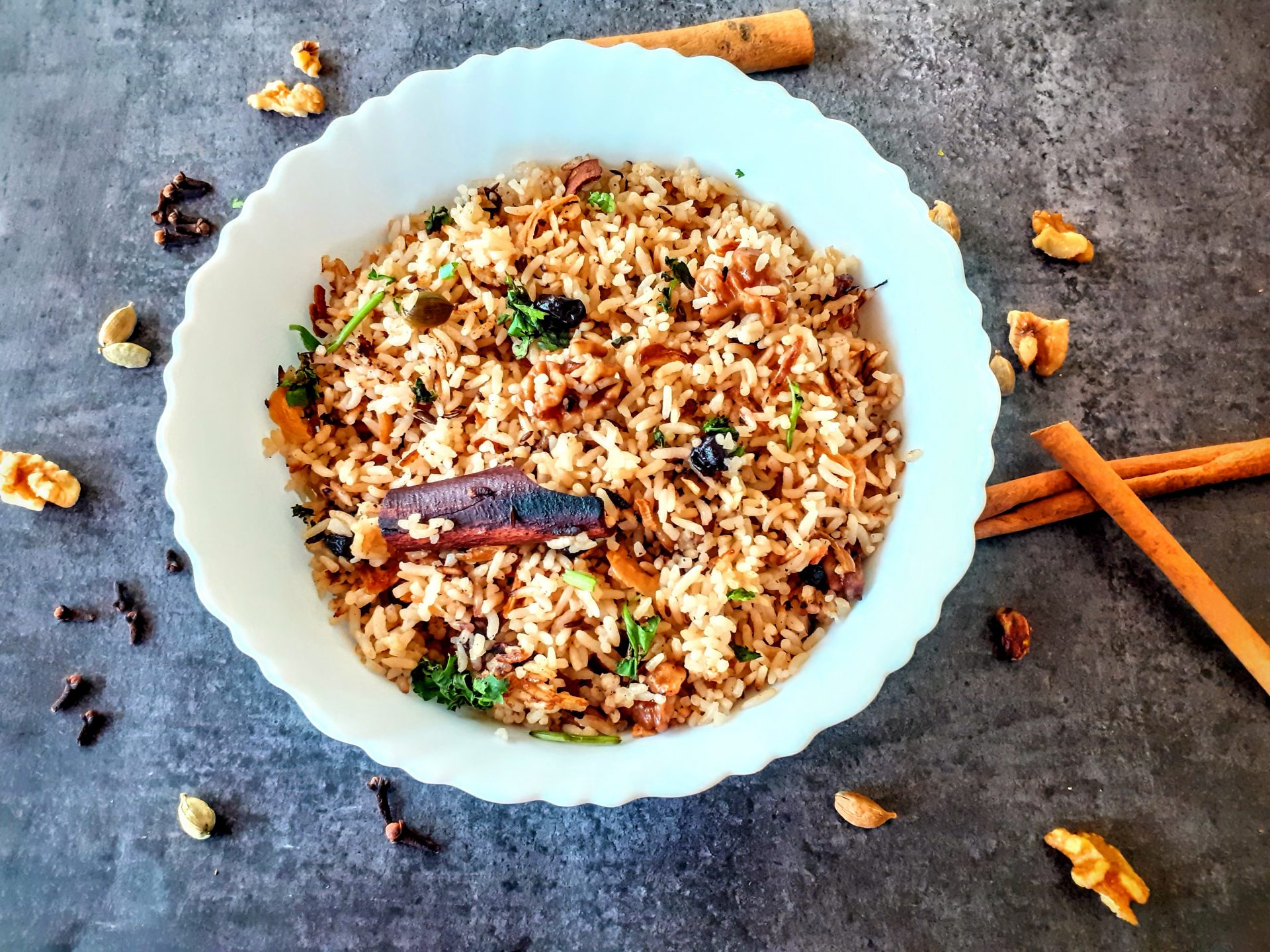 Ingredients
Ingredients
Basmathi rice 1 cup
Raisins( preferably black) around 10
Cashewnuts around 6 to 8
Walnuts( broken)around  6 to 8
Almonds around 5
Cloves 5
Cinnamon 1 inch stick
Milk 1/4 cup or Coconut Milk
Saffron 2 pinches
Ghee 2 tbsp
Onion 1 medium cut to thin slices
Assemble all ingredients. Soak the Basmathi rice for 15 minutes and drain water.

Heat the ghee in a karahi and add the nuts and raisins and fry. Remove when lightly browned. Add in the onion to the same ghee and fry them until they are well browned. Remove onions and set aside.

Add a little oil to the karahi and drop the whole masalas into it when hot. Fry until aromatic, add two cups water, the saffron soaked milk, fried nuts and salt and bring the water to a boil.

As it boils, transfer the soaked rice and mix well. Cover and cook for few minutes, stir in between and cover and cook again until done. Takes about 15 minutes for the rice to cook on low fire. The water should have evaporated completely.

Once done, put off the stove and add the browned onions, mix nicely and the flavoured rice is ready to serve.

Soak the rice for 15 minutes, drain water and set aside. In a Karahi take ghee and heat. Add the dry nuts and raisins and fry until the nuts are light brown. Remove the nuts from the oil and add in the onion slices and fry until nicely browned. Remove them and set aside. Add little oil to the karahi and put in the whole masalas, fry until aromatic. Add 2 cups water and the milk along with saffron, add some salt and the dry fruits and boil. When it starts boiling transfer the soaked rice, cover and cook, keep stirring every now and then and cover and cook again until the rice is done. Takes about 15 minutes on low fire. Once done, put off the stove, add in the browned onions and mix well. Flavoured rice is ready to serve. Enjoy. Bone Appetite.
Notes:
Other whole masalas like cardamom,  peppercorns, fennel, cumin etc have not been added on purpose, as then the Pulav taste will come in. This rice has a very subtle flavour.
Saffron is optional, but if added gives a good flavour to the dish.
Cook rice on low fire, as high heat cooking will evaporate the water fast and the rice won't cook well and may remain raw.
Water to cook rice can be adjusted as per your preference, rice must have cooked through, but not mushy.
I have numbered a few pictures to avoid confusion in steps.
I have modified the recipe a little, since I first made it. I'm not making changes in the ingredients. When i blogged this first I used only Cinnamon and cloves. However, I found that adding Cardamon, and Mace(Javithri) takes the dish to a completely different level. Also this time I used Coconut milk. The main picture shows the modified recipe. Whereas the other picture in the gallery is the original, without cardamom,and Javithri.
If you made this recipe and liked it, please do comment below. I would love to hear from you.
Gallery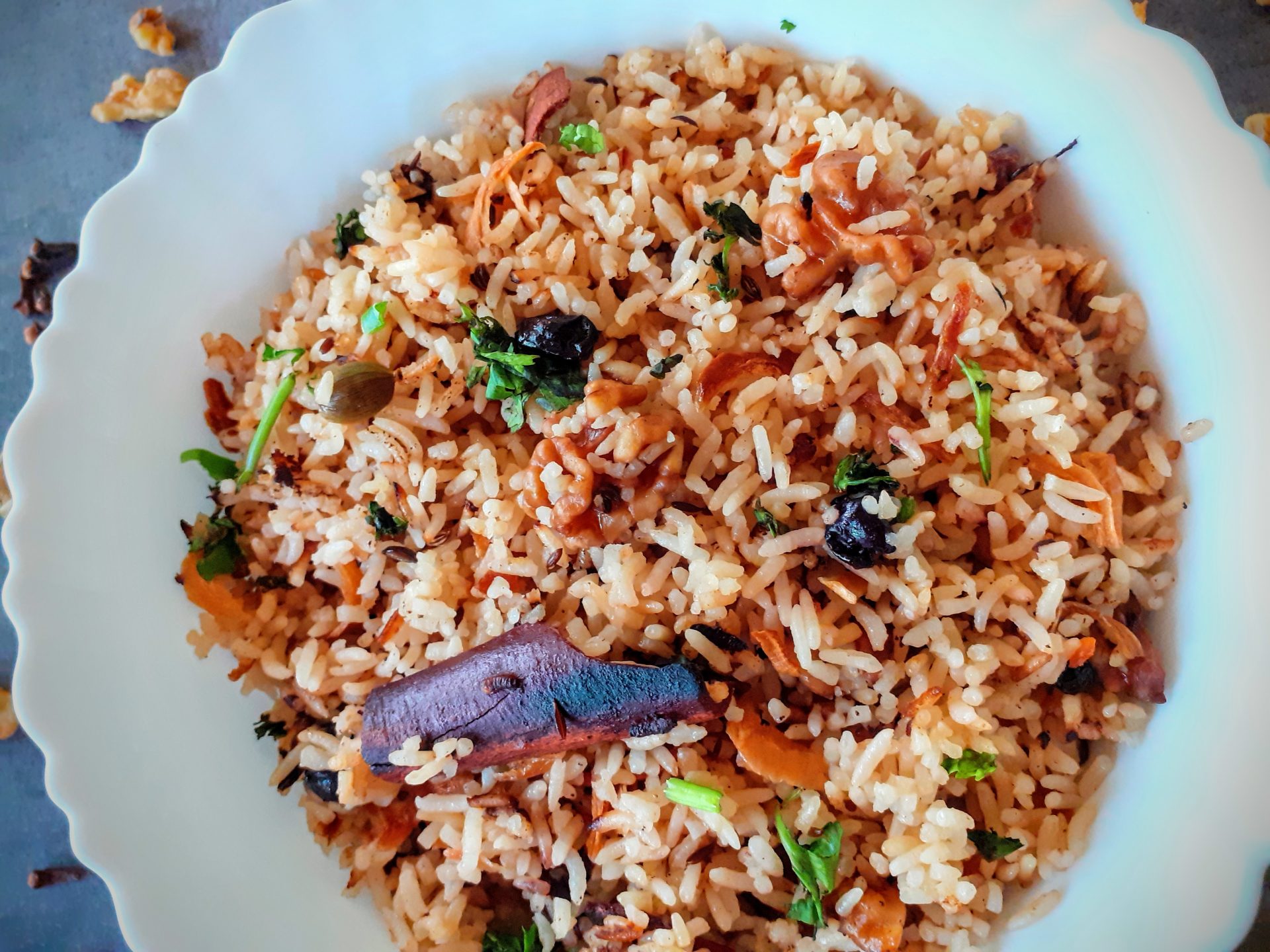 Get yummy recipes delivered to your inbox!
Be the first one to know about our new recipes. Leave your email below and get notified as soon as new recipes are published!