Rajma (Kidney Beans) Masala
Jump to recipe
This is a simple dish from North India in which Kidney Beans/Rajma are cooked and simmered in a flavourful tomato sauce. This dish is a hit with everyone whenever I serve it at home and also when I make it for friends. I learnt this recipe from a Kashmiri friend around 18 years back and have cooked it the same way since then.
I usually use finely chopped tomatoes, but in this recipe, I have used tomato puree. This recipe goes very well with Rice varieties like Jeera Rice, Matar Pulao, Flavoured rice, Ghee rice, Masala Rice and with Rotis, Chapatis and Naan too.
Let's get to the recipe right away.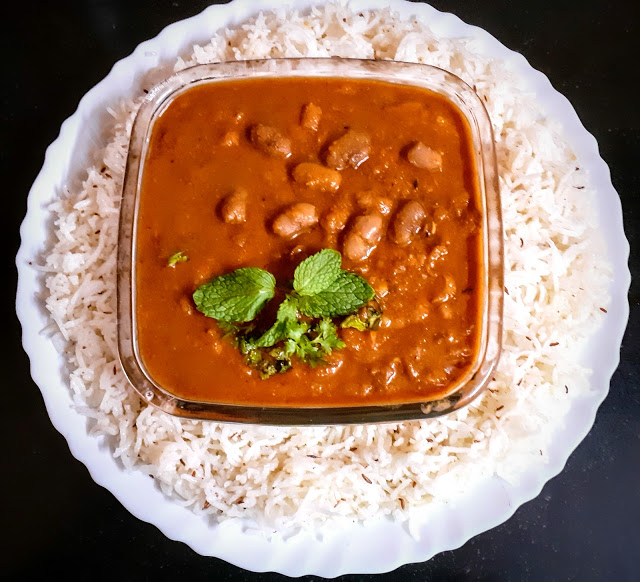 Ingredients
Ingredients
Rajma (kidney beans) 200 gm approx soaked overnight
Onion 1 large or 2 small chopped
Tomatoes 2 large pureed ( if store-bought 1 cup)
Cinnamon 1 inch stick
Cumin seeds 2 tsp
Green chilli 1
Ginger – Garlic paste 1 tsp
Coriander powder 2 tsp
Fennel powder 1 tsp
Red chilli 2 tsp
Turmeric powder 1/2 tsp
Garam Masala 1 tsp
Coriander leaves 2 tsp finely chopped
Oil  1 tbsp
Assemble all ingredients. Soak Rajma overnight and pressure cook for 8 whistles and keep ready.

Put the chopped onions, green chillies and 1 tsp cumin in a blender and grind to a fine paste.

Pour some oil in a pan/karahi and heat. Add 1 tsp cumin seeds and as they splutter add in the onion paste, Fry for 2 mins and add the turmeric powder and ginger-garlic paste. Fry until the mixture turns light brown.

Now add the tomato puree, stir and cook for a minute. Add all the dry spice powders except Garam masala powder and cook the mixture on a medium flame for 2 minutes.

Squish the cooked Rajma very lightly(with the back of a ladle just once)and add the Rajma along with the water(in which it cooked) to the onion tomato paste.

Stir nicely add 1 to 1.5 cups water and salt and allow it to boil on a medium flame for 5-7 minutes. The gravy will come together. Don't dry it up too much. The gravy should neither be too watery nor too dry. Add the garam masala at this stage and put off the stove. The Rajma masala is ready to serve. Garnish with finely chopped coriander leaves or mint leaves and serve with any of the rice varieties or with Roti, Chapati, Naan etc.

Soak the Rajma overnight. Put it in a pressure cooker along with a stick of Cinnamon and cook for 8 whistles on medium flame. Now put the onions, green chilli and cumin seeds in a blender and blend smooth. In a pan or karahi heat the oil. Add 1 tsp cumin seeds and as it splutters, add in the onion paste and fry, add the turmeric powder and ginger-garlic paste and continue stirring. Keep frying until it turns light brown. Keep stirring continuously as it can stick to the pan base. Once you get the brown colour pour in the tomato puree and give it a stir. Cook for a minute and add all the dry spices-coriander powder, fennel powder, red chilli powder, stir and cook for 2 minutes. Now lightly mash the cooked Rajma and pour it into the pan along with the water(in which it cooked). Stir well and bring the dal to a boil. Cook for another 7 minutes the gravy will come together. The consistency should neither be too thick nor too watery. Add the Garam Masala powder now and switch off the flame. Garnish with some finely chopped fresh coriander leaves. The yummy Rajma Masala is ready to serve. I served it with Jeera rice. Indian breads go very well with this dish too.
Notes:
If the Rajma is well soaked the cooking time in the pressure cooker will be shorter.
The Rajma splitting in the pressure cooker is a good sign, it means it has cooked through completely and there are no undercooked ones.
After pressure cooking always crush one Rajma between your index and thumb finger and check. It should crush easily. If you are having to put pressure, then put it back in the cooker again and cook for a few more whistles.
There are many varieties of Rajma, this recipe can be followed with all.
If using chopped tomatoes, then chop them really fine and add them in step 4 as mentioned, but cook them longer. You may also have to add little water to cook the tomatoes, as they should turn mushy for a nice gravy.
Alternately while cooking the tomatoes keep mashing them with a masher simultaneously.
If you tried this recipe and liked it please do comment below. I would love to hear from you.
Gallery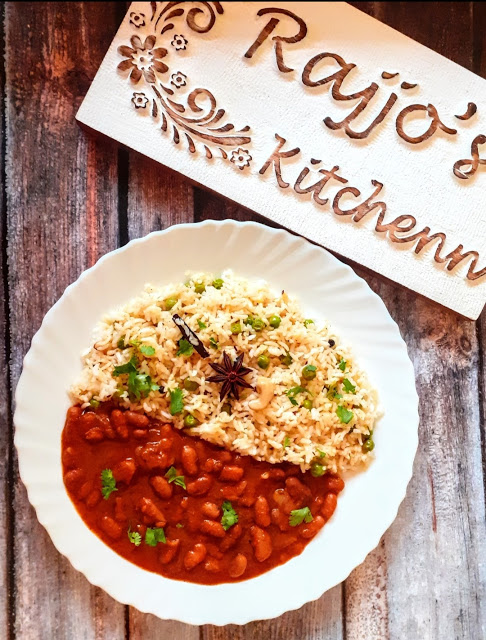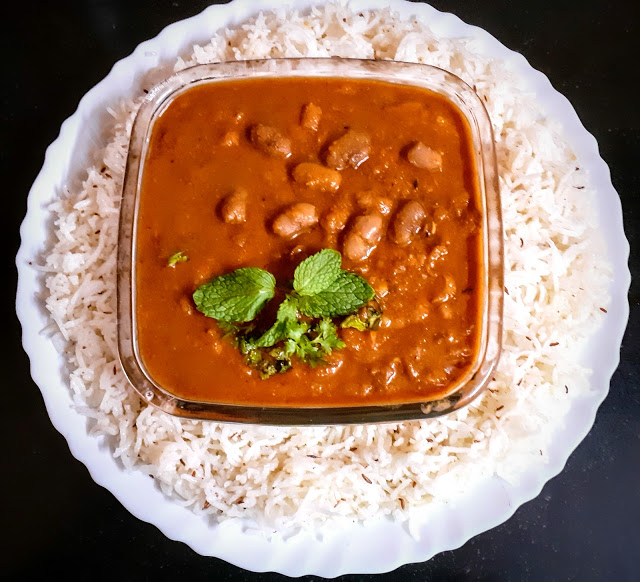 Get yummy recipes delivered to your inbox!
Be the first one to know about our new recipes. Leave your email below and get notified as soon as new recipes are published!