Coriander Seeds Chutney ( Bloating remedy)
Jump to recipe
A Chutney is a savory, Sweet or spicy condiment, made usually from,fruits, Vegetables, nuts or herbs. It is usually served along side a snack . It is also served with dishes such as Idli, Dosas and Uthappam in South India, In north India it is part of a regular meal, In western India sweet Chutney made from raw fruits like Mango are popular, east of India also has its version of sweet chutneys made with raw mango, Olives etc which is served with papad( lentil fritters).
This Coriander seeds chutney Is a special and unique one. Coriander seeds have a lot of benefits, and aiding digestion is one of them. Bloating is a common problem during summers. And this Coriander seeds chutney works like magic. I learnt this recipe from my Mother in law,  who would make it atleast once a week in summers. This chutney pairs well with Idli, Dosa, Uthappam and Kuzhi Paniyaram, but tastes divine with Curd Rice.
Coriander Seeds Benefits-
Coriander Seeds are known to increase metabolism, and hence aid in digestion.  Coriander seeds are rich in Vitamin K which helps blood to clot. It also increases immunity and aids brain health. It contains dietary fibre and is an all in one solution for most gastric/ Intestinal issues.
Tips to make this chutney right, and bring out the benefits of Coriander to the fullest –
This chutney uses minimum and everyday ingredients like coriander seeds, dry whole red chillies, tamarind and a bit of jaggery . The Coriander seeds are the key ingredients. Since we are using this chutney as a preventive, and a cure to bloating it is important to roast/ fry the coriander seeds over a pan. The frying process is important. The seeds have to be fries over a low heat, stirring constantly. Frying  them until almost a brownish- black colour is achieved  and yet the seeds shouldn't be burnt or charred. Once the seeds are roasted, they have to be soaked in water for 30 minutes for easy grinding. Then drain the water, and all ingredients along with a little salt go into the blender, to make a fine paste. The chutney is ready, and no tempering is needed for this chutney.
While you are here check out more recipes like Brahmi Leaves Chutney, Raw Tomato Chutney, Soya Chunks Fried Rice, Stuffed Kuzhi Paniyaram, and more.
Watch the video in the Notes section for the Making of Coriander seeds chutney.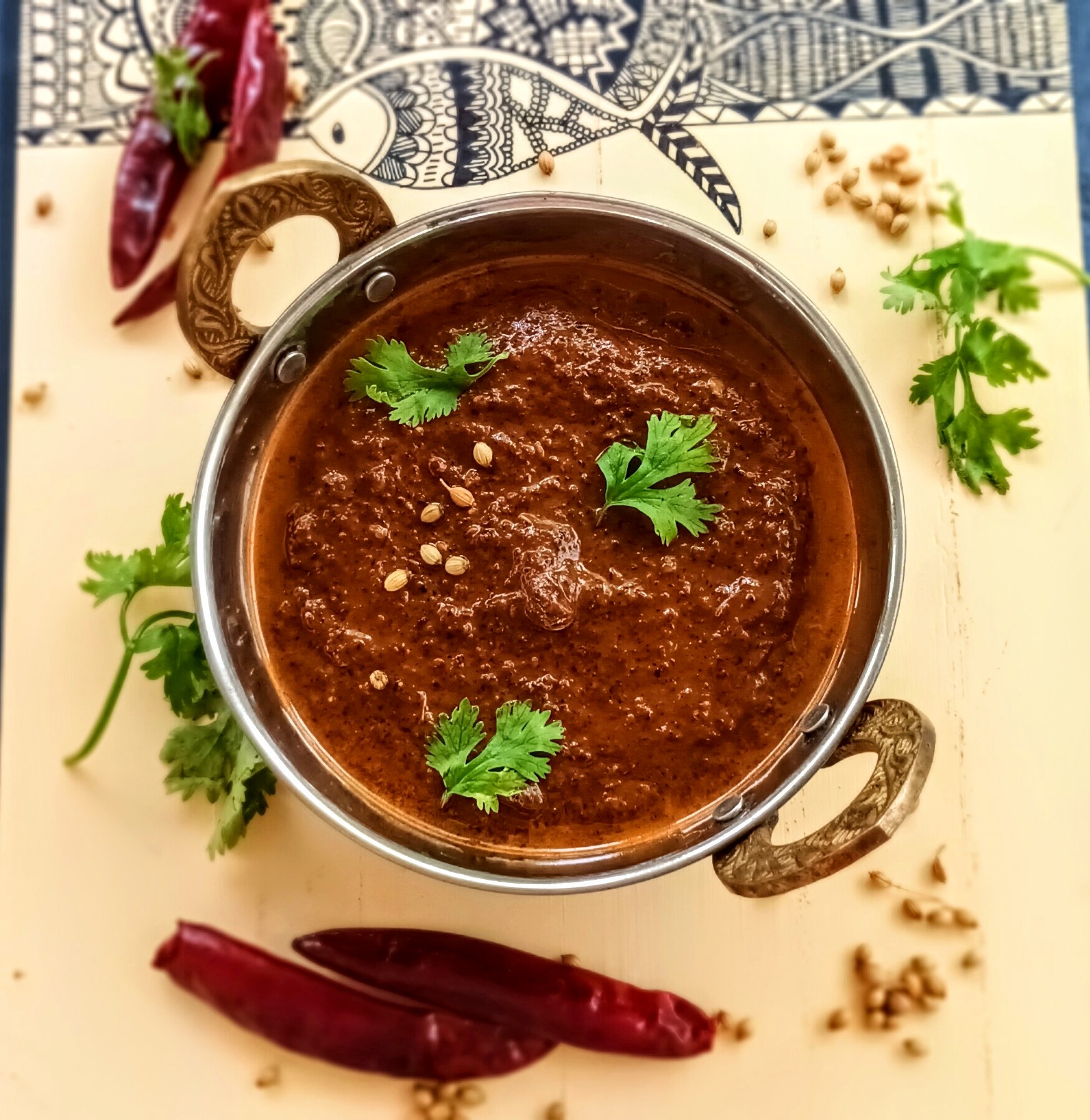 Ingredients
Coriander Seeds 1 cup
Dry whole red chillies 7 – 8
Tamarind goose Berry sized
Asafoetida 1/2 tsp
Salt as required
Jaggery 1 – 1.5 tsp
Oil for frying the coriander seeds 1/2 tbsp
Take oil in a pan and fry the Coriander seeds over a low flame. Watch video in "Notes" section to see the frying stages. Keep stirring constantly. Fry the seeds until almost brownish- black, but don't burn them .
Next add the whole dry Red chillies to the fried Coriander seeds, followed by Asafoetida and tamarind. Fry for 20 seconds.
Pour 1/2 cup water and soak the contents for 30 minutes.
Transfer then all into a blender, add salt and blend to a fine paste. Add more water if required to blend.
Finally, add the Jaggery and blend again. Serve with Curd Rice or with Idli, Dosa, Uthappam.
Notes:
Since we are using this chutney as a remedy for bloating, the Coriander seeds should be roasted/ fried well to bring out its benefits to full potential.
3 stages of frying the seeds has been showed in video. Do follow the same.
Adjust spices as per your liking .
Video of Making of Coriander Chutney for Bloating and indigestion
Gallery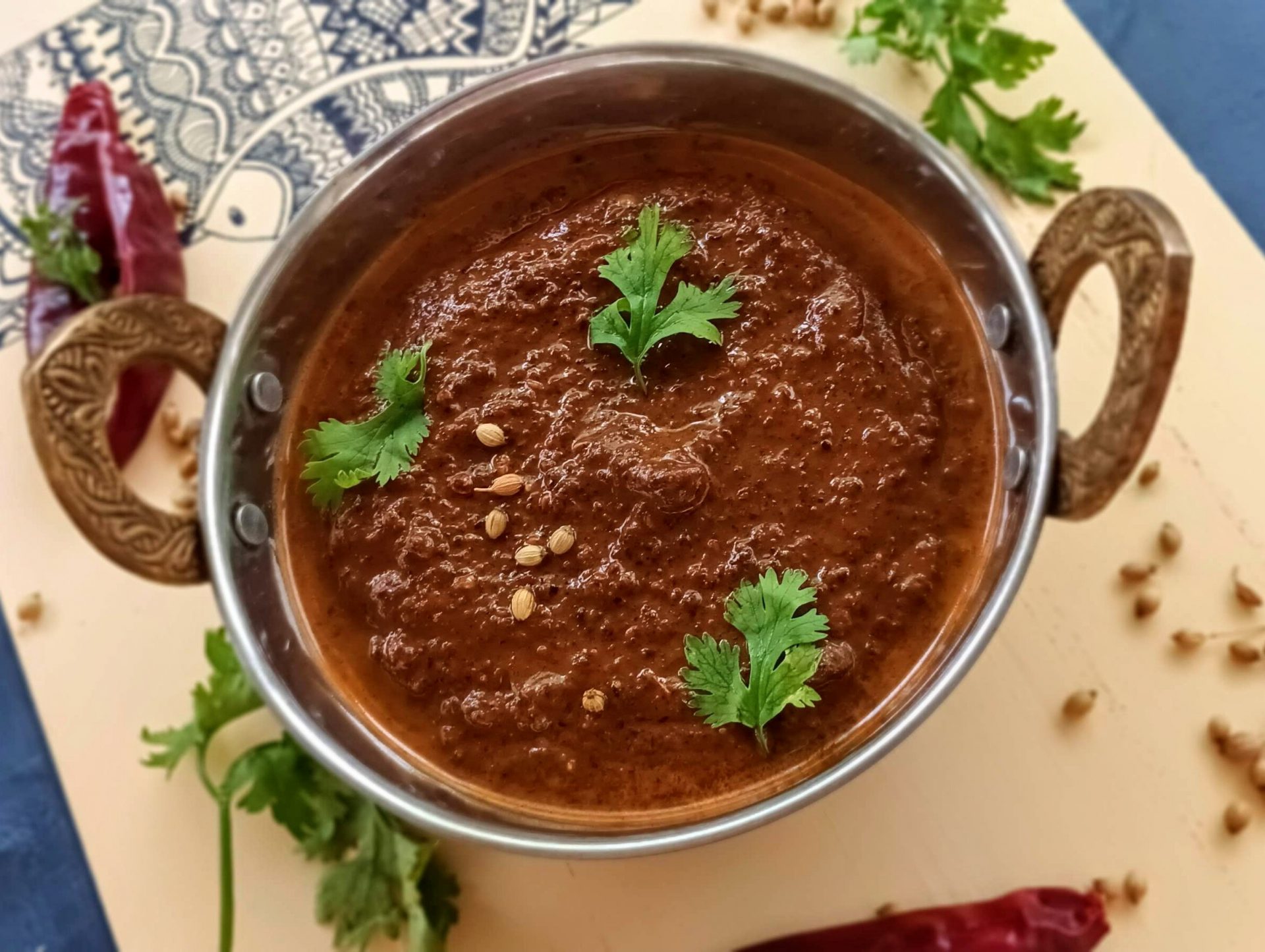 Get yummy recipes delivered to your inbox!
Be the first one to know about our new recipes. Leave your email below and get notified as soon as new recipes are published!