Schezwan Fried Rice (Soya Chunks)
Jump to recipe
Schezwan fried rice is an Indo Chinese recipe and is similar to Chinese Fried Rice. Schezwan Sauce imparts a lovely flavour to this dish.
Well, I had this dish a couple of years ago at a Chinese Restaurant near our house, where they served amazing Indo Chinese food. It was our monthly haunt and their flavours were so rustic.  I loved their Phad Thai Noodles and can still remember the flavour when I think of it. But for some reason, this jaunt shutdown and we( my daughter and I) were so disappointed. This is what prompted me to learn this recipe.
Well for years I made it using store-bought Schezwan sauce and one day I  thought why not give the Sauce a try. Well, it turned out so amazing and it's the simplest thing to make. Once you taste this you'll never go back to the store ones again.
What's more, this Schezwan Sauce(for recipe click here) can be used for stir fry vegetables too. I have used Chinese five-spice powder, which I made at home too. So this dish is an out and out "from the scratch" dish.
I have used regular rice and not Basmathi. I feel that Chinese flavours and Basmathi do not go well. Instead of regular rice Jasmine rice can be used too. In this recipe I have used Soya chunks majorly and little vegetables. Soya bean is high in fibre and protein. In all, it makes this dish a"meal in a bowl" sort where you don't need to make anything else to go with. If the Schezwan Sauce is ready this dish can get done in 15 minutes excluding the rice cooking time.
On a lazy day, this is a good option as once the rice is cooked(which you can put in a cooker for 3 whistles if using pot in pot method or separately too), just stir fry the veggies, is the sauce and add the rice and it's done. The Schezwan sauce once made stays good for 10 to 12 days in a refrigerator, so can be made ahead.
This dish can also be given to kids in the lunch box, and please be sure to send more and all other kids at school are going to demand some????.
While you are here please check out my rice other recipes like Masala Rice, Flavoured Rice, Coconut Rice, Coriander rice, Lemon Rice etc;
Here is the recipe of Schezwan Soya chunks fried rice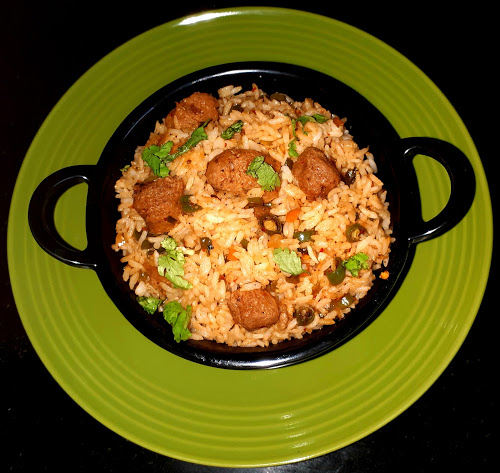 Ingredients
Ingredients
Rice 1 cup
Soya chunks 100 gm or around 15 pcs
Carrot 1/2 of 1 whole finely chopped
Spring onions 1/2 of 1 bunch(onions included) finely chopped
Beans 5 finely chopped
Capsicum 1/2 of 1 whole finely chopped.
Ginger Garlic paste 1 tsp ( or crush fresh ones)
Schezwan sauce 1.5 tbsp
Oil for Sauteeing. Sesame oil/refined oil
Assemble all ingredients. Pre-cook the rice and cool. Make the Schezwan sauce(if making at home).
Take the Soya chunks in a vessel and pour hot water over them and keep covered for 3 minutes. After 3 minutes drain the water and pour cold water over the chunks and let stand until completely cooled. Once cooled squeeze out all water and pour fresh water again and nicely squeeze the water again. Repeat this process 2 to 3 times.

Take oil in a wok/Karahi( I used Sesame oil as it gives a good flavouring) and heat. Add the Spring Onions and saute on high flame for 30 seconds. Add the ginger-garlic paste and saute for another 30 seconds. Now add the Capsicum and saute for 1 minute. The flame should be on high throughout. Add the Soya chunks followed by salt and saute for a minute.

Add the chopped Carrot and Beans and saute for 2 minutes. Now add the Schezwan sauce and stir well. If the mixture is too dry add a tablespoon of water. Now put in the rice little by little and mix it well with the Sauce, such that the sauce evenly coats all the rice. Check for salt and spice and adjust. The delicious Soya Chunk Fried Rice is ready.

Pre-cook the rice. The rice should be nicely done but grainy. So as I say in all my rice recipes, cook and spread out the rice, drizzle some oil over it.
Take water in a saucepan and bring it to a boil. Once the water starts boiling put off the flame and drop the Soya chunks in it and cover for 3 mins. The water should cover all the chunks. After 3 minutes drain the water and cool the soya chunks. Once they cool rinse them in cold water and squeeze out the water. Repeat this process 3 times to remove all processed impurities from the chunks, and set aside.
Now take oil in wok/karahi and heat. Increase the flame to high and drop in the spring onion and saute, after 30 seconds add the ginger garlic paste and fry for 30 seconds. Now add the capsicum and saute for a minute. Sauteing should be on high flame throughout. Now add the soya chunks into the Kadai after squeezing out any remaining water and saute well for 2 minutes. Add salt and put in the chopped carrots and beans and saute for a minute. Now put 1.5 tablespoons of the prepared Schezwan sauce into sauteed vegetable and mix well. Stir fry for 30 seconds. If you find the mixture to be very dry, add 1 tbsp of water and stir. Now add the pre-cooked rice little by little and mix well. Taste and adjust salt and spice. If sensitive to spice use only 1 tbsp of the sauce. Yummy Schezwan fried rice is ready. If using store-bought Sauce add 2 tablespoons. Enjoy the flavours…Bon Appetit.
Serving Suggestions: I served it with stir-fried vegetables in Schezwan sauce. You could do the same or serve it Vegetable Manchurian(gravy), Gobi Manchurian(gravy) or it is so good to have by itself too. It is convenient to pack ina lunch box too.
Notes:
While stir-frying vegetables the flame should always be high and one has to keep stirring constantly to enable even cooking. If cooked on a low flame the vegetable will release water and turn limp.
If using the store-bought Sauce use 2 tbsp. If sensitive to spice use only 1 tbsp of the homemade Schezwan Sauce as the flavour is intense.
Follow the procedure for cooking and cleaning the Soya chunks as they irritate the stomach if not properly rinsed.
If using Schezwan Masala powder sprinkle it after sauteing all vegetables.
For the Schezwan sauce recipe click here.
Tried this recipe? Comment below, send a picture or send your version of it. I would love to hear from you.
Gallery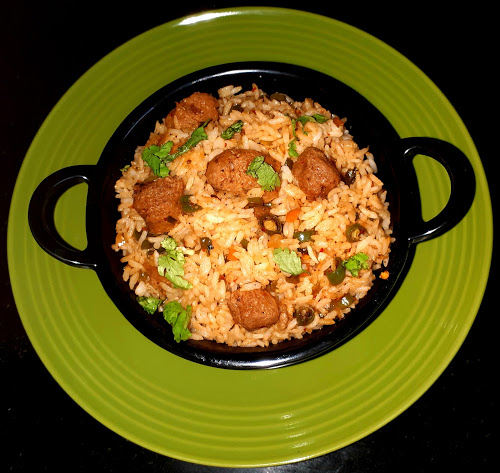 Get yummy recipes delivered to your inbox!
Be the first one to know about our new recipes. Leave your email below and get notified as soon as new recipes are published!