Ragi Cheela/ Finger Millet Crepes
Jump to recipe
A healthy breakfast is a beautiful start to the day. What better than millets to keep you satiated for longer, and lighter on the tummy too. Millets are in fashion now, but have been in our land for ages. Our ancestors used them extensively and then they kind of vanished from the scene owing to "ready to eat meals" revolution and the "instant meal" idea. After a long time they ( Millets ) are getting their due. As this generation falls prey to lifestyle diseases, the millets came to the rescue and they started trending all over again.
Ragi/ Finger Millet is said to have originated in South Africa and brought to India about 4000 years ago. There are many Indian dishes dedicated to this nutritious Millet.
The protein content of Ragi is said to be at par with Rice, and in addition to proteins they have certain beneficial compounds like Tryptophan, Cysteine, etc which are not found in other cereals. This makes Ragi a super cereal. And this also is one of the reasons for us to make it a part of our diet.
Here's a delicious and healthy variation of the regular Cheela/ Chilla with Ragi Flour/ Finger Millet Flour. Chilla or Cheela is a savory crepe usually made with Besan/ Gram flour or soaked Moong. Spices like ginger and green chillies are added and the batter is poured
While you are here, I request you to check out more Millet recipes on the blog like- Eggless Ragi Chocolate Pan Cakes, Bajra Ragi Cheela, Barnyard Millet Pongal, Bajra Methi Crackers, Bajra Chana Dosa, and more.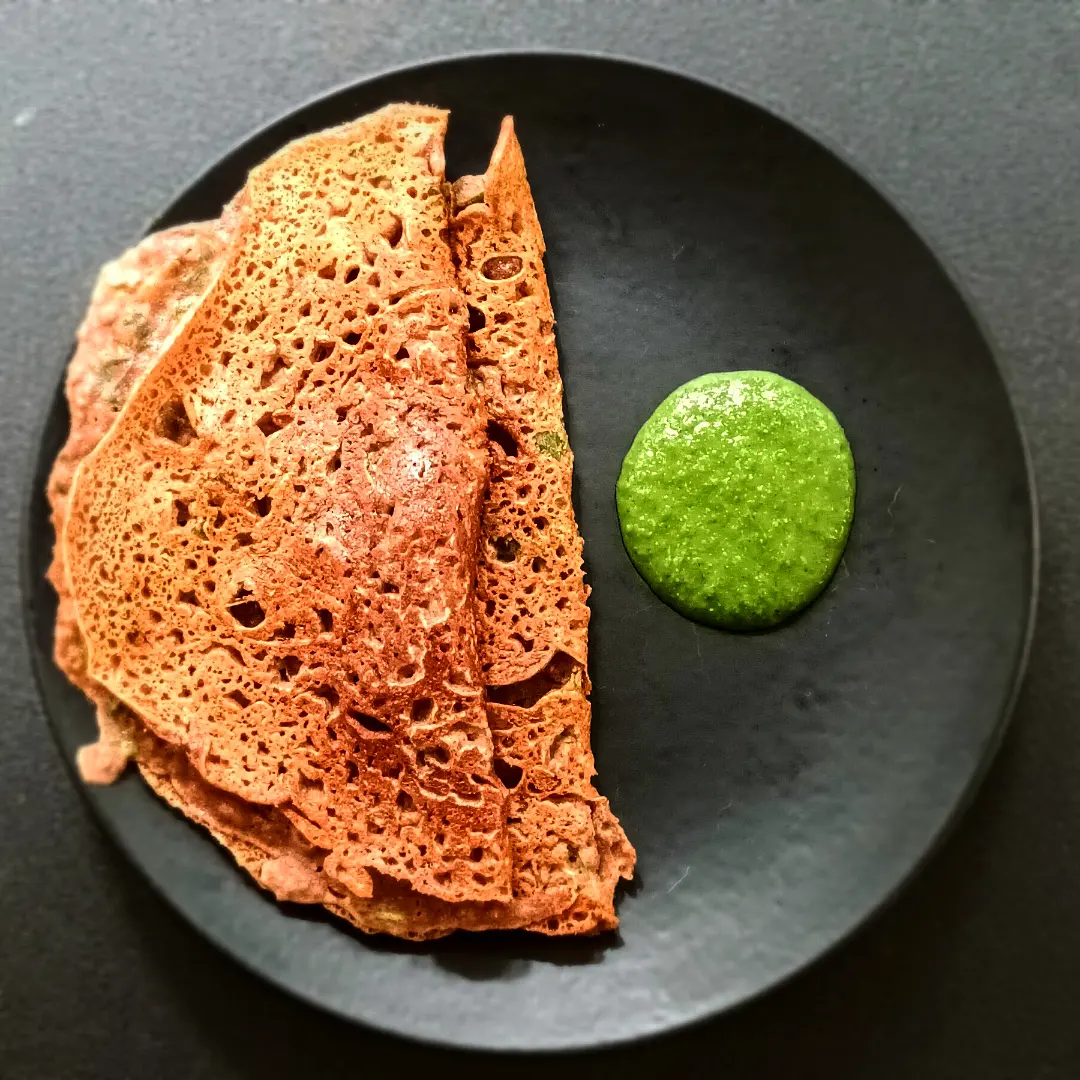 Ingredients
3/4 cup Ragi/ Finger millet/ Nachni flour
3/4 cup Besan/ Chickpea flour
2 green chilies chopped finely
1 inch ginger piece chopped finely
1/2 tsp Ajwain/ Omam/ Carrom seeds
Salt as required
1 tbsp curd
Water as required
Take both flours in a bowl and add the rest of the ingredients. Add water in parts to make a smooth batter, that is neither watery nor too thick.
Let this test for 5 to 10 minutes. Now heat a Tava/ Pan, and grease with a little oil.
When the Tava is medium hot, pour the batter on the Tava to make a circle.
Note that you won't be able to spread the batter like a Dosa. Pour it like making Rava Dosa.
Drizzle oil and cook on one side, flip and cook on the other side. Serve with chutney/ sauce.
Notes:
Any Millet Flour can be used instead of Ragi/ Finger Millet Flour.
Feel free to add your preferred toppings like finely chopped vegetables or greens.
Get yummy recipes delivered to your inbox!
Be the first one to know about our new recipes. Leave your email below and get notified as soon as new recipes are published!