Sicilian Pesto/ Pesto Alla Trapanese
Jump to recipe
If you are asked what colour is Pesto, you are most likely to say green, unless you are a chef,  a foodie, or come from Italy. It is a misconception that Pesto is just one kind, that's made with Basil or Spinach and it is green. There are different kinds of Pesto in Italy, and Sicilian Pesto or Pesto Alla Trapanese is one of them. It is called Alla Trapanese as it comes from the Sicilian City of Trapani, where as the Green/Basil Pesto is called Pesto Alla Genovese, as it comes from the city of Genoa.
Pesto in Italian means crushed. Traditional Pesto is made, using a pestle and motar. However, it can effortlessly be made in a food processor or blender.
How Is Pesto Alla Genovese different from Pesto Alla Trapanese – Pesto Alla Genovese ( green Pesto) is made with Basil, Pine Nuts, Olive oil and Parmesan Cheese. These days however the Pine nuts can be swapped with Cashewnuts, or walnuts, and the Basil too can be swapped with Spinach. This Pesto is green and gets its flavour and colour from Basil leaves.
On the other hand Pesto Alla Trapanese aka Sicilian Pesto is a red Pesto ( pale red). it gets its colour and refreshing flavor from Tomatoes. In Sicily a special variety of Tomatoes called Pachino tomatoes are used. Cherry or plum tomatoes work well for this recipe as well. Instead of Pine nuts, the nut of choice for Sicilian Pesto is Almond. The almonds are blanched, de skinned, and toasted lightly.
While in a traditional Sicilian Pesto the Tomatoes are used raw, I have sautéed them lightly in Olive oil, for a denser tomato flavour and colour.
While you are here checkout my Basil Pesto recipe, which is absolutely flavourful and a hot favorite at home. Also check out authentic Thai Green Curry paste and Vegetarian Thai Green Curry made from scratch.
To watch the video scroll to Notes section.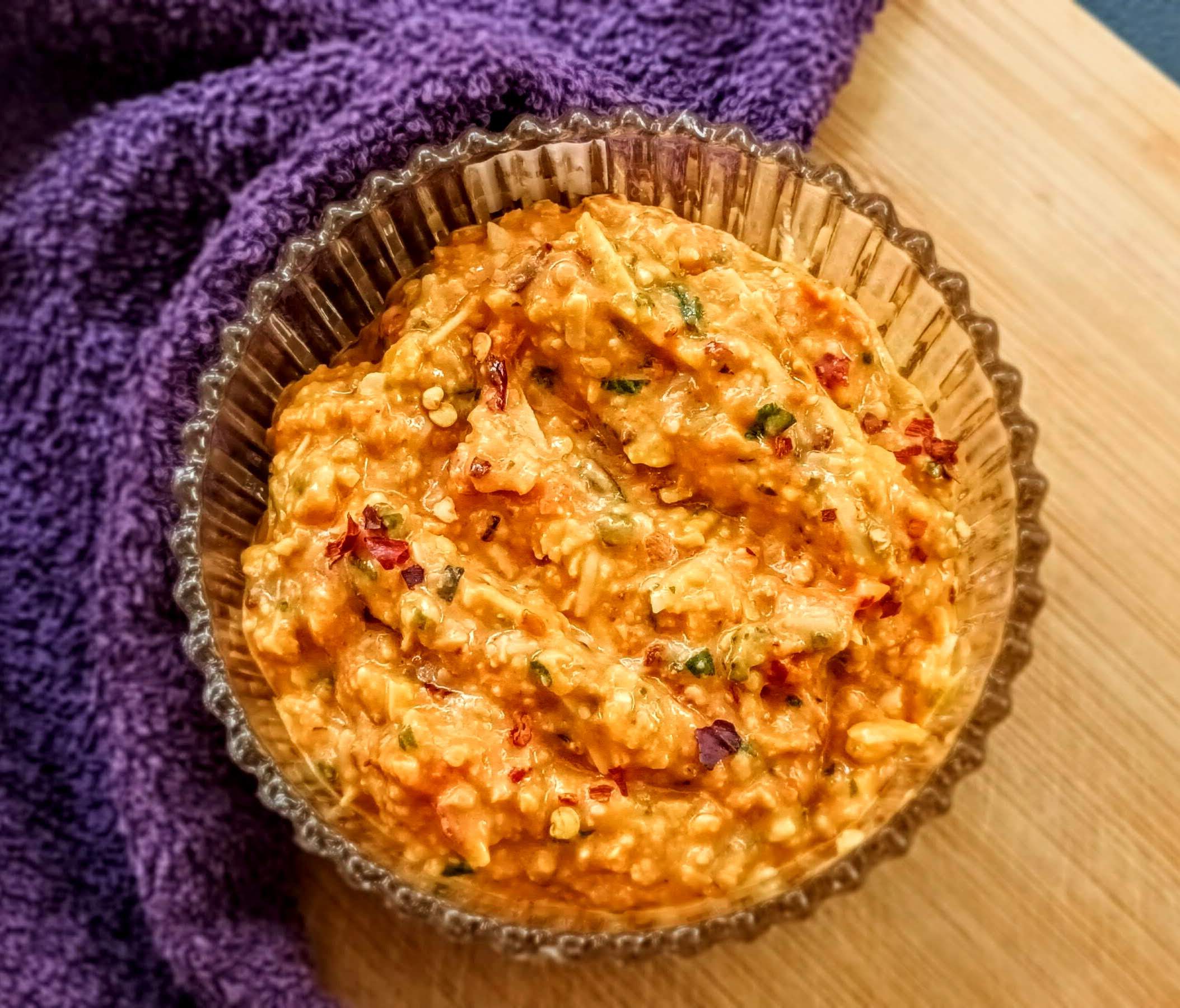 Ingredients
Cherry Tomatoes 150 gm
Toasted Almonds (without skin) 1/2 cup
Italian Basil Leaves 1 cup
Salt a little
Red chilli flakes 1 tbsp or more
Garlic 1 clove crushed
Parmesan cheese grated 1/2 cup
Oilve Oil 1/2 cup
Take a teaspoon of Olive oil in a pan, toss in the cherry tomatoes, and saute just until they begin to get tender. Cool completely.
Start the chopper attachment of your food processor, and drop in the almonds. When they are finely chopped, add the basil leaves, sautéed tomatoes, salt, red chilli flakes and pulse to combine. Now add the olive oil, while the processor is still running. Add the oil gradually as a thin stream until everything is well combined.
Now transfer the paste into a bowl. Now stir in the Parmesan cheese. Pesto Alla Trepanese is ready. Add it to Pasta or slather over Panini to make a delicious sandwich. Store the remaining Pesto in a jar in the fridge. it stays good up to a month in the refrigerator.
Notes:
Use nicely ripened Cherry Tomatoes.
Toasted Almonds are available in stores. I made mine at home, by first soaking the almonds overnight. Then I removed the skin, and split them. I allowed them to air dry for 30 minutes, and then toasted them in the microwave for a minute.
The Pesto can be blended in a regular blender, if one does not have a food processor. For this, add the almonds and pulse them until almost fine. Then add the remaining ingredients one by one, blending in between. Finally add the Olive oil while running the blender via the chute in the lid.
You can us the tomatoes raw if you prefer.
Watch the making Video
Gallery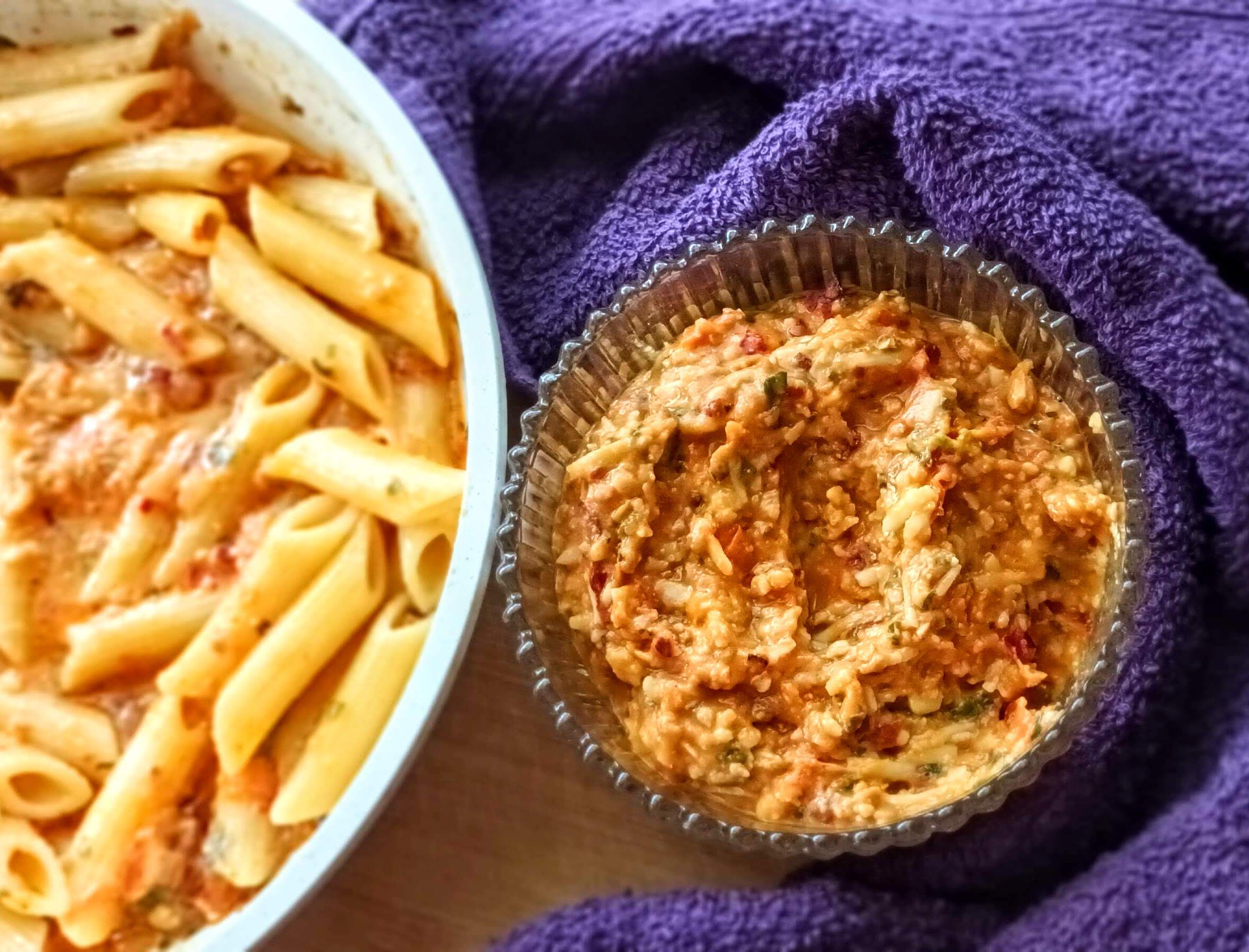 Get yummy recipes delivered to your inbox!
Be the first one to know about our new recipes. Leave your email below and get notified as soon as new recipes are published!