Vatha Kozhambu (Shallots In A Spicy Tamarind Gravy)
Jump to recipe
This is a traditional South Indian recipe. There are many variations to this recipe and a large variety of vegetables or dehydrated berries(Turkey berry, cluster beans, etc;) are simmered in a spicy tamarind sauce. Usually served with hot rice and ghee, but goes well with Dosas and Idlis too. I have used Sambar powder here, though Vatha Kozhambu powder is also used, there is not much of a difference between, the Sambar and Vatha Kuzhambu powder. For the recipe of Sambar Powder click here.
Usually when I cook this for my North Indian friends, I get asked what is the difference between Sambar and Vatha Kuzhambu. So, I thought I must clarify that here, as many of you might also have the same query, if you aren't familiar with south Indian food. In Sambar, cooked dal is added, whereas Vatha Kuzhambu is devoid of any Dal. Also, the stage at which the Sambar powder is added, makes all the difference to the taste of the Kuzhambu/curry. The vegetables or berries used are sauted in oil for making Vatha Kuzhambu, whereas in Sambar, the vegetables are directly cooked in tamarind water, without sauteing. The consistency of the two also varies. While sambar is on the thinner side, Vatha Kuzhambu is a thick curry.
In different regions of Tamilnadu and Kerala this dish is made differently. While in Tamil cuisine, coconut is not added to this dish, our Keralite counter parts add ground coconut. Both the version taste very good. There is another version called the kalyana Vatha Kuzhambu, which is served at weddings, I shall dedicate a separate post to this version soon.
You will find a similar Vatha Kozhambu recipe here on the blog, where I have used Okra, click here for recipe. Homemade Sambar powder always gives a tastier Kuzhambu/curry/Sambar. For the recipe of Sambar Powder click here.
While you are here I request you to take a look at other south Indian recipes like- Pachai Sundakkai Kuzhambu, Pachai Mochai Kuzhambu, Parupu Urundai Kuzhambu, Mor Kuzhambu, Beans Parupu Usili, South Indian Style Vegetable Kurma, and more…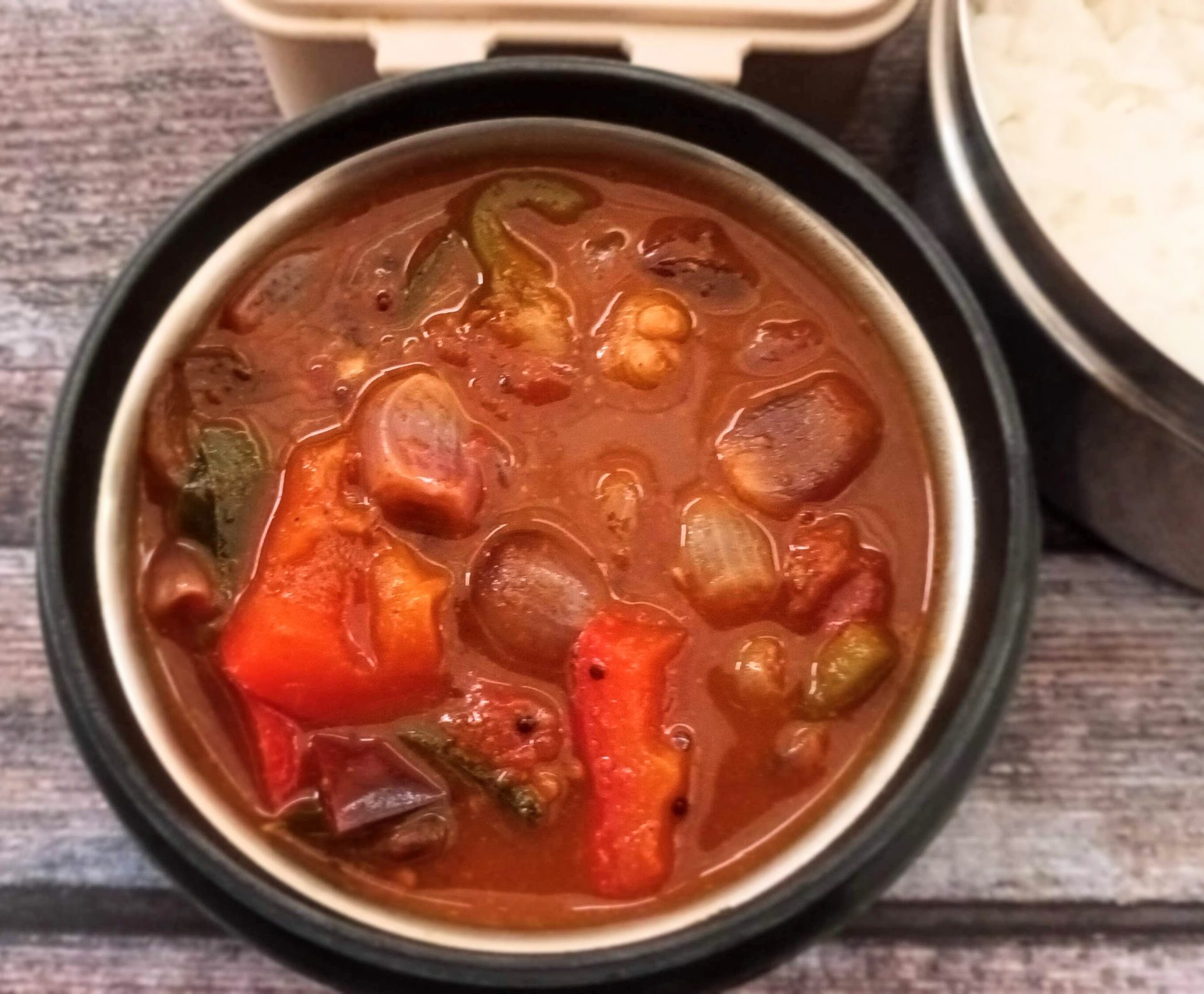 Ingredients
Ingredients
Shallots 200 gm skinned
Tomato 1 large
Tamarind lemon sized ball( soaked in water and pulped)
Salt as per taste
Sambar powder 1 tbsp
Red chilli powder 1 tsp
Turmeric powder 1 tsp
Asafoetida 1 tsp
Mustard seeds 1 tsp
Fenugreek seeds 1/2 tsp
Dry red chillies 2 broken
Curry leaves a few
Sesame oil/ Til oil 1 tbsp( can use more if you prefer)
Assemble all ingredients. Shallots skinned and tomatoes chopped. Soak tamarind(lemon sized ball) and get the pulp.

In a pan/karahi heat some Til oil(preferable, if not continue with refined oil). Add mustard seeds, fenugreek seeds, dry red chillies, asafoetida, curry leaves, and fry.

Add the shallots and stir well so that the oil coats all the shallots. Fry until they turn translucent. Add the tomatoes and continue to stir fry for another minute.

Now add in all the dry spices- Sambar powder, red chilli powder, turmeric powder, and continue to fry. If the mixture is too dry after adding the powders, then add 2 tsp of oil and fry, until the raw taste of the masalas is gone.

Pour the tamarind pulp and in the salt and stir well and allow the mixture to boil. Let it simmer until the mixture thickens and reduces in quantity. The oil will form a layer on top. At this stage put off the stove. The Shallot Vatha Kozhambu is ready to serve with hot rice and ghee.


Peel the skin off the Shallots and keep ready. Chop the tomatoes. Soak a lemon sized ball of tamarind in a little warm water, let it cool and extract the pulp. Now in a pan or karahi take a tablespoon of Sesame/Til oil and heat. Add the mustard seeds, fenugreek seeds, asafoetida, dry red chillies, and curry leaves and saute for a minute. Add the Shallots and saute until they start turning translucent. Now add the tomatoes and continue to saute for a minute. Add the dry spices- Sambar powder, turmeric powder, and red chilli powder and continue to stir fry. If the mixture is too dry add another 2 teaspoons of oil, otherwise the masala may burn. Saute for another minute and pour the tamarind pulp and add the salt. Stir well and allow it to simmer on low flame until it thickens and reduces a bit. The oil will form a layer on top and the mixture will reduce, at this stage put off the stove. The Shallot Vatha Kozhambu is ready to serve with hot rice, Dosas, Idlis etc.
Direction to make Sambar powder is given under the label powders.
Notes:
I have used Shallots here, other vegetables that can be used are Drumsticks, Ladies finger, Onions, dehydrated berries like Turkey berry(Sundakai), and even dehydrated vegetables like Cluster beans, Bitter gourd, etc.
Sesame oil enhances the flavour of the dish, so I highly recommend it.
Frying the dry masalas in the oil well(step4), gives the dish the perfect flavour.
The fenugreek seeds also impart the aroma a lovely flavour to this dish, but they should be used in the quantity mentioned and not more, as they can turn the dish bitter.
If you tried this recipe and liked it please comment below. I would love to hear from you.
Gallery
Get yummy recipes delivered to your inbox!
Be the first one to know about our new recipes. Leave your email below and get notified as soon as new recipes are published!