Gluten Free Thaali
Jump to recipe
A Thaali is a 3 course(and above) Indian meal which features a combination of dishes that are wholesome, mix and match with each other in terms of texture and flavour, and are balanced. India being a country with a huge food culture and heritage there are a great number of thaalis which can be cooked, either within a single cuisine, or a mixture of cuisines that match well.
This is an attempt by me to bring here as many Thaali ideas as possible for you all to create. We all want an balanced meal which takes very little time to create, and this is just that. The Thaalis in this series will range from simple to complex, and festive to on the go.
The below Thaali took me under 60 mins to create. All the recipes mentioned here are also available separately. But here I am giving the whole process of how I went about creating it, and also giving the recipes side by side.
Do let me know in the comment section if I should create more Thaalis like this for you to try. This current one is a simple working day thaali, which one can create before leaving for work(can pack this as lunch as well), or once back home, or any day.
Planning goes a long way in creating a wholesome, and delicious meal. Please go though all recipes to check if you have all ingredients mentioned.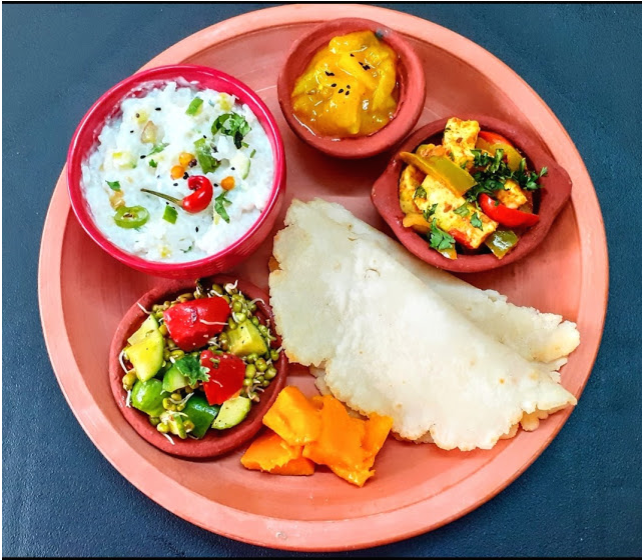 Pre-prep
Elements of this Thaali: Moong beans Salad, Rice flour Chapatis, Paneer Khurchan, Curd rice, Mango Chutney (store bought), and Cut ripe Mangoes.
Pre prep: All Vegetables were cut the previous day ( the Capsicum for the Paneer subji, Cucumber for the salad, etc were cur previously)
Prep & cook
Step 1 : Put the rice in pressure cooker for curd rice. (see recipe)
Step 2: Mix the dough for Rice flour Chapathi as mentioned in recipe.
Step 3: Start making the Paneer Khurchan subji
Step 4: Start and complete Salad while waiting for subji to cook.
Step 5: Start rolling out the Chapatis. Since this flour is gluten free, it needs no resting.
Moong Bean Salad: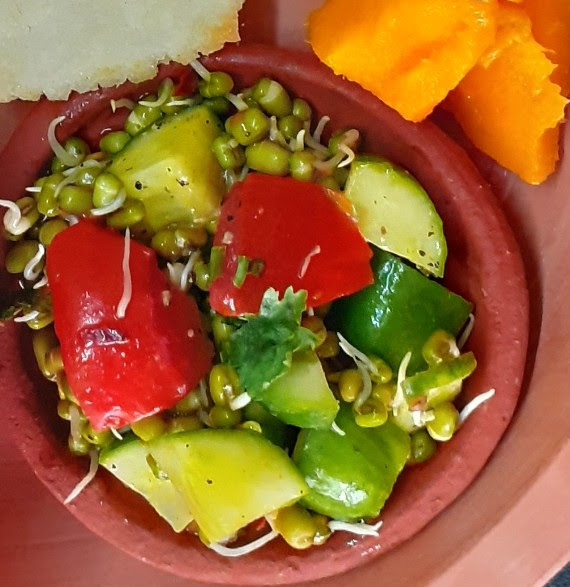 Ingredients
Moong Beans (Soaked, drained and sprouted) 1/2 cup
Cucumber 1 medium diced
Tomato 1 large roughly chopped
Raw Mango ( optional) a tiny portion
Salt as required
Red chilli flakes 2 tsp
Pepper powder 1/2 tsp
Lemon juice of half a lemon
Olive oil 2 tsp
Step by step
In a bowl Take the diced cucumbers, add the chopped tomatoes and sprouted Moong beans. (raw mango also can be added). Now add salt, red chilli flakes, pepper powder, lemon juice and olive oil. Mix everything well and its ready to serve.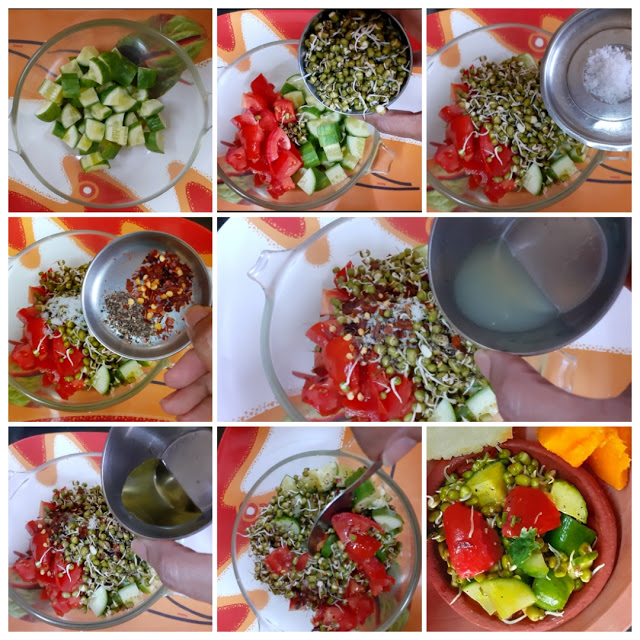 Notes:
The same recipes can be followed with Black eyed beans and Kabuli chana( brown chickpeas), but they to be boiled/cooked ahead.
Ripe mangoes that a firm also give a good taste varition to the salad.
Herbs of your choice can be added too.
Rice Flour Chapatis
Ingredients
Rice flour (fine) 2 cups
Water 2 to 2.5 cups
Oil 1 tbsp (sesame or refined)
Salt 1/2 tsp
Take the rice flour in a heavy bottomed vessel or bowl. Add the salt and mix well with a spatula or using your fingers. Now put about 2 cups water, with the oil to boil. Roll boil the water(that is when the water bubbles are moving from bottom to top), switch of the flame and gradually pour the water into the flour, mixing with a spatula all the time. Stir until the water soaks up all the flour. The mixture may appear a little dry, but don't worry.

Cover the vessel and put it on the flame and cook covered on low flame for 2 minutes. Remove from flame and cool a little. Remember it should not cool down completely. Now while still the dough is a little hot, using your hands start kneading the dough. Keep a bowl of water at regular temperature and keep dipping your hands into it so that you are able to deal with the hot dough.

If you find the dough a little dry or brittle, don't hesitate to sprinkle(not pour) some water and knead again. Sprinkle-knead, sprinkle-knead, until you get a dough of smooth texture. Divide the dough into 8 or 10 portions, and ball them up. Dust with a little rice flour and roll them into a medium sized roti. (please refer notes at this point).

Heat a Tava/girdle and cook o one side using a little oil, flip and cook the other side. The Rotis will remain white, a few brown or black spots may appear when the Rotis are done. These Rotis can also be cooked as Phulka, but I have not done so today. While cooking the Rotis on the Tava, press them well with a spatula, to puff them up. Enjoy the Roti with a curry of your choice.

Notes:
Roll boil the water means when the water bubbles are moving from bottom to top.
If you find the dough a little dry or brittle, don't hesitate to sprinkle(not pour) some water and knead again. Sprinkle-knead, sprinkle-knead, until you get a dough of smooth texture.
After the rolling the Roti if you are unable to ease it out of the platform, use a rice serving spatula to ease it out without tearing(refer pictures).
These rotis have to be rolled gently.
To knead while the dough is still hot, i knead them into small balls first and then combined all of them to make a huge smooth ball.(refer picture in step 2.
I did not use any oil to cook the Rotis, but you can definitely use if you prefer.
Paneer Kurchan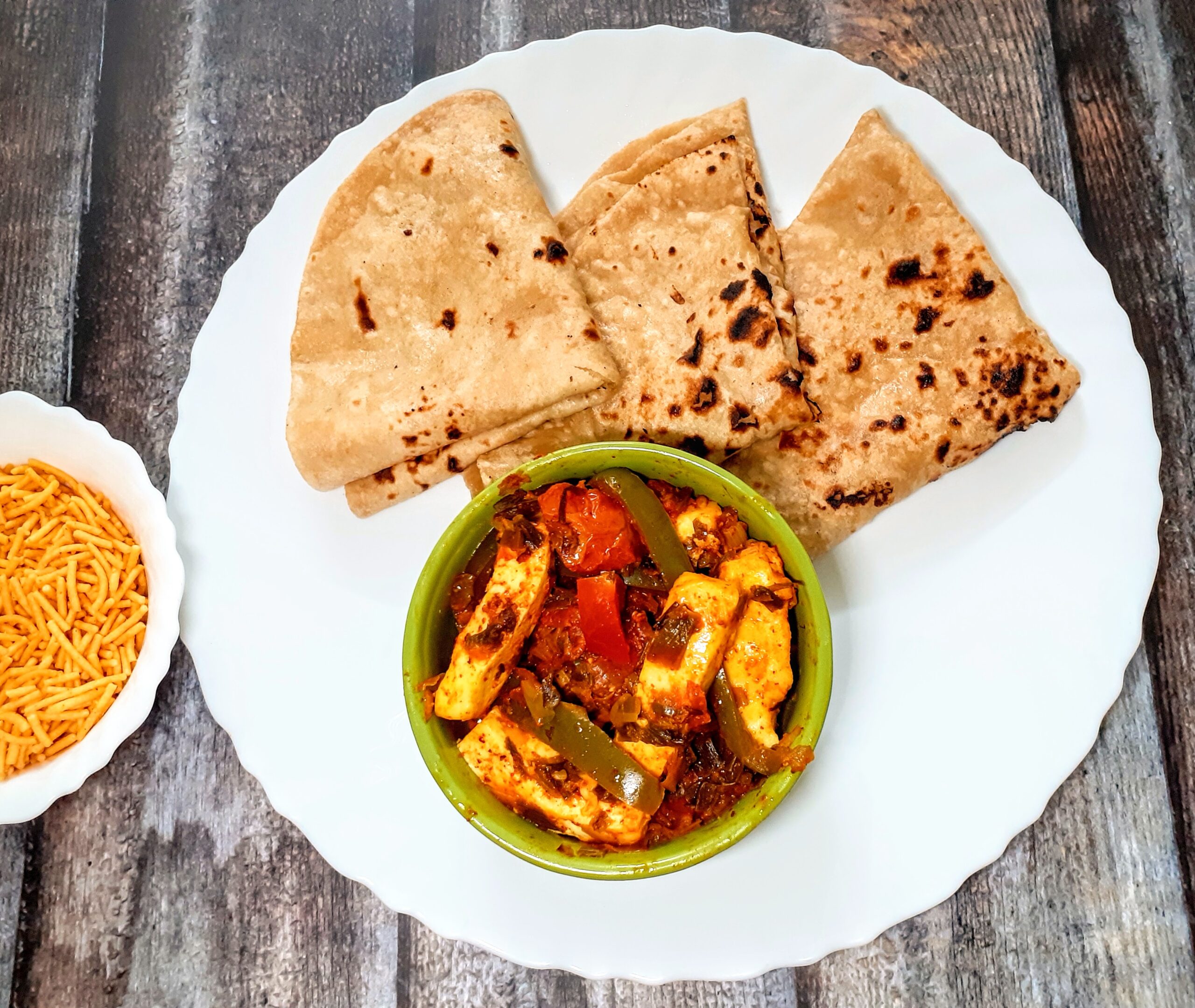 Ingredients
Paneer 200 gm cut into strips
Capsicum 1 large cut into thin strips
Spring Onions/ Onions (one bunch/ 1 large)
Tomatoes 2 large chopped fine
Cumin 1 tsp
Turmeric powder 1/2 tsp
Ginger-garlic paste 1 tsp
Salt as required
Red chilli powder(regular) 1tsp
Kashmiri red chilli powder(optional) 1/2 tsp
Coriander powder 1 tsp
Green chilli 1 slit lengthwise
Garam masala powder 1/2 tsp
Oil for sautéing
Step by step:
In a Pan or Kadai pour 1/2 tbsp oil and heat. When the oil is hot add the cumin seeds, followed by turmeric powder and the Spring onion or regular onion.

Sauté until the onions start turning brown and add the spring onion greens to it(if using). Sauté 30 seconds and add the ginger-garlic paste. Continue to sauté for another 30 seconds. Now add the chopped Capsicum strips and sauté on high heat, so that the capsicum don't release much moisture.

Sauté until the Capsicum are half cooked. They should retain the crunch and not turn limp. Now add the chopped tomatoes, followed by salt, red chilli powder, Coriander powder and Kashmiri red chilli powder and sauté until the tomatoes break and turn mushy.

Now add the Paneer strips and the slit green chilli and toss well such that the masalas evenly coat the paneer. Cover and cook on low heat for 2 minutes. Remove cover, stir and add the Garam  Masala and serve hot.

Notes:
The dish actually uses regular onions. At the time i made these recipes Spring onions were in season, hence I used them. The Spring onion greens also impart a nice flavour to the dish.
No whole spices are used in this recipe.
While sautéing the Capsicum on high heat, keep stirring continuously so that they don't get charred.
Tempered Curd Rice With Cucumber
Ingredients
Pre cooked rice 2 cups I use small grained, non aromatic rice
Curd 2 cups
milk 1 cup
Salt as required
Cucumber 1 large finely chopped
Green chillies 2 finely chopped
Ginger 1/2 inch piece finely chopped
Curry leaves a few
Mustard seeds 1 tsp
Cumin seeds 1 tsp
Urad dal 1 tsp
Chana dal 1 tsp
Asafoetida 1/2 tsp
Fresh coriander leaves (optional)
Oil for tempering
Step by step:
Cook the rice and cool completely. Curd rice should be soft and not grainy, so add enough water and pressure cook rice. Remove the rice from cooker, mash well and cool the rice completely. Now add the chopped cucumber to the rice, followed by salt and mix well.

Now add the curd and give a mix, follow it up by adding the milk. If using coriander leaves, add now. Now take oil in a tadka kadai and heat. Add mustard seeds, and when they crackle add the cumin seeds, urad dal, chana dal, green chillies, ginger, curry leaves and asafoetida and fry until the dals turn a golden colour. Drop this tempering into the rice. Put the rice in the fridge until ready to serve. Add 1 tbsp curd and 1/4 cup milk and give it a mix before serving.

Notes:
Using small grained rice gives the curd rice the right texture.
The rice must be pressure cooked to a soft consistency that can be easily mashed.
To prepare curd rice with small grained rice(Sona masoori/Ponni) I use the ratio 1:4 of rice and water.
Chilled curd rice tastes divine on a hot summer day, so I always make a curd rice ahead and chill it, and add 1 tbsp curd and 1/4 cup milk and give it a mix before serving.
Overall Notes
Get yummy recipes delivered to your inbox!
Be the first one to know about our new recipes. Leave your email below and get notified as soon as new recipes are published!