Sabut Moong Dal/ Green Moong Dal
Jump to recipe
This is  a wholesome dal for the days you want a simple yet nutritious meal. It is ideal for those days you want to be off masala's and give your taste buds a break. I have kept the dal very simple. With a little planning ahead(soaking the dal), you can get this done in just 30 minutes. After a busy day at work, when you want to spend minimum time in the kitchen, just soak the lentils before you leave home for work.  Once back, 10 minutes in the cooker, 10 minutes for the pressure to settle, and 10 minutes to temper the dal, and it's done. Side by side cook rice and you can have a wholesome dinner. Those 10 minutes for the pressure to settle can be put to good use, brew yourself some tea and just chop an onion and some tomatoes and we are ready to temper the dal. Let's get to some wholesome goodness.
Ingredients
Ingredients
Green Moong(lentils) 1 cup soaked at least 4 hrs
Onion 1 small
Tomatoes 2 pureed
Cinnamon 1 small stick
Cumin 1 tsp
Ginger garlic paste 1 tsp
Red chilli powder 1 tsp
Turmeric powder 1/2 tsp
Amchur/dry mango powder 1/2 tsp
Coriander powder 2 tsp
Garam masala powder 1/2 tsp
Coriander leaves 2 tsp finely chopped
Oil for tempering
Assemble all ingredients. Soak the Green Moong for 4 hours at least.

Pressure cook the dal for 5 whistles.

Take oil in a karahi and heat. Add the cumin seeds and allow to splutter. Add the turmeric powder and the chopped onion.

Fry nicely, until the onion starts turning slightly brown. Now add in the ginger-garlic paste. Fry for a minute and add the tomato puree. Cook for a minute.

Add in the spice powders, except garam masala, followed by the cooked dal.

Add one cup of water( add more if required to adjust consistency. Stir well and allow to simmer for 5 minutes.  Add in the garam masala now and switch off the stove. Garnish with coriander leaves and the Green Moong dal is ready to serve.

It goes well with Roti and Rice varieties.
Cook Moong dal/lentils with 1 piece Cinnamon stick for 5 whistles. Wait for the pressure to release. While you wait, cut 1 small onion finely and puree 2 tomatoes in the blender. In a karahi heat 2 tsp oil. Add the cumin seeds and let them crackle. Put in the onion and fry nicely for a minute. Now add the ginger-garlic paste and continue to fry. When the onion starts turning light brown add in the tomato puree, cook for 1 minute, and add in the cooked Moong dal. Stir well and add salt followed by all the spice powders except garam masala. Simmer for 5 minutes, add in the garam masala and turn off the stove. Garnish with finely chopped coriander leaves. Simple and flavourful Hari Moong ki Dal is ready to serve. Enjoy. Bon Appetit.
Notes:
Tomatoes can be chopped and added too instead of pureeing, but in this recipe particularly I prefer to add the pure, as the Green moong is a little bland and the pureed tomatoes impart a little sourness to the dish than chopped and cooked ones.
If you don't give much soak time, you can still make the dal, but with a longer pressure cooking time.
Gallery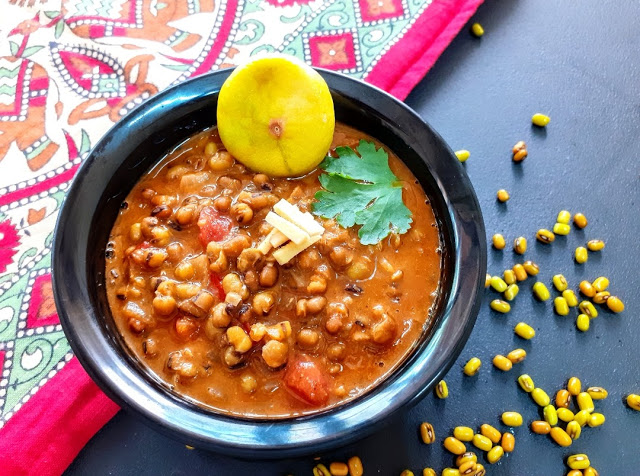 Get yummy recipes delivered to your inbox!
Be the first one to know about our new recipes. Leave your email below and get notified as soon as new recipes are published!