Nutella Fudge Brownies
Jump to recipe
Well, this is one of those recipes where the intent was to make the Brownies a   certain way, ended up forgetting an ingredient and remembered it only after tossing the batter in the oven, and waited out the bake time to find out the result of my blunder, and guess what, forgetting the ingredient was well worth it as I   stumbled on to something so so yummy????. I found it blog-worthy and hence the post.
There are many Brownie recipes and various proportions out there if you browse,   but what one actually wants is an easy one, which is non-messy and not much washing up to do later. Agree? This is one of those recipes where I combine everything in a single bowl, stir or whisk with a hand whisk(no electric mixer mind you), pour it into the baking tray and pop it in the oven. Wait 27 to 30   minutes and there you get a platter of such gooey goodness.
All that fudge came from bits of chocolate I threw into the batter, before popping it into the oven. The chocolate bits melt and make it fudgy. I prefer a fudgy moist   Brownie to a cakey one, and a warm Brownie is always welcome. This recipe takes about 12 minutes to prep and around 27 to 30 minutes in the oven and it
Another recommendation is to use dark eating chocolate and not baking
Here is the recipe of Nutella Fudge Brownie for you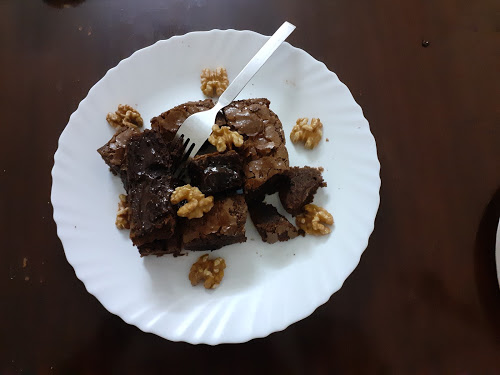 Ingredients
Ingredients
Dark choco chips 50 gm
Nutella 150 gm
Unsalted butter 200 gm chopped
Refined flour/Maida 3/4 cup
Eggs 3
Brown sugar 1 cup loosely packed
Vanilla essence 1/2 tsp
Dark chocolate 50 gm chopped
Assemble all ingredients.
In a deep heat resistant dish put in the dark chocolate chips, Nutella and the butter. Place it in the microwave for 30 seconds, remove stir and place it again for 30 seconds and repeat the process once more. In all 3 times to get a smooth mixture. Every time you remove it from the microwave be sure to stir. Once this is done, start preheating the oven. Preheat to 160 degrees.

Now while the mixture is still warm add the sugar and stir nicely until it dissolves.


Add the eggs and combine well with a whisk or spatula. Now slowly add in the flour and combine well to form a smooth batter.

Now add the vanilla essence followed by the chopped chocolate(use any dark eating chocolate and not the baking one). Grease a baking tray or Brownie tin and pour the batter in. Tap it lightly twice and place it in the oven and bake at 180 degrees for 27 minutes. When you stick n a toothpick it should come out with a slight smear. That's the consistency we want. If there is a lot of smear bake for another 3 minutes or so.


In a deep heat resistant dish put in the choco chips, the Nutella and the butter and microwave in short spurts of 30 seconds each removing the dish and stirring each time until the butter and chocolate melt completely and you have a smooth mixture. It takes around 3 rounds of 30 seconds for the chocolate and butter to melt. Preheat the oven to 160 degrees. Now while the mixture is still warm put in the sugar and stir. Now add in the eggs one by one and stir nicely until they are well combined. Next comes the flour, put it in, and combine nicely without any lumps. Add the vanilla essence, followed by the chopped dark chocolate. Stir very lightly, grease a baking tray/Brownie tin, and pour the batter into it. Give 2 taps lightly to the tray and put it in the oven. Bake at 180 degrees for 27 minutes. Stick a toothpick in the center of the brownie and check for doneness. If it comes out with a little smear of the chocolate, it is fudgy enough. If there is too much smear on the toothpick then bake for another  3 to 5 minutes and don't go beyond that.
Let it cool completely, cut into bars or squares, and devour them. Yummy Nutella fudge Brownies are ready. Enjoy them warm. Bon Appetit.
Notes:
Dark chocolate works best for this recipe. Buy good quality ones for best results.
In case you go beyond 27 minutes, don't worry, it may a little less fudgy that's all.
As soon as microwaving the chocolate and butter mixture is done, remember to preheat the oven.
If not using a microwave melting of butter and chocolate has to be done in a double boiler.
Adding the sugar when the butter-chocolate mixture is still warm is what gives the brownie its paper-thin crust and glaze. This is a crucial step.
If you tried this recipe and liked it please comment below. I would love to hear from you.
Gallery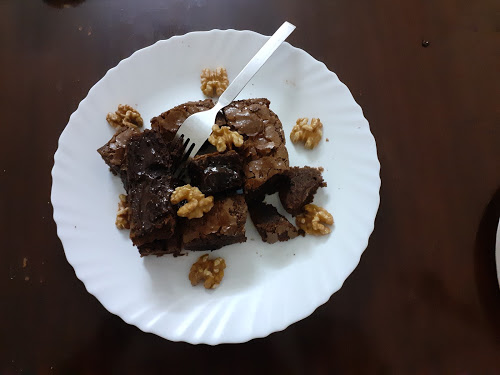 Get yummy recipes delivered to your inbox!
Be the first one to know about our new recipes. Leave your email below and get notified as soon as new recipes are published!