Navarathri Golu Menu Plan
Navaratri is the festival that celebrates Shakthi the feminine energy. It also declares the end of summer in India and the commencing of winters. The festival is celebrated in most parts of India in varied ways, the common thread being the victory of good over evil. This also applies to the energies within us. In Tamil Nadu, the festival is celebrated by arranging Golu. The women folk visit each other's houses in the neighborhood to receive tamboolam (vermillion turmeric, betel nut.and leaves, glass bangles) , which symbolise prosperity The women in the house are in a frenzy during this time, as they plan the daily Pooja, the prasadam to be offered to the Deity each day and also plan their visit to the homes of friends and relatives.
Golu or Kolu in Tamil refers to the arrangement of dolls, idols of god's and goddess, figurines of human beings. These dolls are arranged in steps symbolic to the spiritual progression of human beings. The steps are in odd numbers and human figurines are arranged on the bottom most step, God's and Goddess on the upper most step, below which are saints, and sages.
'Marapachi' dolls made with wood are given to a girl during her wedding, and she carries this with her to her husband's home to start the traditional of keeping Golu. They say that if one is not in a position to keep an elaborate Golu, just placing the 'Marapachis' next to God, and doing Puja brings in the essence of Navarathri.
In a South Indian household Navarathri is a busy time with Pooja and arranging prasadam and Sundal ( dish made with soaked legumes. One Sundal is made each day), and some light refreshments for guests who visit.H
How to enjoy a stress free Navaratri-
1. Planning goes a long way in enjoying a stress free festival. So plan to a 'T', but be prepared to improvise at the last minute.
2. Plan your guest list well in advance, split your invitees into smaller manageable batches.
3. While sending out Golu Tamboolam invites give a specific day, and time to visit, this way you'll be able to do your visits as well. ( Be flexible though,as everyone is running on a time crunch around this time).
4. If you are planning on giving a return gift, then plan in advance. Remember there is no competition, a simple and useful gift will do
5. Plan your 9 day Prasadams in advance., make a chart. Be ready for quick last minute swaps
6. Plan your Prasadam based on number of people visiting you each day.
7. Make popular Sundals ( Konda kadalai Sundal, Patani Sundal), on the day you have maximum guests. On other days a simple Parippu Sundal ( Chana Dal/ Paasi Parippu) will do.
8. Be empathetic and don't Sundal overload your guests. There is only so much Sundal one can have. Just a tablespoon along with other Prasadams will do.
9. Be kind to the environment. Vethalai/ Betel leaves can be rotated if fresh. The Haldi- Kumkum packets can also be rotated if you fall short. If including a fruit in Tamboolam opt for one that will last longer.
How to plan Navarathri Menu based on the above points for 9 days.
I am sharing 2 options here. This is a very practical list and I have not stuck to The conventions off a particular dish to a particular day. These are highly adaptable to however you may want to swap them.
Option 1
| | | |
| --- | --- | --- |
| Day | Prasadam | Sundal |
| Day 1 | Apple Sooji Halwa/ Sooji Halwa. Puliodharai/ Tamarind Rice. | Paasi Payaru Sundal/ Whole Green Moong Sundal |
| Day 2 | Sakkarai Pongal, Rava Kunukku | Verkadalai Sundal/ Groundnut Sundal |
| Day 3 | Coconut Barfi, Ven Pongal | Karamani Sundal |
| Day 4 | Chana Dal Payasam and fruits | Rajma Sundal |
| Day 5 | Vella Aval, Lemon Rice | White Peas Sundal/ Vellai Patani Sundal |
| Day 6 | Rose Almond Kheer, Parippu Vadai | Konda kadalai Sundal/ Kala Chana Sundal |
| Day 7 | Boli/ Puran Poli and Fruits | Sweet Corn Sundal |
| Day 8 | Semiya Payasam, Puli Aval | Paasi Parippu Sundal |
| Day 9 | Millet ( Kuthiraivali/ Barnyard Millet) Pal Payasam, Urad Dal Vada, Fruits | Chana Sundal/ Chickpeas Sundal |
*Panagam is offered on all days. Panagam is a drink made from jaggery, dry ginger powder, cardamom powder and a dash of line. I usually chill it, and serve it to my guests as well.
Option 2
| | | |
| --- | --- | --- |
| Day | Prasadam | Sundal |
| Day 1 | Akkaravadisal/ Pal sadam Lemon Rice | Fresh Soyabean Sundal |
| Day 2 | Millet Sakkarai Pongal, Savory Kozhukattai. | Fresh Pattani Sundal/ fresh Green Peas Sundal |
| Day 3 | Maa ladoo, Sambar rice | Red karamani/ Lobia sundal |
| Day 4 | Pumpkin Halwa, Panchamritam | Mochai Sundal |
| Day 5 | Kalukandu Pongal, Sukhiyan | Butter beans Sundal |
| Day 6 | Carrot Kheer, Adai Maavu Kunukku | Thenga Manga Pattani Sundal |
| Day 7 | Ven Pongal, Sunni Undalu ( Urad Dal ladoo) | Masoor Dal Sundal |
| Day 8 | Sabudana Kichdi, Instant Wheat Halwa | Karamani Sweet Sundal with Jaggery |
| Day 9 | Pal Payasam, Urad Dal Vada, Fruits | Chana Sundal/ Chickpeas Sundal |
You can mix and match from both options and make your own.
Sundal, a dish made with soaked and cooked lentils that are tempered with salt and spices and garnished with fresh grated coconut, is a compulsory offering. All guests visiting are given a small portion of it.
If you are looking for Sundal recipes click here.
Sundal tastes even more flavourful with a dash of this Sundal Podi.
Halwa ( pudding) is an easy to make dish, and is ideal as an offering to the Goddess. Here are a few easy Halwa Recipes to try.
Wishing you all a Happy, peaceful, stress free, and fun-filled Navarathri.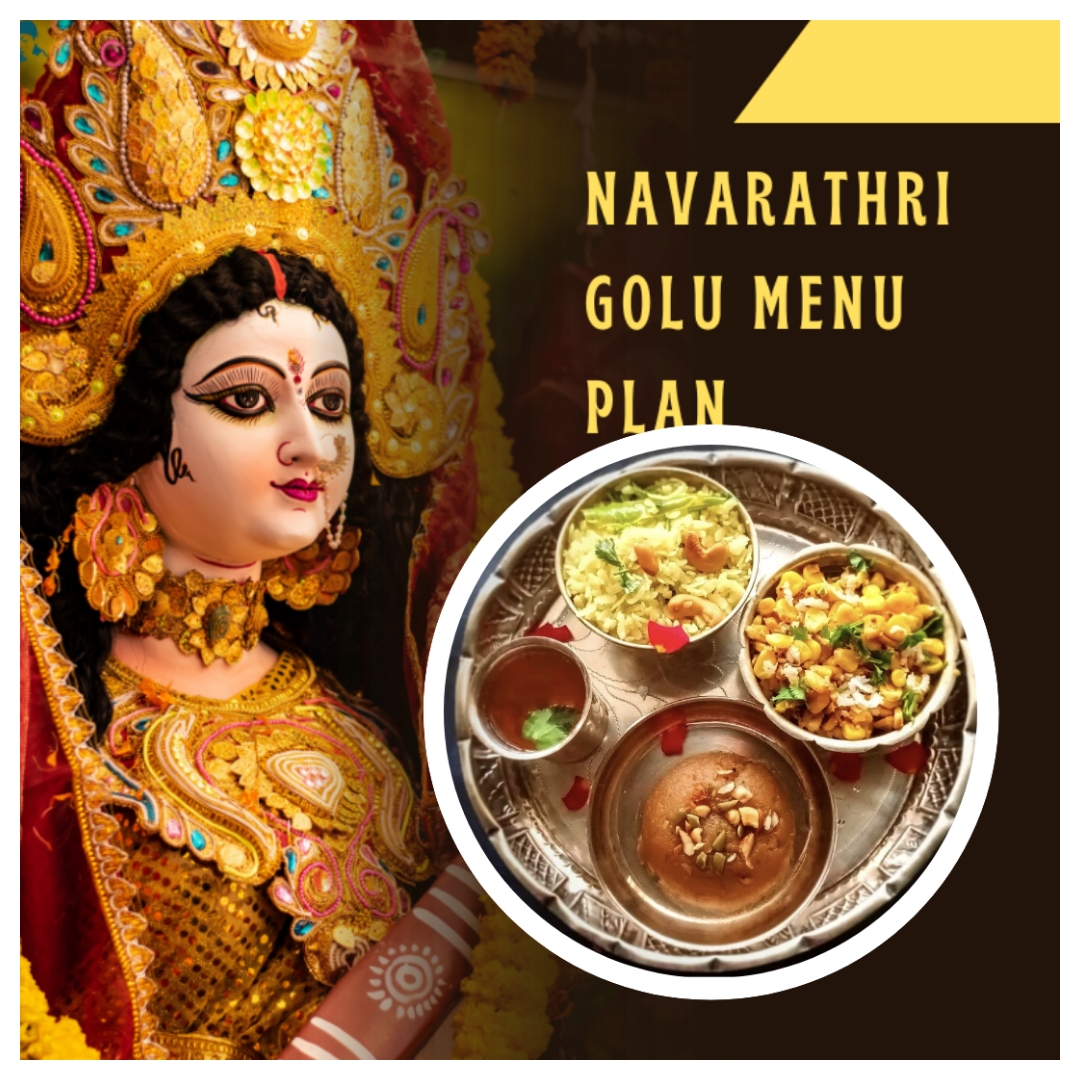 Get yummy recipes delivered to your inbox!
Be the first one to know about our new recipes. Leave your email below and get notified as soon as new recipes are published!