Paratha Mini Thali
Jump to recipe
A Thaali is a 3 course(and above) Indian meal which features a combination of dishes that are wholesome, mix and match with each other in terms of texture and  flavour, and are balanced. India being a country with a huge food culture and heritage there are a great number of thaalis which can be cooked, either within a single cuisine, or a mixture of cuisines that match well.
This is an attempt by me to bring here as many Thali ideas as possible for you all to create. We all want an balanced meal which takes very little time to create, and this is just that. The Thaalis in this series will range from simple to complex, and festive to on the go thali's.
The below Thali took me 40 mins to create. All the recipes mentioned here are also available separately. But here I am giving the whole process of how I went about creating it, and also giving the recipes side by side.
Do let me know in the comment section if I should create more Thalis like this for you to try. This current one is a simple working day thali, which one can create before leaving for work(can pack this as lunch as well), or once back home, or any day.
While you are here also check out other recipes like- Palakkad Mini Thali, Rice flour Rotis, Beetroot Parathas, and more…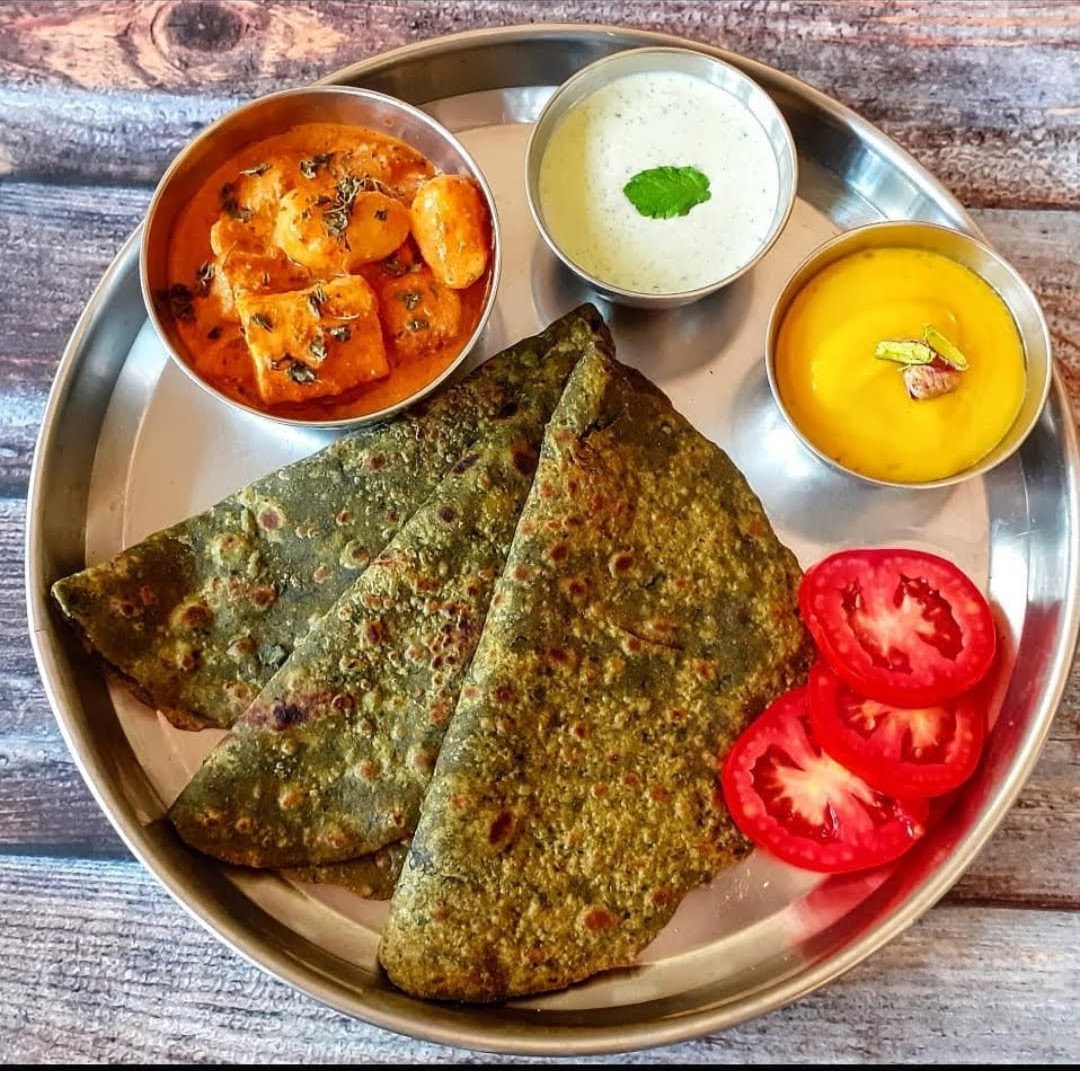 Pre-prep
Elements of this Thaali
*Palak Paratha   *Aam Ras   *Aloo Paneer Curry   *Mint Raita
Pre prep
All Vegetables were cut the previous day ( The Palak/Spinach was chopped, blanched the previous day, Potato and Mango were also chopped and kept in the fridge)
Prep & cook
STEP 1: Puree the Palak/Spinach and make the Paratha dough, as the dough needs resting time. Set Aside.
STEP 2: Proceed with the aloo paneer curry, as given in recipe. While the curry is cooking, and you wait for the whistles from the cooker, carry out the next step.
STEP 3: Make the Aam Ras as per instructions  in recipe. While you wait for pressure to release carry ouit the next step.
STEP 4: Make the raita and put it in the fridge.
STEP5: Finally, start rolling out the Parathas, as per instructions in the recipe.
Palak Paratha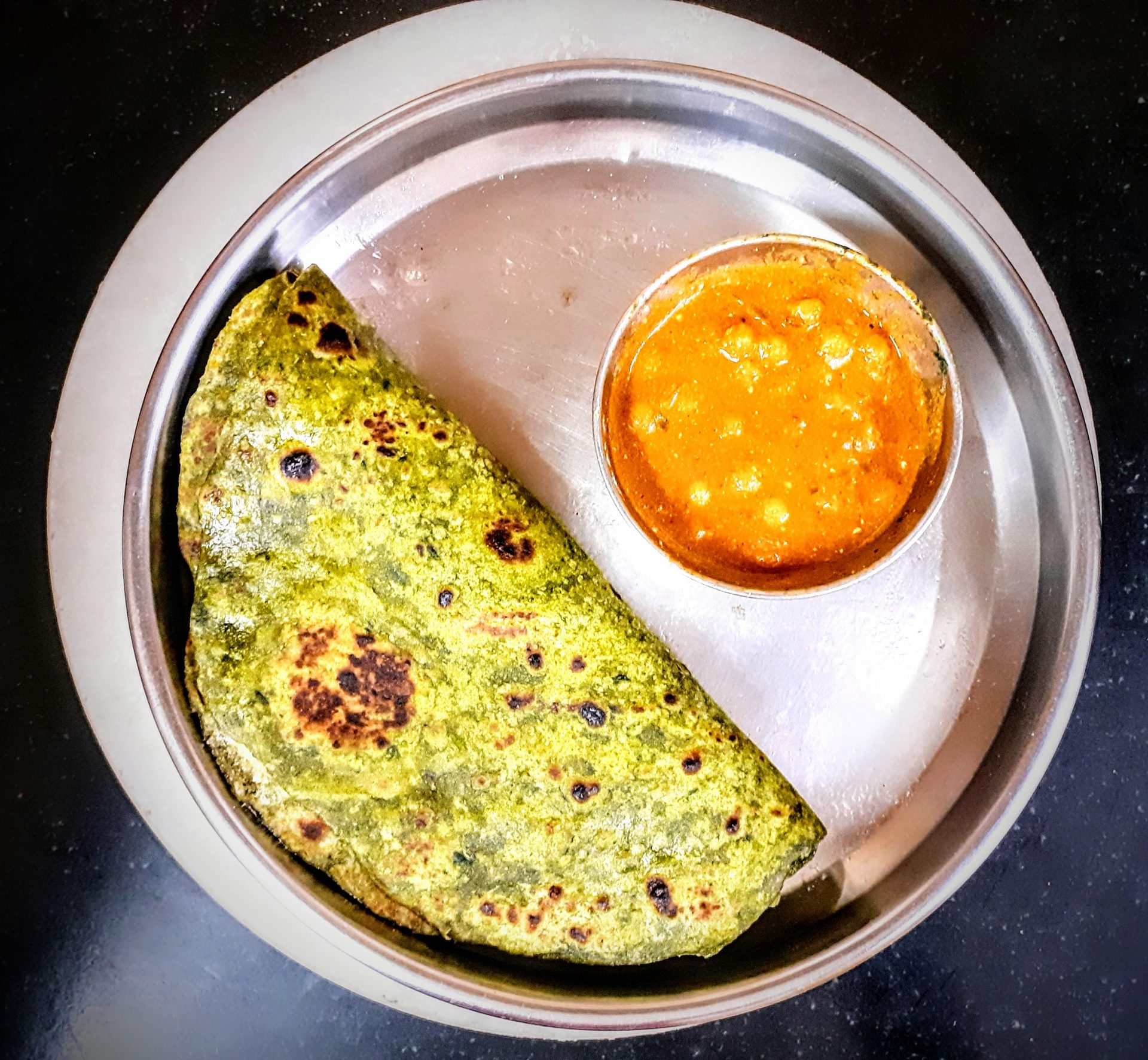 Ingredients
Palak/Spinach 1 bunch( 250 gm approx)
Wheat flour 3 cups ( 1 cup = 150 gm)
 Salt as required
Cumin seeds  1 tsp
Coriander Powder 2 tsp
Fennel Powder 1 tsp
Red Chilli Powder 1 tsp
Water as required
Oil for cooking the parathas
STEP WISE RECIPE
Chop and blanch the Palak/spinach in hot water for 10 minutes. drain the hot water( don't discard. it can be used as stock for soups). Cool the spinach and blend it into a fine puree. Set aside. Now take the wheat flour in a big mixing bowl and add salt, cumin seeds, turmeric powder, red chilli powder, coriander powder, fennel powder and mix well.

 Now add a little oil,and mixing the Palak Puree, a little at a time start mixing the dough. If the puree is over and the dough is still dry and needs more moisture, add water a little at a time and knead it forming a soft, yet firm dough. Apply little oil and rest the dough for 10 minutes atleast.

After 10 minutes divide the dough into 10 equal portions and round them up. Take one ball at a time,dust with flour and roll out a little thicker than Roti/Chapatis. Repeat for all.
Now heat a Tava/girdle and put the rolled out dough on it.Drizzling  a little oil cook on one side, now flip and cook on the other side. cook until small black dots appear. Repeat for all the dough. Serve them hot.
Aloo Paneer Curry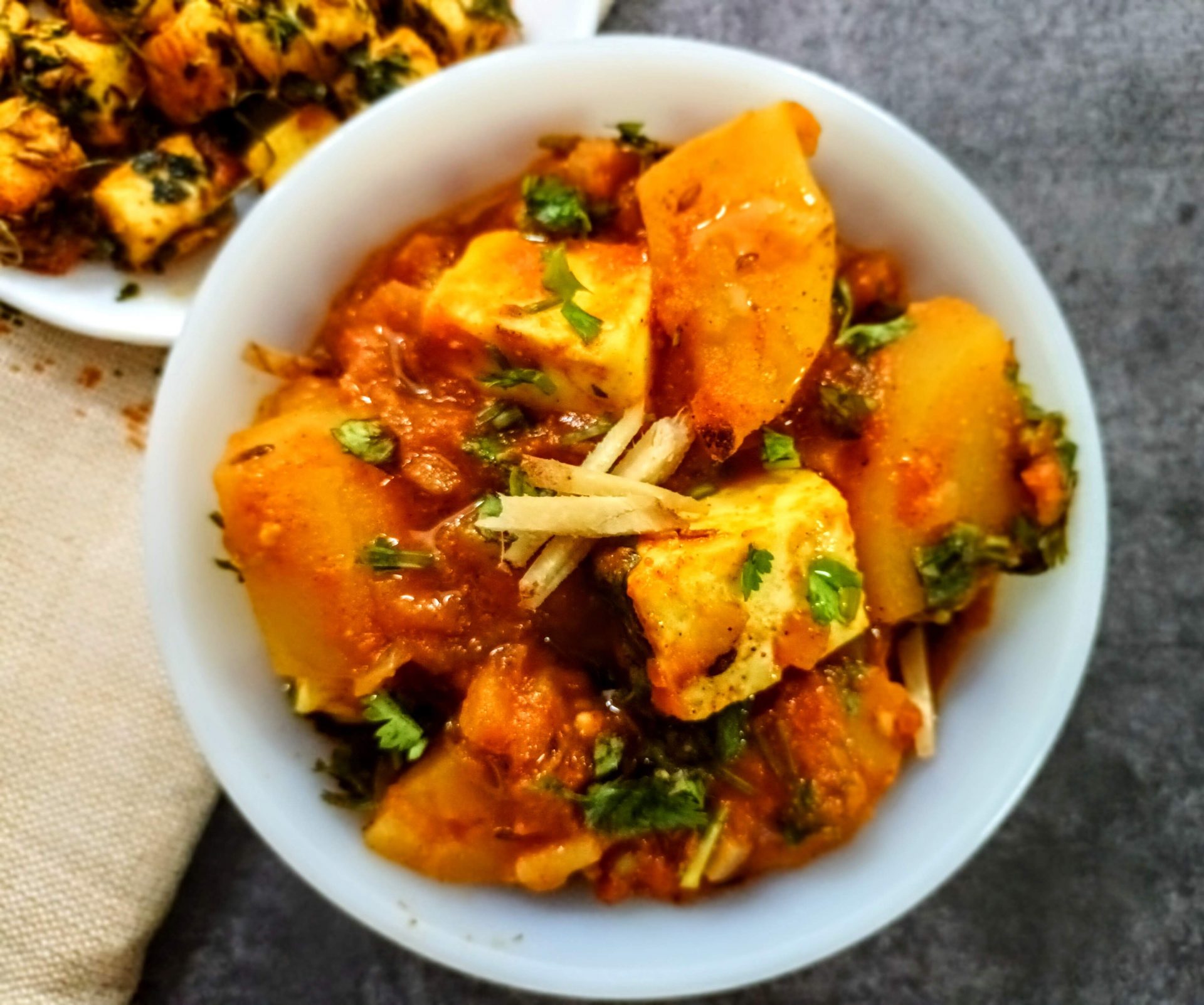 Ingredients
Potatoes 2 medium diced
Paneer 200 GM cubed
Tomatoes 2 large pureed
Onion 1 large chopped finely
Cumin seeds 1tsp
Turmeric powder 1/2 tsp
Ginger-garlic paste 1 tsp
Salt as required
Red chilli powder (regular/hot) 1 tsp
Kashmiri red chilli powder 1/2 tsp
Coriander Powder 1.5 tsp
Garam masala powder 1/2 tsp
Roasted Besan/Chickpea flour 2 tsp (check notes)
Few coriander leaves finely chopped
STEP WISE RECIPE
In a pressure cooker heat some oil. Add the cumin seeds and when they crackle, add the turmeric powder, followed by the onions, Saute until the onions start turning brown and then add the ginger garlic paste. Saute for 30 seconds and then add the diced Potato.

Now saute the potatoes for 2 minutes and then add the tomato puree. Add one cup water.

Further add the salt, red chilli powder, Kashmiri chilli powder, coriander powder, and mix well. Close the cooker, and allow 3 whistles to come(for no whistle cookers 15 minutes of slow-medium cooking should be fine).

Once the pressure releases, give everything a good stir. Now turn on the stove again, add 2 tsp roasted Besan/chickpea flour, stir. Add the Paneer cubes followed by Garam Masala powder, and cook for 2 minutes on low flame. Finally garnish with coriander leaves and serve hot.
Aam Ras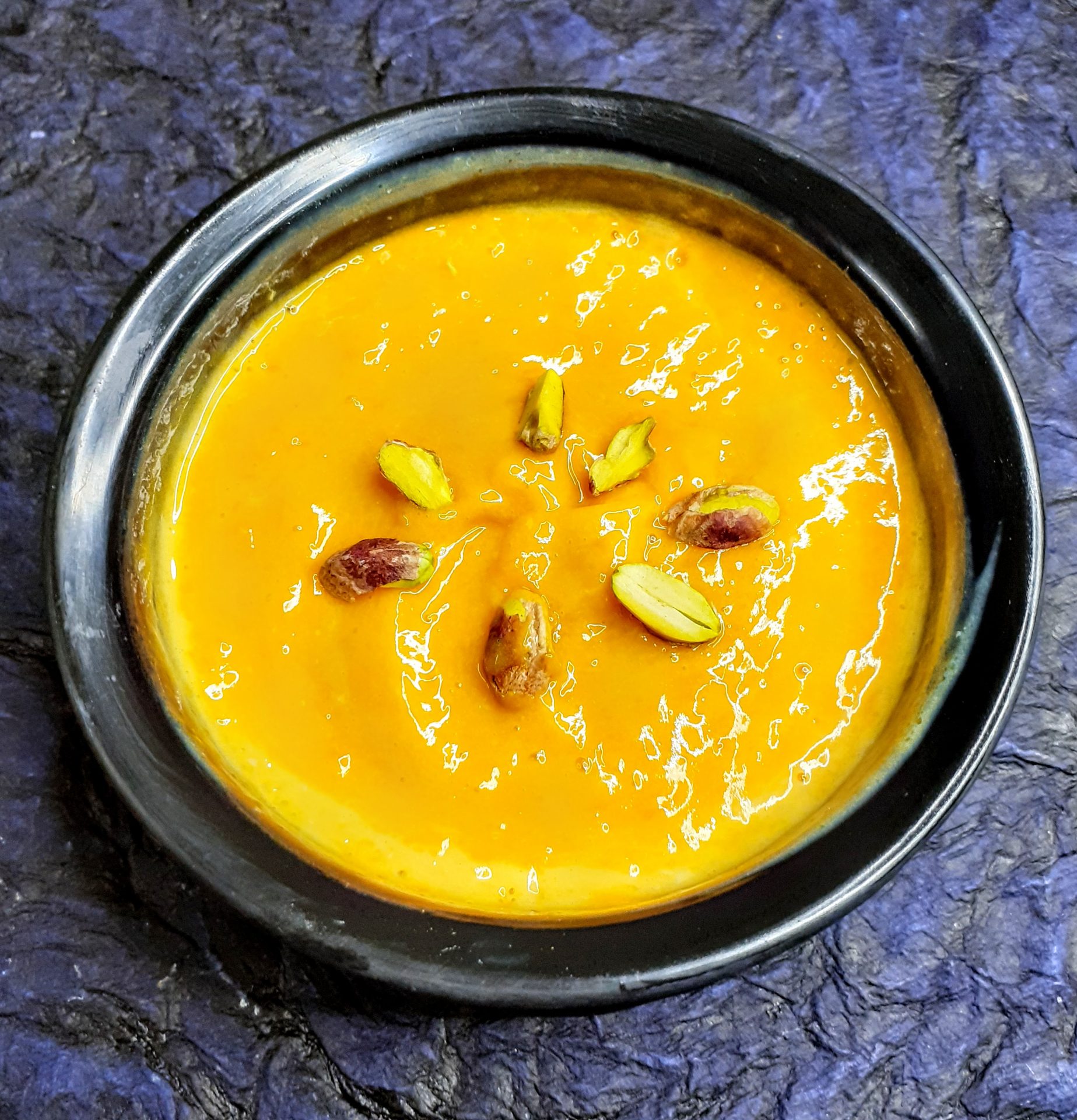 Ingredients
Ripened Mango 1 large
Sugar 3 tsp (optional. Can avoid if mangoes are very sweet)
Milk 1 cup
Pistachios, a few for garnish (optional)
STEP WISE RECIPE
Chop the Mango into cubes and put it in a blender. Add the sugar and blend to a smooth puree. Transfer the puree to a bowl.

Now to the blender jar add half a cup of milk and blitz (this way the mango pulp stuck to the blender will not get wasted). Pour this into the puree and mix well. Add another half cup of milk and adjust consistency (skip adding more milk if you have your required consistency). Top up with some chopped nuts and enjoy as dessert or on the sides with any flatbread.
Mint Raita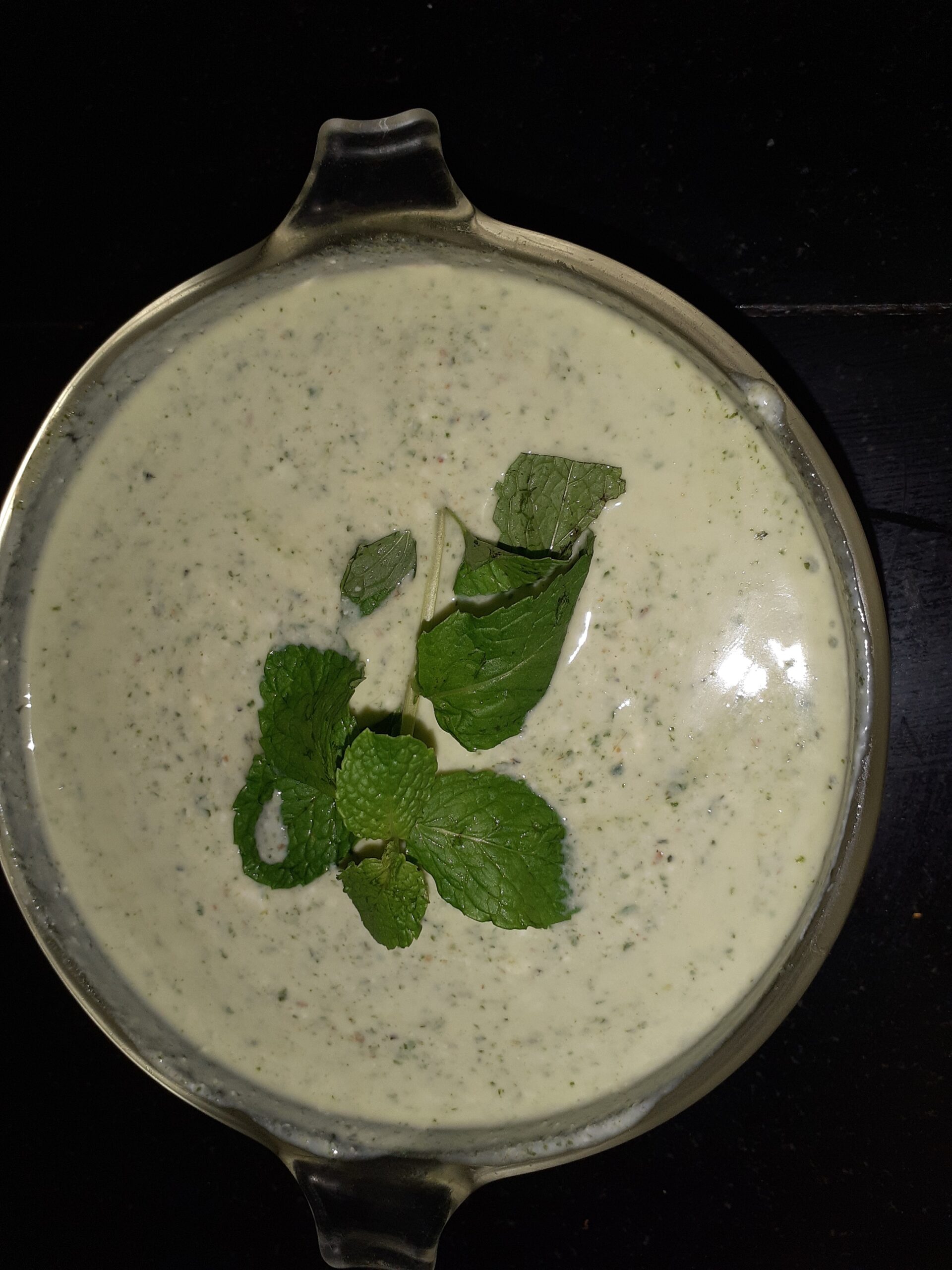 Ingredients
Mint leaves 1/2 a bunch
Green chilli 1(if not hot enough can add one more)
Curd 400 gms
Roasted Jeera powder 1/2 tsp
Salt as per taste.
RECIPE
Wash the Mint leaves well and let the water drain. Smoothen the curd( do not beat or whip). Put the Mint leaves, Green chillies, roasted Jeera powder and salt in a blender and give it a good spin. Add about a cup of curd from the 400 gms to the blender and grind to a smooth paste. Now add this paste to the remaining curd and mix well. Put it in the refrigerator until ready to serve. Enjoy the Mint Raita with your meal. Bon Appetit.
Overall Notes
Planning goes a long way in creating a wholesome, and delicious meal. Please go though all recipes to check if you have all ingredients mentioned.
All vegetables can be chopped and washed and stored the previous day itself.
Some pictures in this post are from my first blogged recipes, therefore you may find a different layout.
The idea behind these Thali ideas is to reinforce the fact that however busy we way be, a homecooked meal is always possible, within a short time, if we can plan ahead.
Get yummy recipes delivered to your inbox!
Be the first one to know about our new recipes. Leave your email below and get notified as soon as new recipes are published!