Thaali Ideas (North Indian Mini Thaali #1)
Jump to recipe
A Thaali is a 3 course (and above) Indian meal which features a combination of dishes that are wholesome, mix and match with each other in terms of texture and  flavour, and are balanced. India being a country with a huge food culture and heritage there are a great number of thaalis which can be cooked, either within a single cuisine, or a mixture of cuisines that match well.
This is an attempt by me to bring here as many Thaali ideas as possible for you all to create. We all want an balanced meal which takes very little time to create, and this is just that. The Thaalis in this series will range from simple to complex, and festive to on the go.
The below Thaali took me under 60 mins to create. All the recipes mentioned here are also available separately. But here I am giving the whole process of how I went about creating it, and also giving the recipes side by side.
Do let me know in the comment section if I should create more Thaalis like this for you to try. This current one is a simple working day thaali, which one can create before leaving for work(can pack this as lunch as well), or once back home, or any day.
Planning goes a long way in creating a wholesome, and delicious meal. Please go though all recipes to check if you have all ingredients mentioned.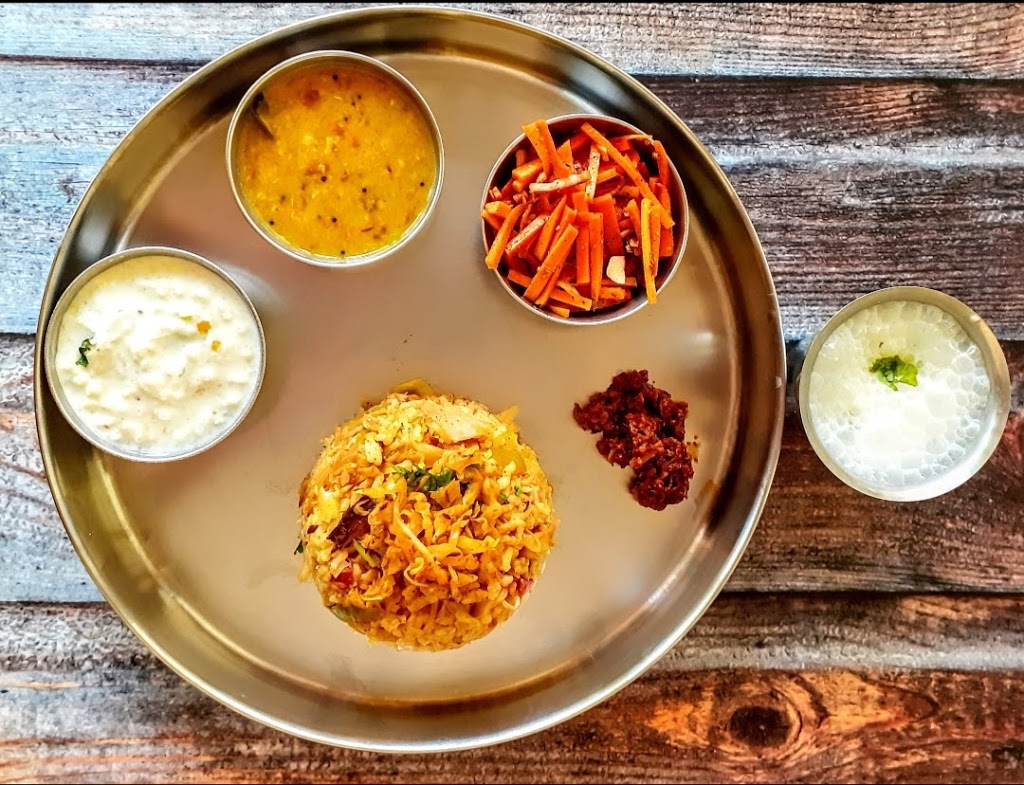 Pre-prep
Elements of this Thaali
*Korean Carrot Salad, *Cabbage Pulav,  *One Pot Tadke wali Dal,  *Green Apple Raita, *Pickle, and *Chaach(buttermilk)
Pre prep
All Vegetables were cut the previous day ( Julienne or Grate the carrot for salad. Chop the cabbage into strips, wash, drain, chop Onions, Capsicum, tomatoes, and store in fridge.)
Prep & cook
STEP 1 : Wash the rice for the Pulav, add adequate water, and pressure cook. (details in recipe). (15 mins approx to cook)
STEP 2: Wash the dal, drain and rest for 10 minutes.(10 min approx)
STEP 3: Within the 10 minutes of the resting time for Dal, complete the carrot salad.
STEP 4: Start cooking the dal as per recipe.(20 mins from start to end)
STEP 5 : The pressure must have settled in the rice, open cooker and spread out the rice on a plate to cool.
STEP 6: Start cooking the pulav as per recipe.( 15 min approx)
STEP 7: While the cabbage is getting cooked(sauteing) grate the Green apple for Raita and complete the raita.
STEP 8: The cooled rice will now be ready to add to the Cabbage mix. Complete the Pulav
Korean Carrot Salad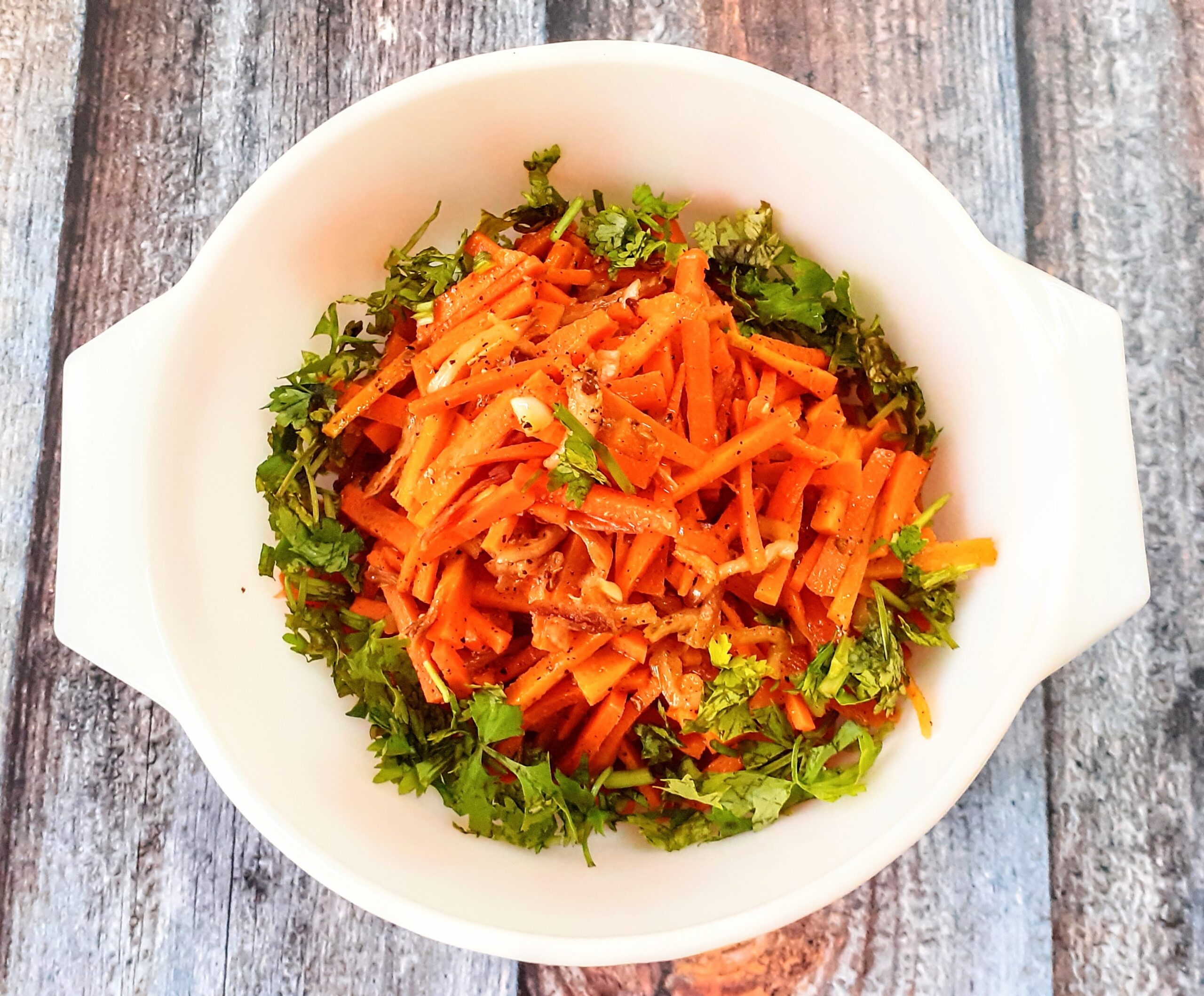 Ingredients
Carrots 3 medium sized, julienned or grated roughly
Caramelized Onions 1/2 cup ( I used store bought dehydrated onions)
Salt as required
Sugar 1 tsp
Garlic 4-5 cloves chopped finely
Pepper powder 1 tsp
Apple Cider Vinegar(ACV) 1 tbsp ( add more if you want more acidity)
Crushed coriander seeds/Dhania 1/2 tbsp
Olive oil (cooking oil, not extra virgin) 2 tbsp
Fresh Coriander leaves for garnish
Step-by-step:
In a large bowl, take the julienne/grated carrot. Add all ingredients to it except the olive oil.

Now in a small frying pan or tempering pan, take the olive oil and heat it to smoke point(be careful to not start a flame while smoking the oil. If the oil crosses smoke point, it can catch fire). Pour this smoking hot oil over the salad ingredients and give them all a good mix. The salad is ready to serve. We liked it chilled, so I put it in the fridge until ready to serve.

Notes:
Olive oil is the recommended for the exact flavours of the salad.
While bringing the oil to smoke point, be careful to not start a flame while smoking the oil. If the oil crosses smoke point, it can catch fire).
Apple Cider Vinegar (ACV) can be substituted with white vinegar. I would suggest adding it as per your taste.
Cabbage Pulav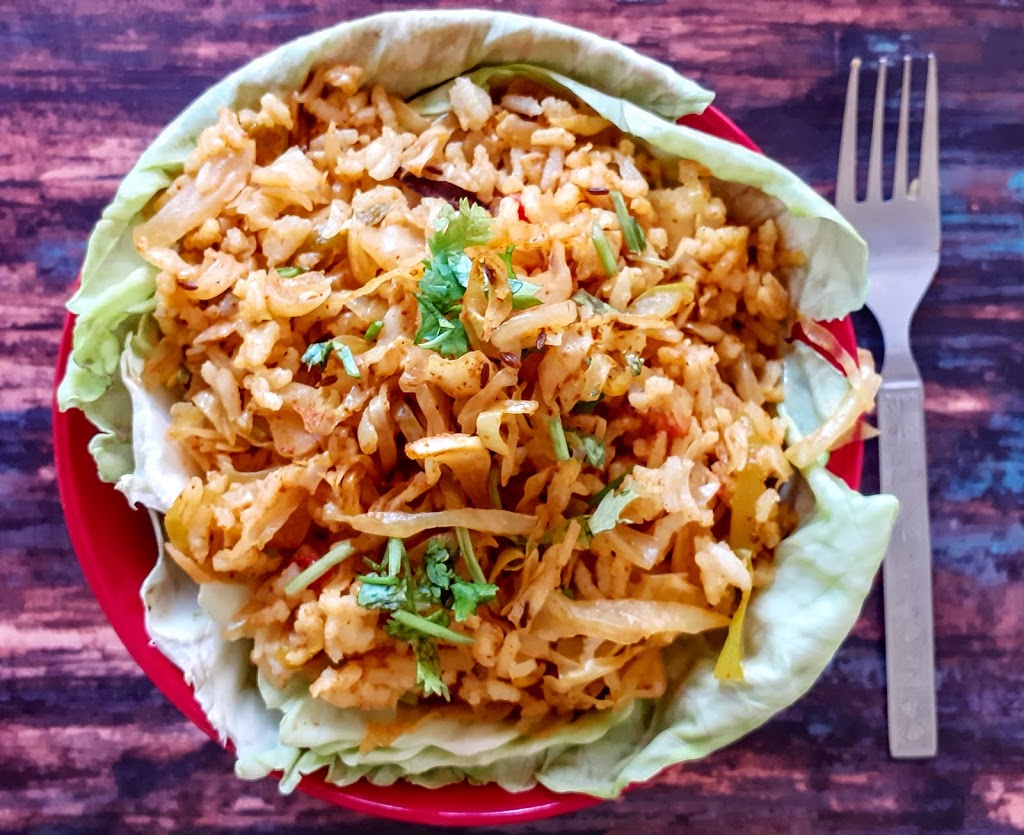 Ingredients:
Rice 1 cup precooked and cooled ( I used regular Sona Masoori)
Cabbage 1/2 of a medium one. chopped to think strips
Capsicum 1 medium chopped to strips
Tomato 1 large chopped
Cumin seeds 1 tsp
Fennel seeds 1/2 tsp
Shah jeera/ Caraway seeds 1/2 tsp
Cinnamon 1 inch stick
Turmeric powder 1/2 tsp
Salt as required
Red chilli powder(regular) 1 tsp
Coriander powder 1 tsp
Fennel Powder 1 tsp
Garam Masala powder 1/2 tsp
Oil for sauteing 1 tbsp
Fresh coriander leaves chopped for garnish
Step-by-step
Precook 1 cup rice, spread it on a plate to cool and keep aside. In a Kadai heat the oil. Add the cumin seeds, fennel seeds and Shah jeera, Cinnamon stick, and fry until light brown.

To this add the chopped capsicum and stir fry for 2 minutes. Add turmeric powder, and saute for another 2 minutes. Now add the tomatoes and continue to saute, until they become a little tender.

Now drop in the Cabbage strips, and saute for 2 minutes. Add salt, Red chilli powder, coriander powder, fennel powder and stir fry well. The cabbage will release water, keep sauteing until it becomes almost dry and the cabbage is well cooked, but firm and crunchy.

Now add the garam masala, cook for a minute, and finally add the cooked rice. Give everything a nice stir so that the rice is well coated with vegetables and spices. Garnish with fresh coriander leaves and serve hot .

Notes:
Instead of the regular cabbage one can also use Purple or Red cabbage.
Other vegetables or soya chunks can also be added.
One Pot Tadke Wali Dal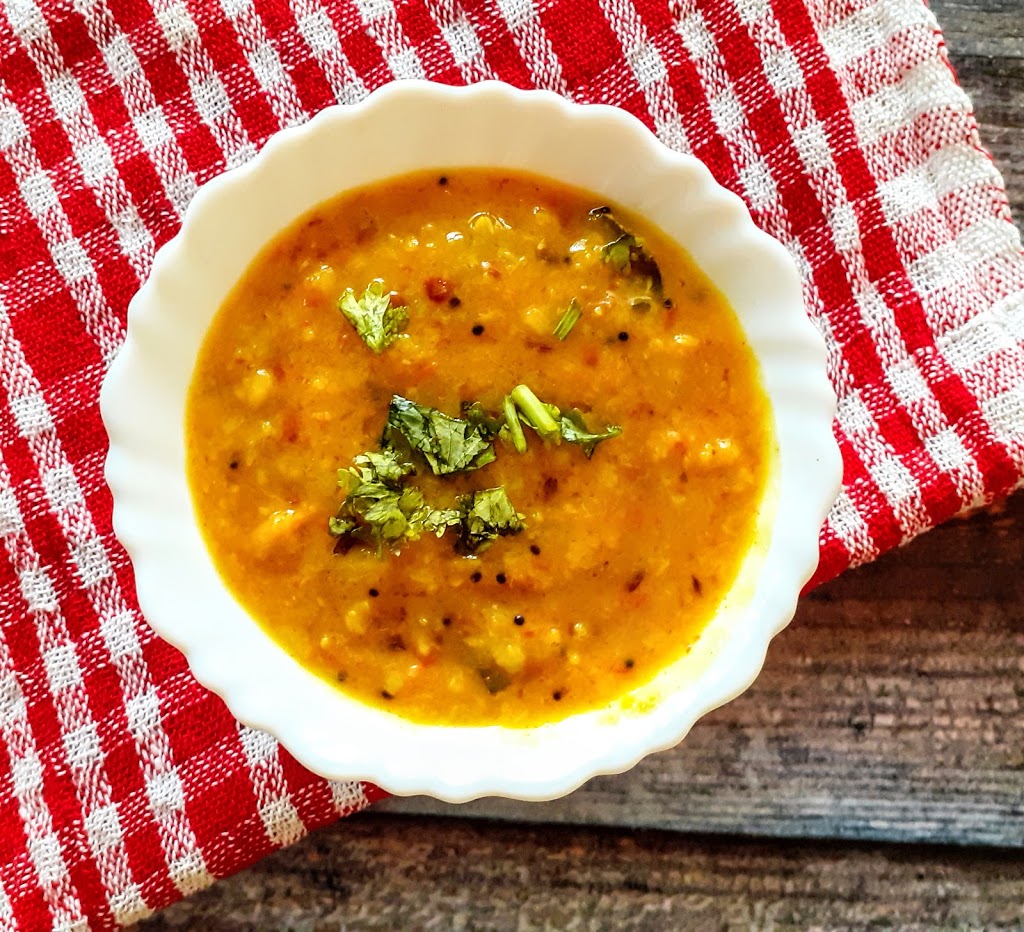 Ingredients:
Moong dal 1/2 cup  washed and soaked for 15 minutes
Tomato 1 chopped
Mustard seeds 1 tsp
Cumin seeds 1 tsp
Turmeric powder 1/2 tsp
Curry leaves a few
Green chilli 1 chopped
Ginger -garlic paste 1/2 tsp
Salt as required
Oil for sauteing
Ghee 1 tsp
Lemon juice 1 tsp (optional)
Step-by-step:
Rinse and soak the Moong Dal for 15 minutes. Now in a small cooker heat some oil. To this add the mustard and cumin seeds. When the seeds crackle add the turmeric powder, followed by curry leaves, chopped tomatoes and green chilli. Saute this well until the tomatoes start turning a little tender. Add the ginger -garlic paste and fry for 10 seconds.

Now drain water from the dal and add the Moong dal to the cooker. Mix everything together nicely, and add 1.5 cups water. Close the cooker and allow 5 to 6 whistles to come. Put off the flame and wait for the pressure to release. Now open the cooker. The water must have been absorbed and dal cooked. The mixture may appear dry.

Add 1 cup water and stir everything well. Switch on the flame, add salt and stir again. cook for 1 minute. Switch off the flame, if using lemon juice(optional), add now, pour the ghee and its ready to serve.

Notes:
This recipe can be followed with Tuvar dal(pigeon pea), Chana dal(Bengal gram) or the mix of all three grams together. The cook time will vary.
To make this dal in a pan instead of cooker. To pre cooked dal add all the above tempering ingredients and saute tomatoes in the tempering, and pour it into the dal.
Green Apple Raita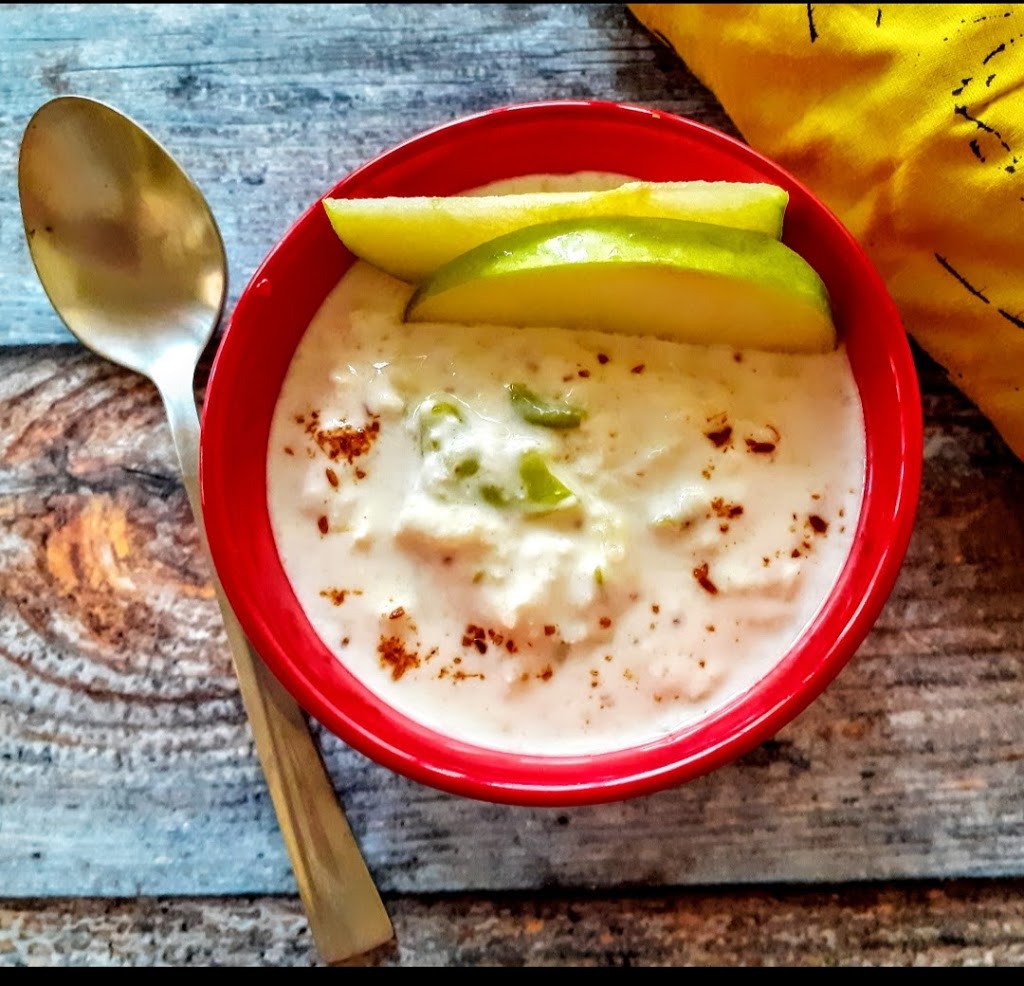 Ingredients:
Green Apple 1 grated with peel
Yogurt/Curd 300 gm
Salt as required
Roasted cumin powder 1 tsp
Sugar 1 tsp
Red chilli powder 1/2 tsp (optional)
Directions
In a bowl smoothen out the curd with a ladle gently. Do not whisk, only fold.
Grate the apple with the peel, and drop into the curd, add salt, sugar and roasted cumin powder, red chilli powder(if using), and mix everything very well. put it in the refrigerator until ready to serve.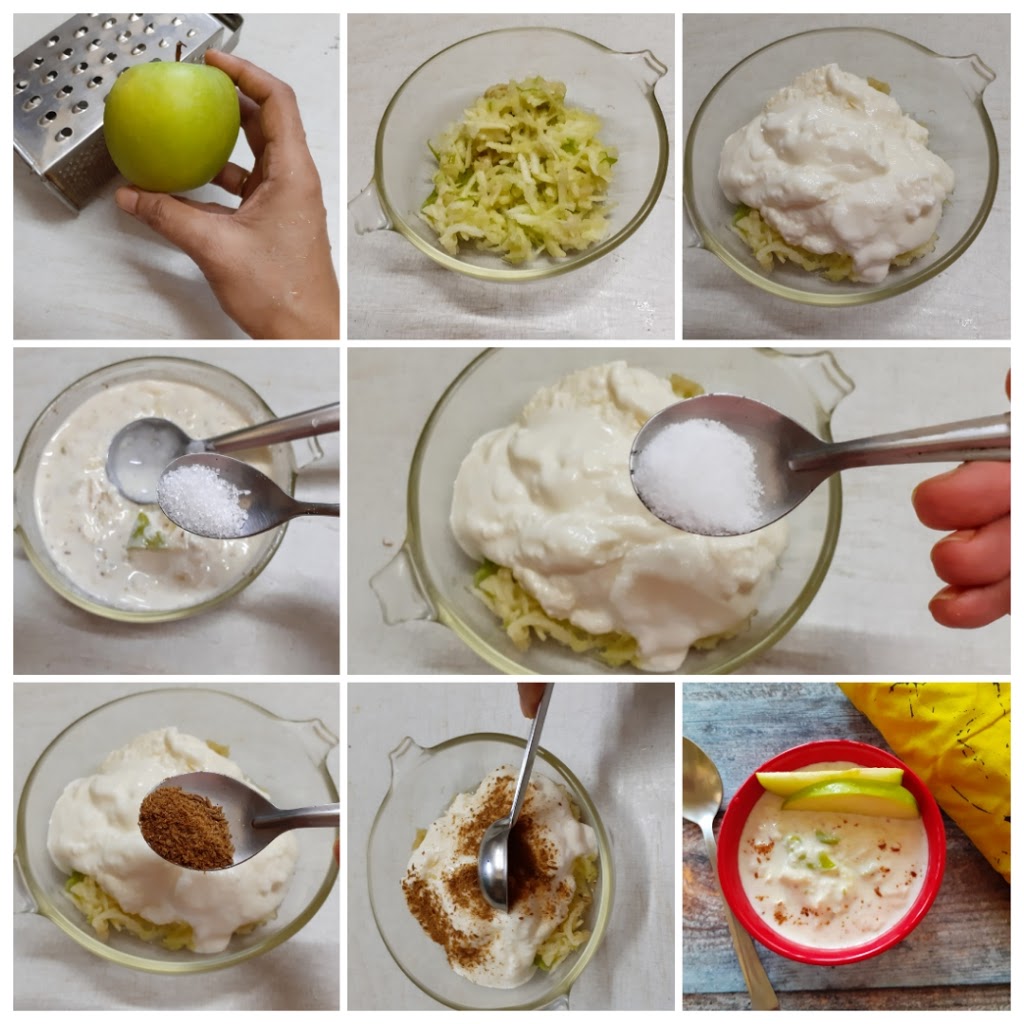 Notes:
Use only Green apples as they give the right tartness and texture. The taste may change with regular eating apples. Green apples are the cooking variety.
I have not added red chilli powder here. But it can be added.
Fresh and finely chopped coriander leaves can also be added.
Use more apples for a stronger flavour/taste.
Mango Pickle- Was courtesy my mother who runs Paru's Pickles.
Chaach/Buttermilk(this quantity is for 1 glass)- Take 1 tbsp curd and whisk,pour 3/4 cup warer, add salt and cumin powder, top with chopped coriander, if you prefer.
Overall Notes
Planning goes a long way in creating a wholesome, and delicious meal. Please go though all recipes to check if you have all ingredients mentioned.
A small tip- sometimes when in a hurry, instead of resting the dal for 10 minutes, a use it immediately after wash, but give it a slightly onger cook time in the cooker (may be 3 whistles more). Helps in saving time.
Most of the time I don't store chopped onions in the fridge, I chop them right then. If chopping ahead, i store them in a Tupperware  box so that the smell does not permeate all through the fridge.
If you tried creating this Thaali and liked it please comment below. I would love to hear how it went for you. If you have a query about the recipe email us and i'll respond as soon as I can.
If you would like to receive our recipes on your mail please leave your mail id at the homepage. Every time Rajjo's Kitchenn has a new post we will mail the recipe to you.
Get yummy recipes delivered to your inbox!
Be the first one to know about our new recipes. Leave your email below and get notified as soon as new recipes are published!