Cabbage Kunukku With Dosa Batter/ Cabbage And Lentil Fritters
Jump to recipe
Kunukku or Kunuku is a traditional South Indian snack made with Adai Batter ( batter made of lentils), adding a few vegetables or Semolina/ Sooji to it.
I tried a different version during Navarathri this year, and the Kunukku turned out so good, that all my guests took down the recipe before they left. Navarathri is an Indian festival that is celebrated in most Indian states, and the celebrations are very diverse in each state. In south India, and particularly in Tamilnadu we celebrate by keeping Golu ( a display of dolls), and calling women folk for Vethalai Paku / Haldi Kumkum ( a tradition of offering turmeric and vermilion to married women), which is considered auspicious.
Navarathri as the name suggests is celebrated for Nine days and Nine nights. Everyday a different dish is offered to the goddess after Pooja/ prayers. We also have guests coming in every evening to visit our Golu. So for nine days we are churning out delicacies from the kitchen. The offerings need not be complicated, so mostly a Sundal is served. A Sundal is dry salad made from cooked legumes.
To break the monotony of Sundal, quick dishes like Kunukku are prepared. This time round, I did not have Adai batter, and so I have used Dosa batter and soaked Chana Dal, and Cabbage. And how crispy the Fritters turned out !
While I'm sharing the recipe with Dosa batter, I do understand that not everyone might have a ready stock of the batter( it is available in all departmental stores though), so I'm also going to share how to make it without Dosa batter.
While I have used Cabbage, you can use any veggies of your choice like Carrot, Zucchini, and leafy greens.
While you are here I request you to have a look at other recipes on the blog like Mysore Bajji, Brocolli and Zucchini fritters, Mirapakaya Bajji, Dhaniya Wale Namak Pare, and more.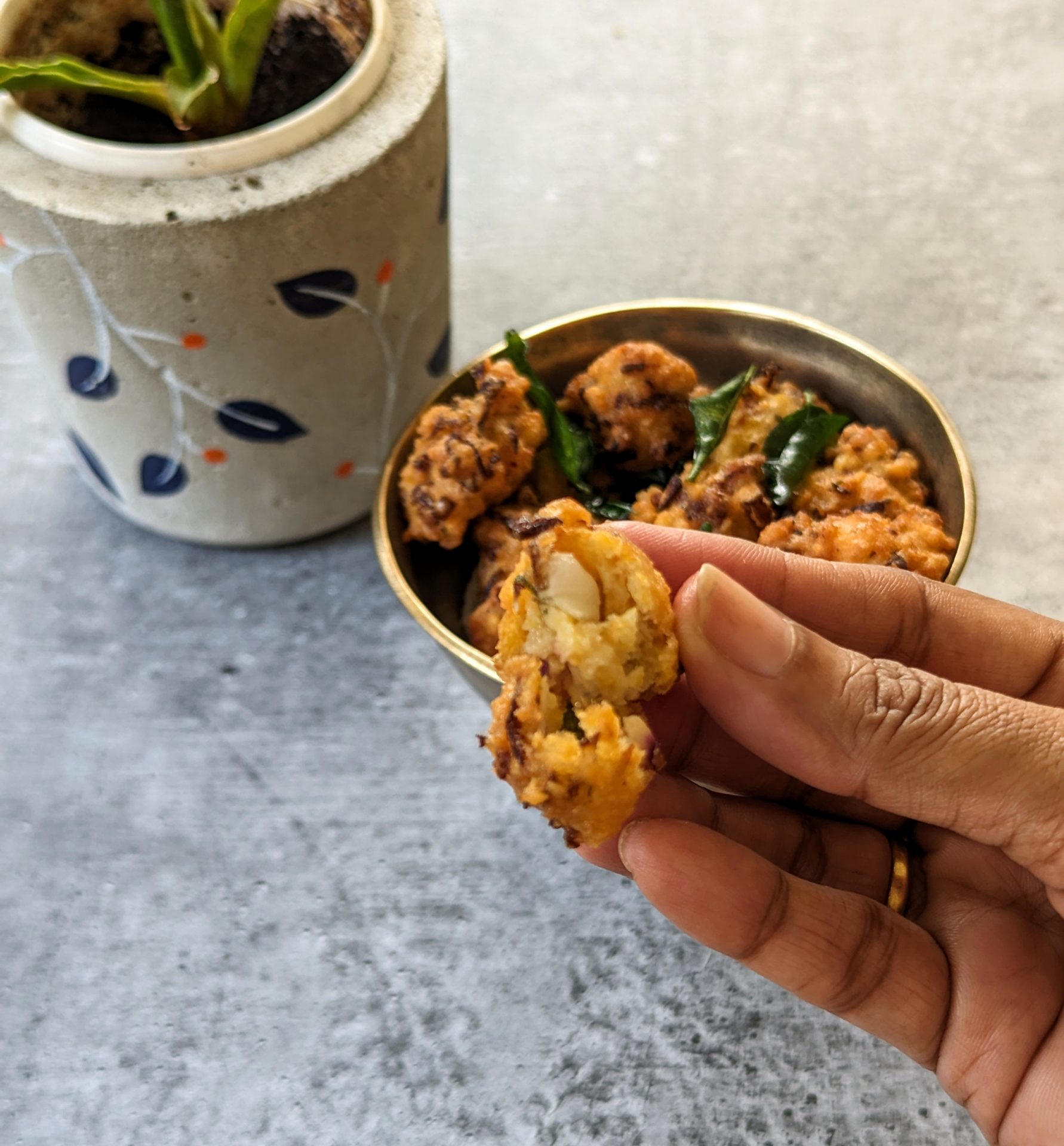 Ingredients
Idli/ Dosa batter 1/2 Cup ( for method without Dosa batter refer Notes section)
Chana Dal/ Gram Dal 1 cup soaked for 2 hours
Ginger 1 inch piece finely chopped
Green chillies 3 finely chopped
Dry whole red chilli 2
Asafoetida 1 TSP
Coriander leaves 1 tbsp finely chopped
Salt as required
Fennel seeds lightly crushed 2 TSP
Cabbage 1/2 Cup finely chopped ( any colour of cabbage is fine. A mix of two varieties works as well)
Oil for deep frying
Drain all the water from the Chana Dal/ Gram Dal. Transfer the Dal to a blender, add the dry red chillies, salt, and  asafoetida and grind to a coarse mixture without adding any water.
Transfer this mixture to a mixing bowl, add the Idli/Dosa batter, finely chopped green chillies, and ginger, crushed fennel seeds, chopped coriander leaves, and mix well. Now add the finely chopped Cabbage, and mix with a light hand, forming a semi wet batter.
Heat oil in a pan for deep frying. When the oil is medium hot ( the batter when dropped should rise immediately), drop small bits of the batter into the oil and fry until golden and crisp.
While this Kunukku tastes amazing just by itself, you can serve it with green chutney if you like.
Notes:
To make Kunukku without Idli/ Dosa batter, you'll have to start the process a little ahead. Because we want a little fermentation to happen for, a hint of the sourness takes the dish up a several notches.
Soak 1 table spoon of Urad Dal ( de skinned black lentils), and 3 tbsp of raw rice for 2 hours. After 2 hours drain the water and grind to a fine batter using little batter. Consistency should be thick, but should drop off a spoon. Add little salt and allow to ferment for 3 to 4 hours. Now proceed with the recipe as given in directions.
Do not be tempted to add more water while grinding the Chana Dal to a coarse paste.
The ginger, green chillies and coriander leaves add huge flavour to the dish, so don't omit them.
You can add any other of your favourite vegetables instead of Cabbage.
You can also use a spoon to drop the batter.
Get yummy recipes delivered to your inbox!
Be the first one to know about our new recipes. Leave your email below and get notified as soon as new recipes are published!