Rava Dosa
Jump to recipe
Dosas come in many varieties and these Rava Dosas are full of flavour and are crisp too. This is a foolproof recipe. In my family, we have made it this way for years and what's more, just add any healthy millet flour to this and it will still come out well. In restaurants, this Dosa is made with Maida instead of the wheat flour. You can do that too. I'm partial to what flour so have replaced Maida/ refined flour with it.
Let's get to the recipe right away.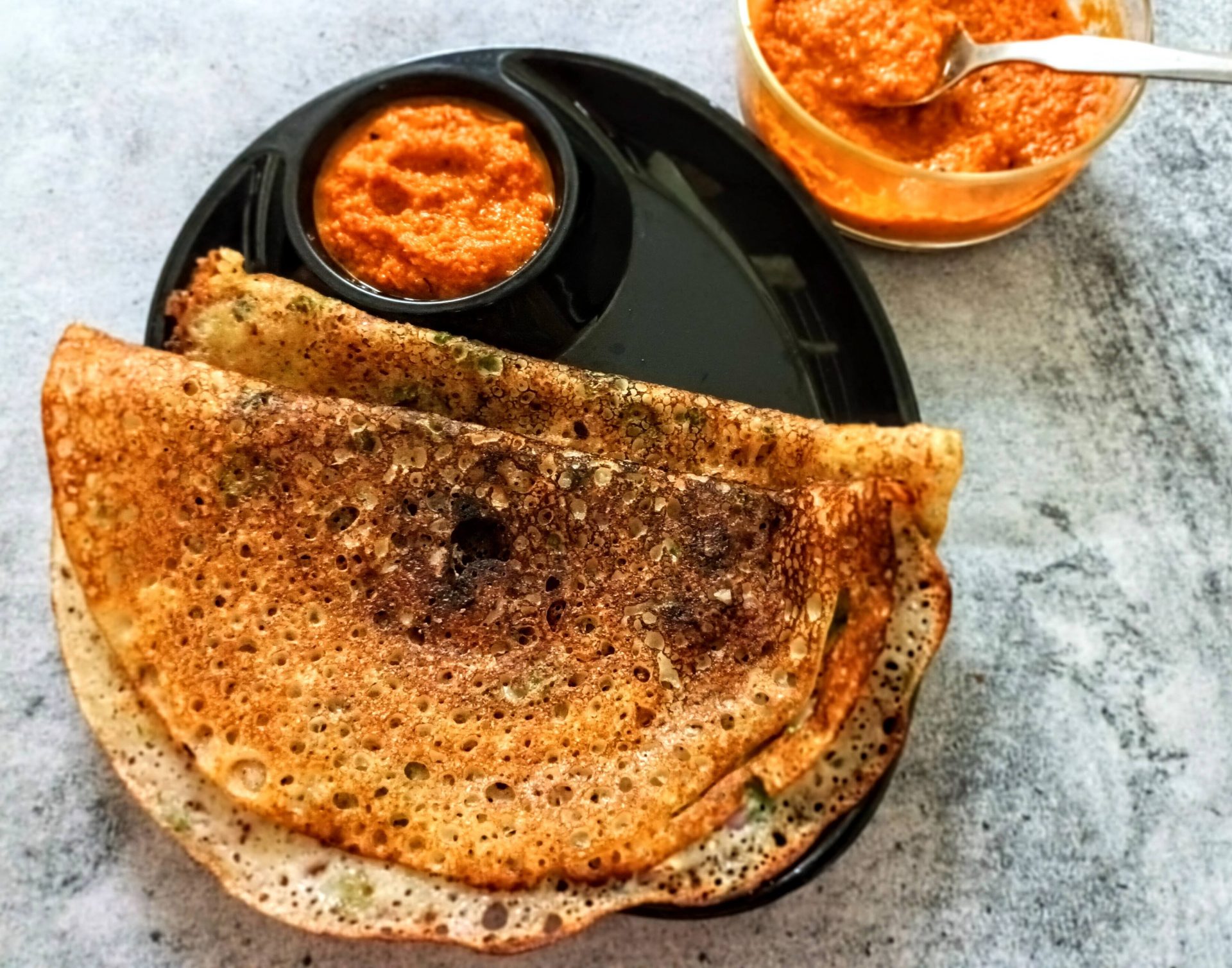 Ingredients
Ingredients
Rava/ Sooji 1 cup( roasting Rava is optional, but I would  recommend it)
Rice flour 1 cup
Wheat flour 1 cup
Curd 1 cup
Water -around 1 litre or a little more
Roasted cumin and pepper powder
Green chillies 2
Ginger 1 inch piece
Curry leaves- few leaves cut fine
Coriander leaves finely chopped.
Salt  as per taste( I used 1.5 tsp)
Assemble all ingredients.

Take a 1-litre vessel and add in Rava/ Sooji, wheat flour and Rice flour. Add in the curd.

Add the salt and the roasted cumin- pepper powder( to make powder take 2 tsp Jeera and 1 tsp pepper and roast on low fire to get the aroma of the spices. Cool and grind coarse).

Add water( up to 1 litre) little at a time and stirring constantly so that no lumps are formed. Pour the remaining water until you achieve the consistency shown in the picture( a little thinner than the regular Dosa).

Take oil in a small tadka karahi. Add the mustard and cumin seeds. When they crackle add the cut green chillies, ginger and curry leaves. Add Asafoetida too and crush a little. Pour this tempering into the batter. Add the chopped coriander and let the batter stand for 10 mins atleast. There your batter is ready.

To make crispy Dosas, put a girdle on the Tava( I used a non-stick one). The girdle has to be really hot or else your dosa will be lumpy.

Now pour the batter on the girdle forming a circle. You cannot spread the batter like the regular dosa, you'll have to pour it as shown in the picture. Drizzle oil over the Dosa and cook.

Cook until it becomes crisp and is a golden brown, then flip over and cook again. If you want it crisper be generous with the oil.

Your crisp Rava Dosa is ready. Enjoy with chutney( check out the recipe in chutney section)  and idli podi ( check out the recipe in powders section).
Take a 1-litre vessel. Put in all the three flours.
Add the curd to it. Add in the salt and the roasted cumin pepper powder. Add a little of the water from 1 litre and mix well forming a paste without lumps. Once that's done mix in the remaining water little by little and stirring every now and then so lumps don't form. Don't pour all the water at a time. Depending on the quality of the Sooji, you might use, less too. The batter should neither be too thick nor too watery. It should be a little loose than the normal Dosa batter. Take 3 tsp oil in a small tadka karahi and heat.  Add the mustard and Cumin and once they crackle put in the finely cut green chillies, ginger and curry leaves. Also, add 1/2 tsp of Hing/ Asafoetida and turn off the stove. Add this tempering to the batter. Let the batter stand for 10 mins and you are ready to pour the Dosa on the girdle. There your crispy Rava Dosa is ready. Enjoy. Bon Appetit!
Notes:
As said earlier it's a  foolproof batter and won't let you down. Just stick to the measurements.
Rava Dosa is usually made with Maida in restaurants as it gives that extra crispy edge, feel free to use that too. Since I am partial to wheat flour have replaced Maida with it.
Instead of wheat flour or Maida, you can use Ragi flour, Jowar flour or any other millet flour and the Dosa will still come out well.
If you are sceptical of replacing the wheat flour with any millet flour, just add a cup of millet flour along with the other flours. That works too.
Be generous with the oil for crisp Dosas and be patient. Unlike the regular Dosas, they take a little longer to cook and get crisp, and the patience will be worth it.
It's important to get the girdle quite hot. Do the little test of sprinkling water on your girdle when it's hot. If the water evaporates very quickly, that's the right heat. You can start pouring the batter on the girdle.
If you tried this recipe and liked it please comment below. Would love to hear from you.
Gallery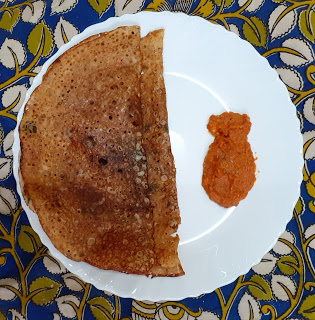 Get yummy recipes delivered to your inbox!
Be the first one to know about our new recipes. Leave your email below and get notified as soon as new recipes are published!