Vegan Chocolate Pudding
Jump to recipe
This Chocolate Pudding is the perfect Vegan dessert.
When it comes to vegan desserts, there's nothing quite like a creamy and decadent chocolate Pudding. This recipe is not only delicious, it's also incredibly easy to make. All you need are a few pantry ingredients and a blender. Simply blend together the Chickpeas, good quality eating chocolate or vegan  chocolate,  and a few other ingredients, and then allow the mixture to set in the freezer and fridge. The result is a smooth and velvety Pudding that will satisfy any sweet tooth.
The secret ingredient: Chickpeas
You might be wondering how Chickpeas can possibly be the star of a chocolate Pudding. Well, let me tell you,  they are the secret ingredient that gives this dessert its amazing texture and body. Chickpeas are not only an amazing source of protein and fiber,  but they also have a neutral flavor that allows the chocolate to shine. When blended together, the Chickpeas create a smooth and creamy base for the Pudding that is simply irresistible.
Tips for serving
Once your vegan chocolate Pudding is ready,  it's time to serve and enjoy! The Pudding needs to be kept in the refrigerator, so it's best to serve it chilled. You can simply spoon the Pudding into individual bowls or glasses for a beautiful presentation.  If you're making this dessert for a potluck or gathering, it's a good idea to have an ice pack ready to keep the Pudding cool during transportation.
Alternatively, you can make the Pudding in tiny disposable dessert cups that are readily available these days. This way you can easily transport the individual servings without worrying about spiller messes.
I recommend using a silicone mould to set the Pudding. This will allow you to create elegant and professional looking shapes, that can be easily demolded into serving plates. If you don't have a silicone mold, don't worry! You can still enjoy the deliciousness of this Vegan Chocolate Pudding by serving it in scoops from a glass bowl.
In conclusion,  this homemade vegan chocolate Pudding is the perfect dessert for any occasion.  With its creamy texture and rich chocolate flavour, it's sure to impress both vegans and non vegans alike. The addition of Chickpeas gives the Pudding a unique and delightful twist, making it a dessert that stands out from the crowd.
So why not give thus recipe a try ? Whip a batch of Vegan Chocolate and share it with your loved ones.
While you are here I request you to take a look at other desserts on the blog like- Apple tea cake, Pistachio Cake,  Eggless Pineapple Cake, Rum Truffles,  Bishop Nut Bread, and more.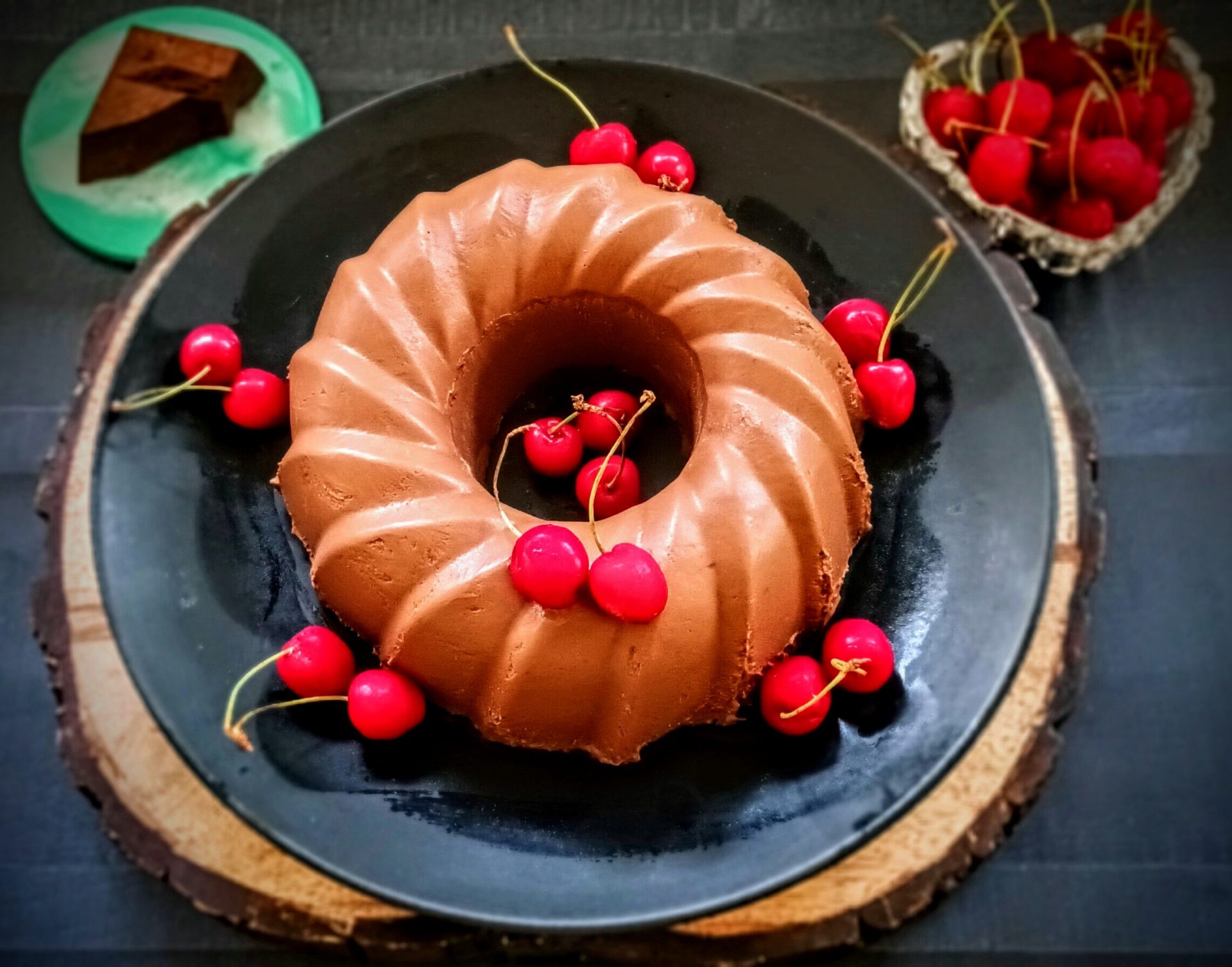 Ingredients
Soaked and cooked Chickpeas 300 gm ( retain approximately 3 to 4 tbsp of cooked water). Temperature should be warm
Coconut Milk 300 ml
Melted Dark Chocolate 125 gm
Cocoa powder 30 gm
Brown sugar 2-3 tbsp
Add half the quantity of coconut milk to the grated/ broken bits of Dark chocolate, and microwave for 30 seconds.  Remove and stir briskly until the chocolate melts.
Take the Chickpeas along with the residual water in a blender, add the melted chocolate, remaining coconut milk, Cocoa powder, and brown sugar, and blitz everything to a smooth mixture.
Ensure there are no lumps, and the Chickpeas are well pulsed. If not, blitz again for a few minutes.
Now rinse a silicone mold with water, pour the mixture into the silicone mold and allow to set in the freezer for atleast 8 hours.
After 8 hours, you can place it in the fridge until serving.
Easy, vegan chocolate Pudding is ready to serve. Feel free to top with berries if you like.
Notes:
Note that the coconut milk and the Chickpeas should be warm while blitzing. Don't skip this step. If you cooked the Chickpeas earlier, no worries. Just warm them up in the microwave for a few seconds.
This dessert has to be kept in the refrigerator until ready to serve . At room temperature it melts.
Set the dessert in the freezer, and bring it to the fridge 2 hours before serving. You can also set them in tiny dessert cups.
Use good quality chocolate and Cocoa for best results.
The Chickpeas must be cooked soft.
Get yummy recipes delivered to your inbox!
Be the first one to know about our new recipes. Leave your email below and get notified as soon as new recipes are published!