Savory Muffins
Jump to recipe
These Muffins are so buttery and cheesy with a melt in the mouth texture. They taste almost like a Quiche and are very simple to make. You can add your favourite vegetables. They are a great option for snack time or good to go in children's snack boxes. They keep good up to a week in the refrigerator. I have used plain flour/ Maida here, but as I mentioned earlier that I'm partial to wheat flour, I will be trying these muffins with wheat flour soon and blog the result with the recipe.
Upating this recipe after almost 2 years. This time around, I have added vegetables to the batter, and also two different cheeses. This time, instead of using only refined flour, I have used a mix of Wheat flour, and refined flour. The result  was soft, spongy and delicious Savory Muffins with the goodness of veggies, and cheesy flavour. Best for on the go breakfast, pack it to munch at work. Kids will love this recipe, and such a nice way to sneak in those veggies.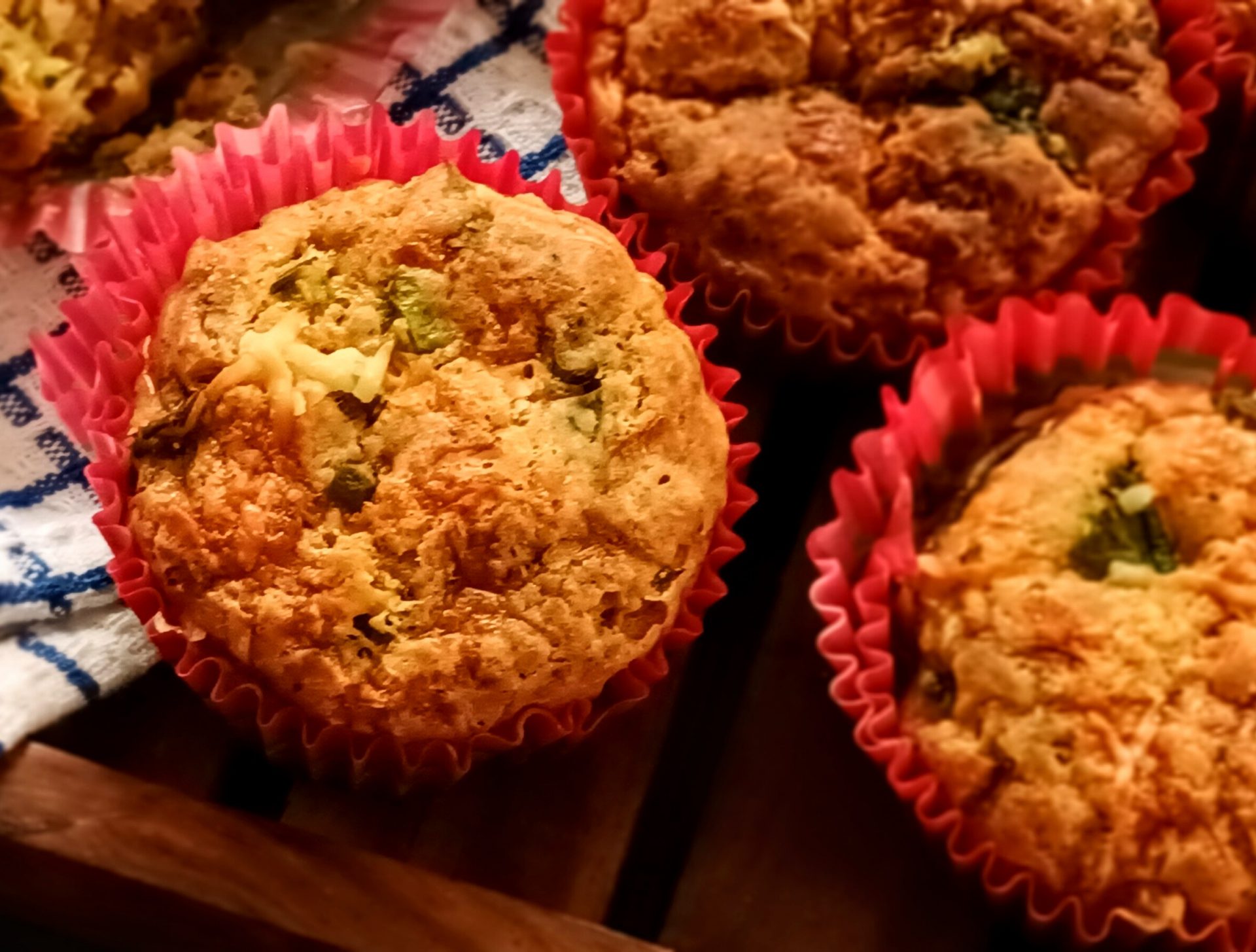 Ingredients
Ingredients
Plain flour 1 cup
Whole Wheat Flour 1 cup
Grated Zucchini 1/2 cup
Capsicum  finely choped 1/2 cup
Baking powder 1.5 tsp
baking soda 1/2 tsp
Cheddar cheese 1.5 cups or Crumbled Feta 1/2 cup + Grated Parmesan Cheese 1/2 cup
Egg 1
Curd/yogurt 1/4 cup
Milk 1 cup
Refined oil + Garlic Butter 1/4 cup
Garlic clove 3 crushed
Butter 2 Tbsp
Salt as per taste( remember the cheese has salt too)
Black pepper powder 1/2 tsp
Chilli flakes 1/2 tsp
Coriander leaves finely chopped or Parsley 1 Tbsp
In a microwave-safe dish put in the crushed garlic and butter and warm for 30 seconds. You can even put it in a small pan and melt over the stove. Grease the muffin cups with this mixture. Reserve the remaining garlic butter for later use.

Preheat oven at 180 degrees. Mix all the wet ingredients in a dish- milk, egg, curd/yogurt, oil. Combine well and make it a homogenous mixture.
Mix all dry ingredients in another dish- flour, baking powder, baking soda, salt, red chilli flakes, black pepper powder. Mix them well and add them to the wet mixture, little by little.
Mix nicely with light hands. Finally, add in the vegeyables, and cheese and gently fold it in. Scoop the mixture in a spoon and fill in the muffin cups. Top with some finely chopped capsicum, and grated cheese. Brush the muffin tops with butter garlic mixture.
Bake in a preheated oven at 180 degrees for 25 to 30 minutes. Check for doneness by inserting a toothpick in the center of the muffin. If it comes out clean remove the muffins and cool completely. If a little undercooked, bake for a few more minutes.
Crush the garlic, put in a microwave-safe bowl or a small pan. Add the butter to this and melt in microwave/ stove. With this butter garlic mixture brush the muffin tins and keep ready. Reserve some butter- garlic mixture for brushing the muffin tops. Preheat oven to 180 degrees while you make the muffin batter.
In a dish put in the milk, egg, curd, and oil, and mix well. Don't beat or whip it. Just stir well and make it a homogenous mixture. In another dish mix all the dry ingredients- the flour, baking powder, baking soda, salt, chilli flakes, black pepper powder and mix them all together well. Add these dry ingredients into the wet ingredients, little by little. Add the finely chopped coriander/parsley. Finally, mix in the veggies, and  cheese. Don't mix in the cheese vigorously, just fold it in with very light hands. Now in they go into the muffin tin (I have used silicone muffin cups). Top the Miffins with finely chopped Capsicum,  snd grated cheese. Brush the muffin tops with the butter- garlic mixture. Your oven should be hot by now. Place the muffin cups/tins in the oven and bake at 180 degrees for 25 to 30 minutes. Test for doneness by pricking with a toothpick in the center of the muffin. If it comes out clean, remove the muffins and allow to cool completely.
Notes:
Feel free to add vegetables of your choice to the muffin dough, I have not added any as I love the cheesy taste.
You can use Cheddar cheese which I used the first time when I baked these Muffins. When I baked them recently, I used a mix of Feta and Parmesan.
These muffins stay good up to a month in the refrigerator and are a healthy option for kids' lunch boxes. Just warm them up and they are good to pack.
Gallery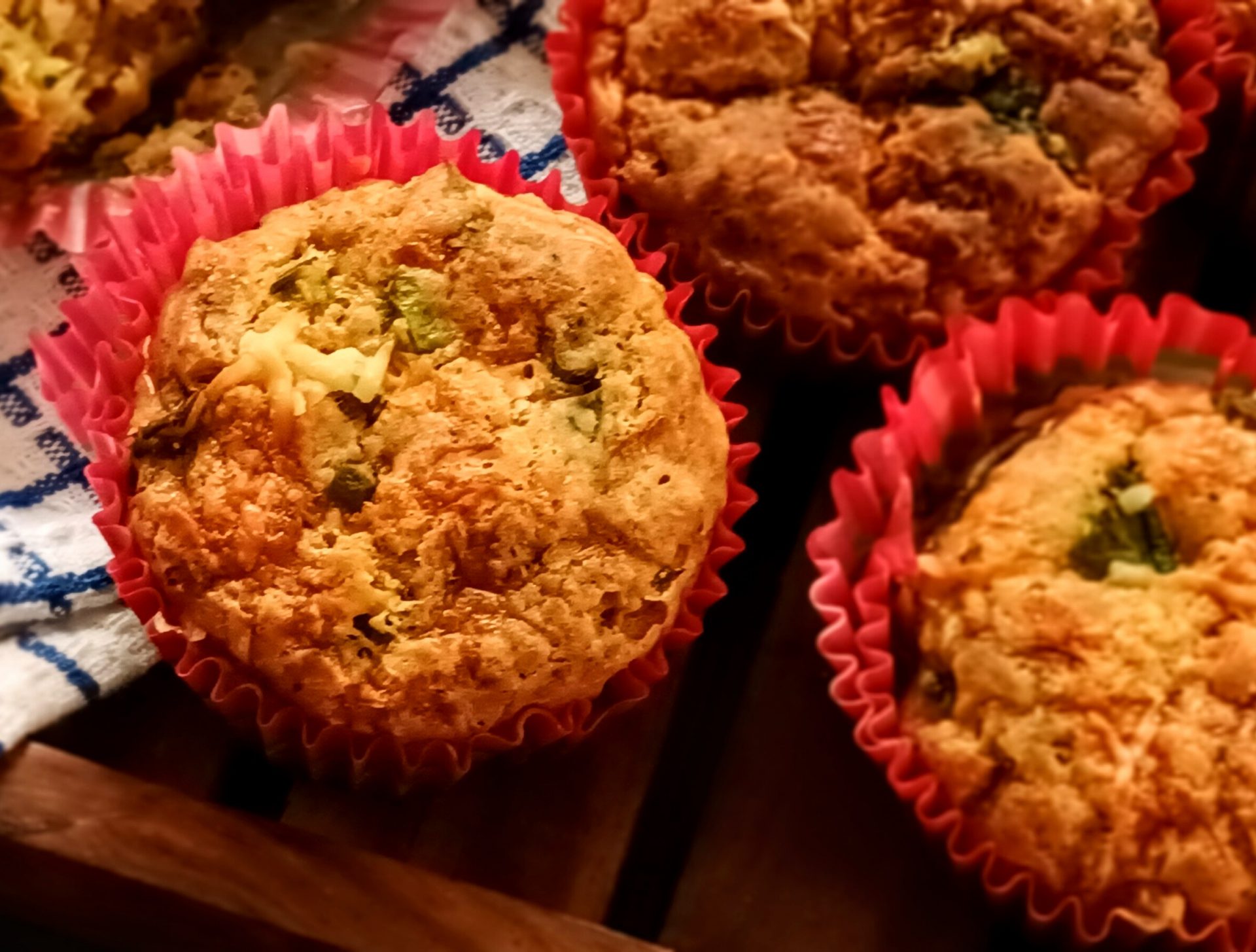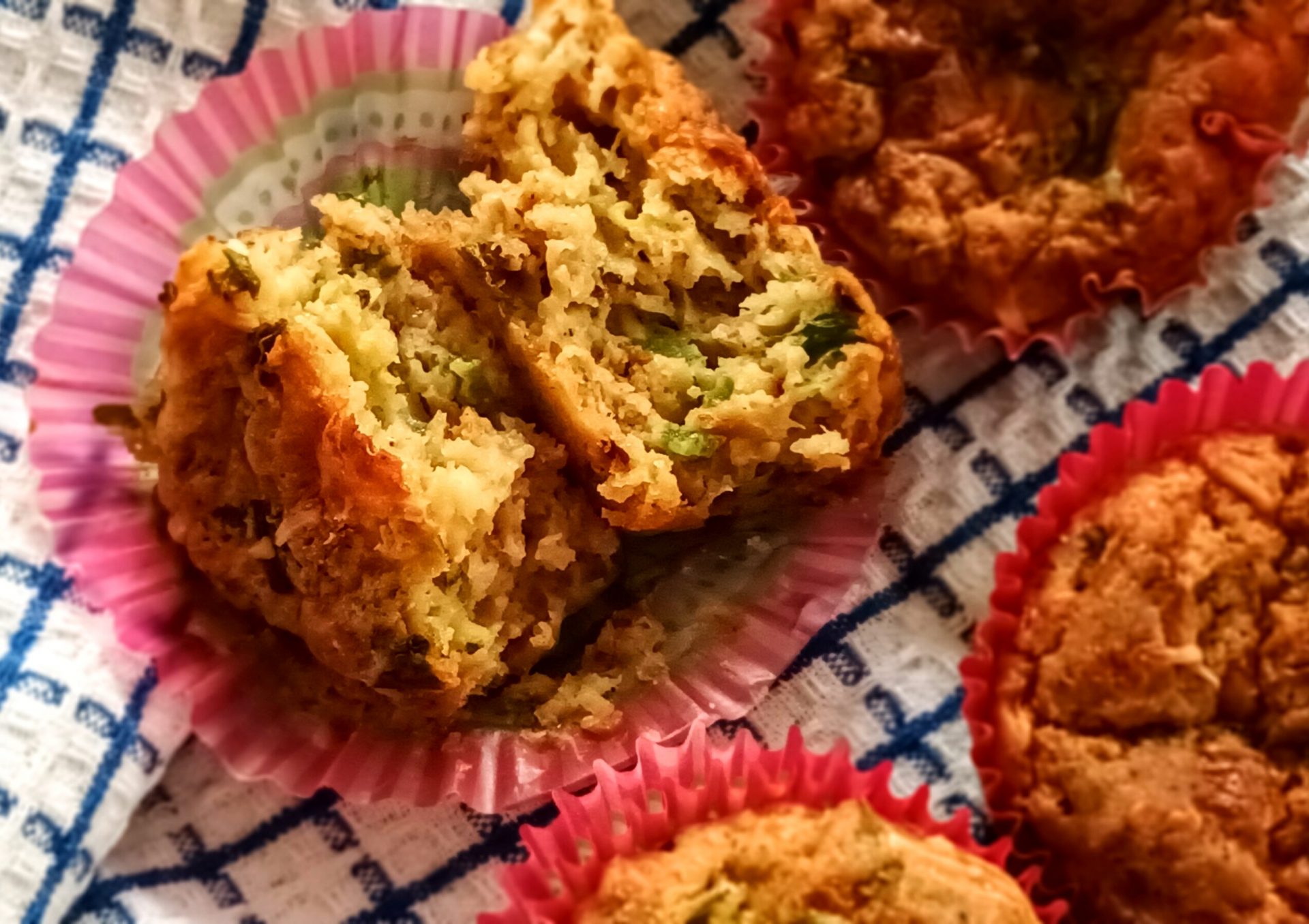 Get yummy recipes delivered to your inbox!
Be the first one to know about our new recipes. Leave your email below and get notified as soon as new recipes are published!