Bhindi Raita
Raita is a yoghurt-based condiment. It usually contains cooked or raw vegetables/fruits/pulses, mixed with the Yogurt/Dahi and tempered with Mustard and Jeera. The Raita is usually served with Biriyani, Pulav, Parathas, Naans or can be served as a dip for Kebabs too.
Today I chose to make Bhindi(Lady's Finger) Raita as an accompaniment for Masala Rice( recipe given in Rice section), as the crisply cooked Bhindi combines beautifully with the spiced curd and imparts a lovely texture and flavour to the Yoghurt. This Raita goes well with both North Indian and South Indian dishes.
Let's get to the recipe right away.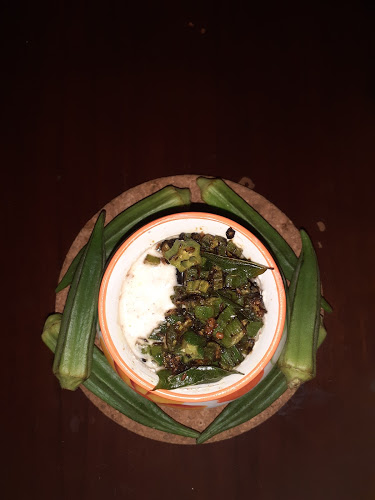 PREP TIME: 5 Mins                COOK TIME: 15 Mins
TOTAL TIME: 20                            COURSE:ACCOMPANIMET    CUISINE: NORTH /                                                          SOUTH INDIAN                                                   
                                            AUTHOR: RAJNI RAM 
Ingredients:
Curd /Yogurt 400 gm(fresh not sour)
Bhindi /Okra/Lady's Finger 6 to 8 big ones
Jeera /Cumin powder 1.5 tsp
Red chilli powder 1/2 tsp, for more spice, add 1 tsp
Salt as per taste( some will be added while cooking Bhindi too)
Mustard 1 tsp
Jeera / Cumin whole  1 tsp
Urad dal split 1 tsp
Dry red chilli 1 big broken to bits
Curry leaves few
Asafoetida powder/ Hing 1/2 tsp
Oil 2 tbsp
Directions:
Take 400 gm curd, smoothen it with a ladle, do not whip or churn it. Add the spice powders- red chilli powder, Jeera powder and salt to the curd. Mix gently and keep in the refrigerator to chill. Next, take 2 Tbsp oil in a Karahi/ Pan and heat. Add the tempering of Mustard, Jeera, Urad dal, dry Red chilli, Curry leaves and Hing ( asafoetida), fry to a golden colour and add in the Bhindi. On high flame saute by stirring continuously for 2 mins, add salt and continue to saute. Keep stirring from time to time until the Bhindi is cooked and turns crisp. Put off the stove and cool it. Once cooled it can now be added to the chilled spiced curd. Yummy Bhindi Raita is ready to serve.
STEPWISE RECIPE FOLLOWS:
1. Assemble all ingredients.
 2. Take 400 gm Curd and smoothen it out with a ladle, don't beat or whip it vigorously. To this add the spice mix of cumin powder, red chilli powder and add salt. Stir nicely and put it in the refrigerator to chill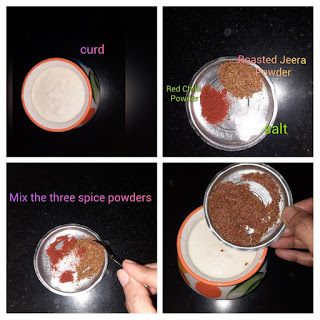 3.In a Karahi/ Pan heat 2 Tbsp oil and add in the tempering of mustard, jeera, hing, urad dal, dry red chilli and fry until golden in colour. Add in the Bhindi.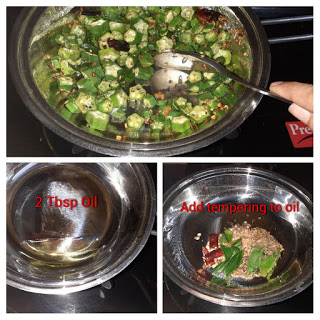 4. Fry the Bhindi on high flame for 2 mins, add salt and continue to saute. Keep at it until the Bhindi turns crisp(will shrink in size). Put off the stove and cool the Bhindi. Once cool the bhindi can be added to the chilled spiced curd.
5. Bhindi Raita is ready to serve. Serve it will Parathas, Biriyanis, Pulav's or serve with Masala Rice( recipe in Rice section). Enjoy!
Notes:
1. Ensure you cool the fried Bhindi before you add it to the spiced curd mixture. If it is hot the curd will thin down.
2. Always fry Bhindi on high heat and constant stirring or else it can turn slimy.
3. If in case the Bhindi does turn slimy, then add either Idli Podi( gunpowder that's used as an accompaniment for Idlis, Check recipes under Masala Powders) or Dal powder(check recipe under powders).
another tip is to cut Bhindi few hours prior and put it in the refrigerator for an hour or two. Remove it from the refrigerator and don't thaw, put it in the Karahi directly.
3. why am I giving so many instructions on cooking the Bhindi?, because a crunchy Bhindi makes a good Raita.
If you tried this recipe and liked it, comment below. Would love to hear from you.