Drumstick Rasam/Murungakkai Rasam
Rasam is a popular South Indian dish prepared with tamarind, tomatoes, and Rasam powder. There are many variations of this dish, and each South Indian household has its own recipe for the proportions of the ingredients of the rasam powder. Therefore though Rasam is almost a regular feature in all South Indian households its taste is unique to each. No two Rasam recipes taste the same. Rasam is also a sought after comfort food in South Indian households when one has a Cold(Common Cold) or is a little under the weather because it is made of simple ingredients that are easily digestible and pepper that helps in combating the cold. 
Earlier the Rasam was an everyday feature in most South Indian households along with Sambar or Vatha Kozhambu or Moru Kozhambu and a part of the Main course. Some households follow it to this day, but as the eating patterns of people has changed and is now more global the humble Rasam has taken a back seat or is made on a festival day where there is a feast(Elai Sapadu) or sometimes is also being served as a soup in elite gatherings.
Drumstick Rasam is a very flavourful Rasam, as Drumsticks by themselves have a wonderful fragrance and flavour.
Moringa is the latest buzz word everywhere. What with Moringa leaves powder trending the healthy list. Well, the Moringa tree and dishes cooked from its fruit, flowers and leaves have been in India for ages. We have used its fruit, the drumstick in Subjis, Sambar, dal, etc; the leaves too are very aromatic and used as an add-in in Dosas, chilas, and more. The flowers too when added while making ghee, give the ghee a nice flavour and make it aromatic. My grandmother always added a few flowers just before putting off the flame while making ghee and would remove the flowers later, while bottling the ghee. My mother makes a pickle of it too, which is just as wonderful.
There are many different types of Rasam Like the Pepper Rasam, Tomato Rasam, Lemon Rasam, Garlic Rasam, Neem Flower (Vepampoo) Rasam, Drumstick Rasam,
Pineapple Rasam
and the Vetrilai(Betel leaf) Rasam. I have already posted the recipe of pineapple Rasam and slowly over a period of time plan to cover all the Rasam varieties mentioned here. I have also given the recipe to a perfect Rasam Powder here. It yields an aromatic and flavourful Rasam.
Here is the recipe of Drumstick/Murungakkai Rasam for you-
PREP TIME: 10 Mins                                         COOK TIME: 20 Mins
TOTAL TIME: 30 Mins                                        COURSE:  MAIN / APPETISER
CUISINE: SOUTH INDIAN                                 SERVINGS: 4
Ingredients:
Drumsticks 3 big fleshy ones chopped to 3-inch pieces (refer note 1)
Tomatoes 2  large (note 3)
Tuvar dal/ Yellow lentils 1/4 cup cooked in a pressure cooker
Rasam powder 3 tsp
Lemon 1
Coriander leaves finely chopped
Asafoetida 1 tsp (split 1/2 while boiling and 1/2 for tempering)
Turmeric powder 1 tsp
Salt as per taste
Roasted Pepper & Cumin powder 1 tsp( dry roast in the ratio 2:1 and grind coarse)
Put the dal in a vessel and cook it in the pressure cooker. I used pot in pot method, you can use whichever is convenient. The dal should have cooked well. Now cut the Drumsticks, put them in a vessel and boil. Cook until the flesh inside turns tender(approx 10 minutes). Reserve the water in which the drumsticks cooked. Cool the cooked drumsticks and scrape out the fleshy part with a spoon(refer picture). Don't discard the seeds unless they are very hard. Keep aside. Now grind 2 tomatoes to a puree and pour it in a 1-litre vessel. Add 2 cups water, followed by 3 tsp Rasam Powder, adequate salt, turmeric powder and asafoetida and bring to a boil. Continue to boil until the rawness of the powders is gone. Now mash the cooked dal nicely and pour it into the boiling mixture along with any water the dal may have retained. Cook for two minutes and now its time to add the water reserved after cooking the drumsticks. After pouring the drumstick broth if you find the Rasam(soupy), dilute by adding 1 to 1.5 cups of hot water and continue to boil the Rasam for another 2 minutes, now add the drumstick scrappings(seeds and all) and continue to boil until the Rasam froths up and rises in the vessel and comes to the brim. Switch off the flame and squeeze a lemon into it. Now take 2 tsp ghee in a small tempering Kadai and heat. Add mustard seeds, as they crackle add the Asafoetida powder, roasted pepper-cumin powder and put off the stove. Now add the curry leaves to the ghee, and pour the tempering into the Rasam. Garnish with finely chopped coriander leaves. The healthy, flavourful and fragrant Drumstick rasam is ready. Enjoy and Bon Appetit.
Serving suggestions: Just as a soup, with hot rice and ghee, with Oats porridge(try this it tastes yummy). 
Sometimes I also pour it on my chapatis while hot.????
STEPWISE RECIPE FOLLOWS:
1. Assemble all ingredients. Cook the dal and keep ready. Cut the Drumsticks into 3-inch pieces and cook them in water with a little salt. Cool them scrape out the flesh with a spoon and reserve the water in which they cooked.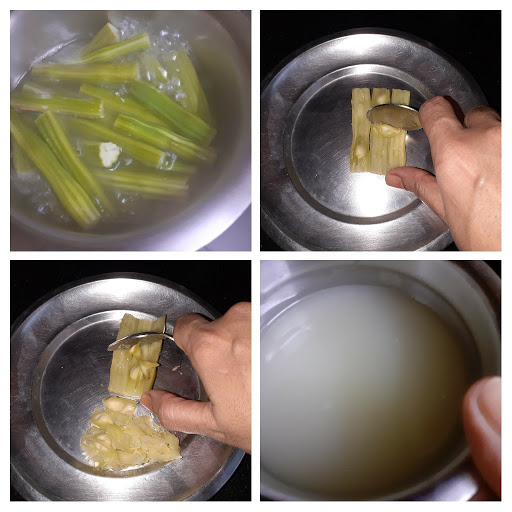 2. Pour the puree of 2 tomatoes into a 1-litre vessel and add 2 cups water, followed by 3 tsp Rasam powder, adequate salt, turmeric powder, asafoetida and bring to a boil.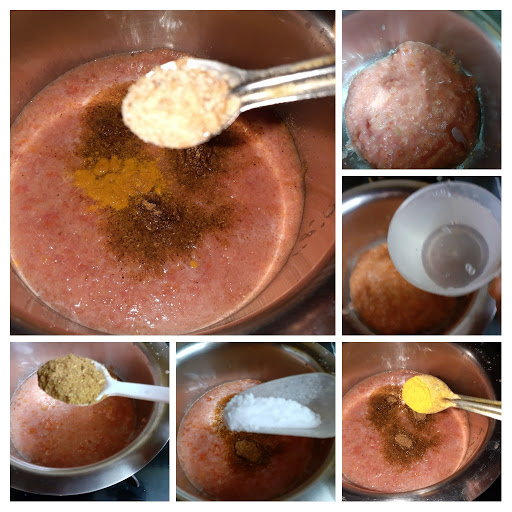 3. Now add the cooked and mashed dal along with the water to the boiling mixture and continue to cook until the rawness of the powders is gone(approx. 5minutes).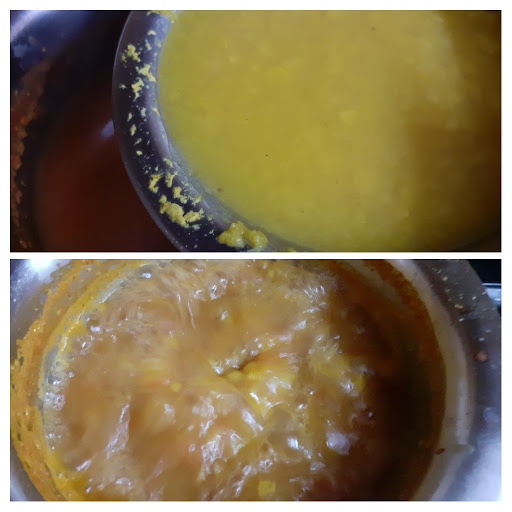 4. Now add the Drumstick broth(water in which the drumsticks cooked) to the mixture and if the consistency is too dense add 1 to 1.5 cups of hot water and bring to a boil.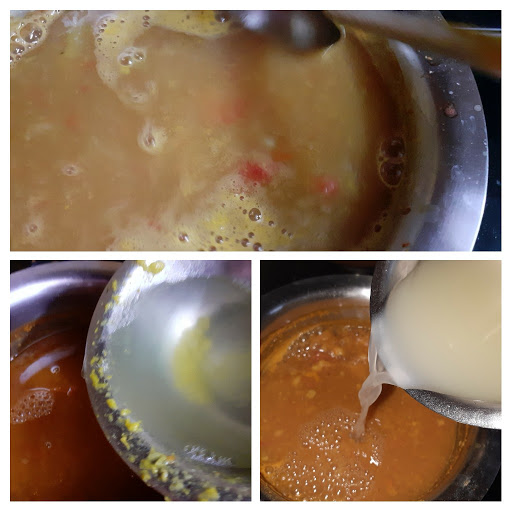 5. Now add the drumstick scrapings to the boiling rasam and continue to boil until the rasam froths up and rises to the brim. Put off the flame and squeeze a lemon into it, or add 3 tsp lemon juice to it.
6. In a tempering Kadai heat 2 tsp of ghee. when it heats up, put the mustard seeds into it, as they crackle add the asafoetida and the roasted cumin-pepper powder. Put off the flame and then add the curry leaves. Drop this tempering into the Rasam and serve hot with hot rice and ghee or follow any of the serving suggestions given above.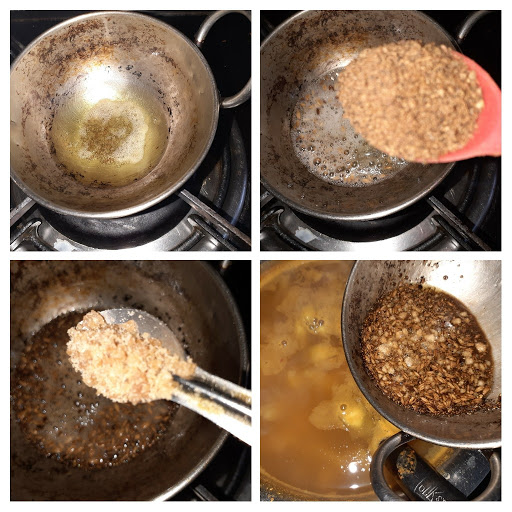 NOTES:
1. Picking the Drumsticks well is critical, pick thick but tender ones. After cooking the seeds also can be used, don't discard them as they have the most flavour.
2. I have used the Country variety of tomatoes(Naatu Thakkali) instead of the Hybrid ones as they give the rasam some tang when not using tamarind.
3. If you serve Rasam with something unusual do let us, know..we love learning and trying new combinations.
If you tried this recipe and liked it please comment below. I would love to hear from you. If you have a query about the recipe email us and ill respond as soon as I can.
If you would like to receive our recipes on your mail please leave your mail id at the homepage. Every time Rajjo's Kitchen has a new post we will mail the recipe to you.