Karuvepilai Podi/Curry Leaves Powder (For Rice)
Karuvepilai or curry leaf plant is an aromatic plant the leaves of which are used in seasoning dishes. Most south Indian dishes have Curry leaves as their common tempering element. Apart from imparting their aroma to a dish they also add a huge amount of flavour. These leaves have many medicinal properties like- high calcium content, rich in Iron, aids in digestion, improves vision, rich in Vitamin A, and many more such benefits. 
In our house, we make this powder with fresh curry leaves and other spices that can be mixed with hot rice and ghee, or it can be added to rice tempered with peanuts and spices and made into Karuvepilai Sadam or Curry leaves rice. 
Karuvepilai powder can be stored in an airtight container for 3 months and more. 
While you are here please check out my other spice powder and sauce recipes like Sambar Powder, Rasam Powder, Sechzwan sauce, Pesto sauce and more…
Here is the recipe of Karuvepilai powder for you-
PREP TIME: 5Mins                        COOK TIME: 15Mins
TOTAL TIME: 20 Mins             COURSE: PODI/SPICE POWDER
CUISINE: SOUTH 
INDIAN           QUANTITY: 100 GM APPROX
AUTHOR: Rajni Ram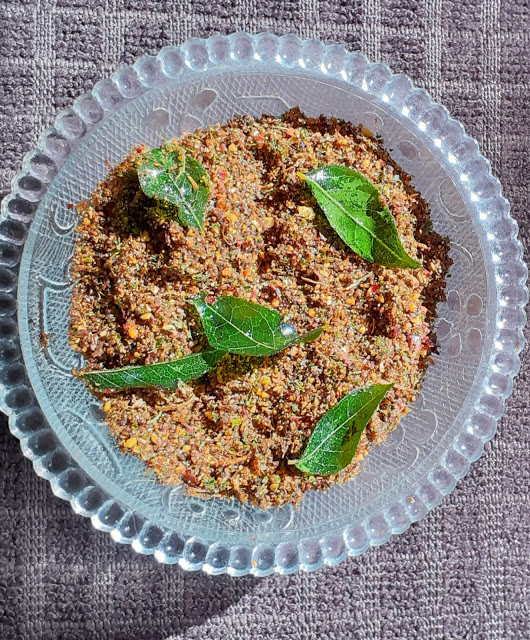 Ingredients:
Curry leaves 2 cups(stalks removed) washed and pat dried
Coriander seeds/Dhania 2 tbsp
Chana dal/ Gram 1 tbsp
Urad dal 1/2 tbsp
Jeera/ Cumin seeds 1 tsp
Dry red chillies 5 big ones
Tamarind lemon sized ball
Salt to taste.
Asafoetida 1 tsp
Oil for frying spices 1 tbsp
Directions:
In a Kadai heat the oil and add the chana dal and urad dal and fry until they turn golden brown. Now add the coriander seeds and Cumin and continue to fry. When the coriander turns aromatic add the dry red chillies and continue to fry. Now add the tamarind followed by asafoetida and fry until the tamarind turn a little crisp, about 30 seconds. Finally, add the washed and pat dried curry leaves and saute for about a minute. Switch off the flame and cool all the roasted ingredients. On cooling, transfer them to the dry mixer jar and grind to a fine powder. Add salt and give another spin the mixture. The Karuvepilai powder is ready for storing. Enjoy with hot rice and ghee. One ball of rice with this powder helps maintain iron levels, good for hair growth and has many more benefits.
STEPWISE RECIPE FOLLOWS:
1. Assemble all ingredients.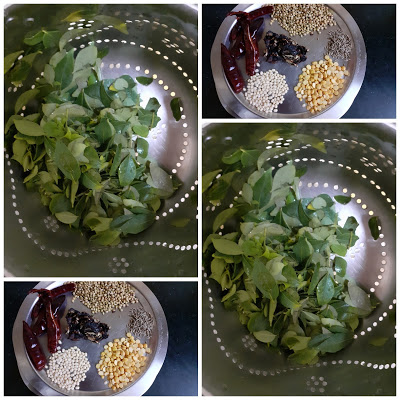 2. Heat oil in a Kadai and add the urad dal and chana dal and fry until they turn light brown.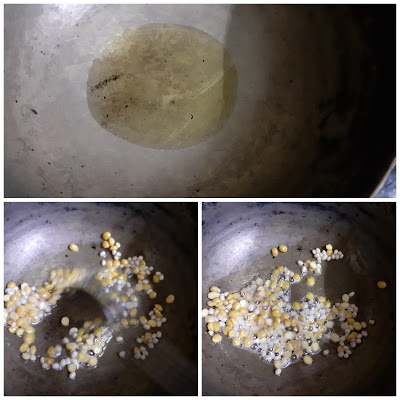 3. Add the coriander seeds and cumin seeds and continue to fry until the coriander seeds turn aromatic.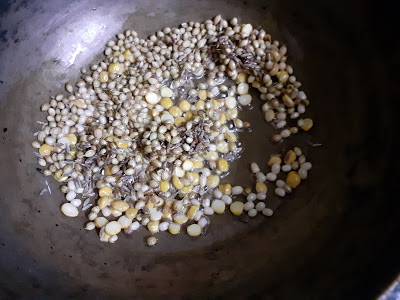 4. Now add the dry red chillies, tamarind, followed by the asafoetida and continue frying until the tamarind turns a little crisp.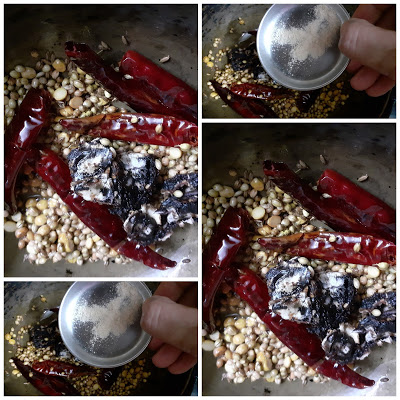 5. Now add the washed and dried curry leaves and saute for a few minutes and put off the stove. Cool the roasted ingredients.
6. Put all of them in a dry grinder jar and grind to a fine powder. Add salt as required and the Kruvepilai powder is ready to store.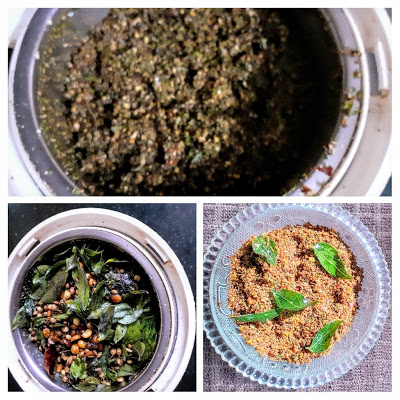 NOTES:
1. The curry leaves must be separated from the stalks, washed and pat dried.
2. Salt can be added while grinding or after grinding.
3. Store ina dry container.
4. More dry red chillies can be added for more spiciness.
Karuvepilai Rice made from the Karuvepilai Podi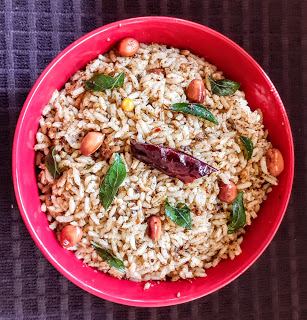 To make Karuvepilai Rice- In a Kadai heat oil. When hot add peanuts and fry until light brown. Now add mustard seeds 1 tsp, chana dal 1 tsp, Urad dal 1 tsp, followed by broken dry red chillies and aasafoetida.  Fry until the dals turn light brown. Add Cooked rice made from 1 cup rice, followed by 2 to 3 tbsp of Karuvepilai Podi. Check and adjust salt. The yummy and healthy Karuvepilai Rice is ready. Enjoy. Bon Appetit.
If you tried this recipe and liked it please comment below. We would love to hear from you.
Want our recipes on your mail box? Leave your mail id in the homepage and we shall mail them to you.