Coconut Tomato Chutney
This chutney is very easy to make. I have added Tomato for the freshness and tang and so you don't have to add either tamarind or lemon as in the regular coconut chutney. Goes really well with Idli, Dosa, Pongal, Paniyaram etc.
Let's get to the recipe right away.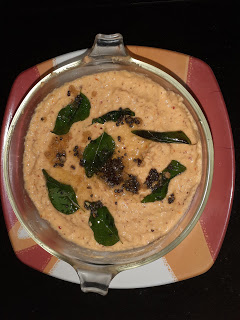 PREP TIME: 10 Mins                             COOK TIME: 5 Mins
TOTAL TIME: 15 Mins                            COURSE:  MAIN
CUISINE: SOUTH INDIAN                     SERVINGS: 4
Ingredients:
Coconut 1 cup
Fried chana dal/ chutney chana/Pottu kadalai 1 tbsp
Green chillie 2
Red chilli 2
Tomato 1 large
Oil for tempering
Mustard sees 1/2 tsp
Curry leaves a few
Asafoetida 1/4 tsp
Directions:
In a blender put in the fresh coconut, fried chana dal, green chillies and dry grind to a coarse paste. Add some salt as per taste and add in the chopped tomatoes and now grind to a fine paste. Add in some water to adjust consistency and give it a nice spin in the blender. The Coconut tomato chutney is ready to be served with Idli, Dosas, Pongal, etc. Enjoy. Bon Appetit.
STEPWISE RECIPE FOLLOWS:
1. Assemble all ingredients.
2. In a blender put in the coconut and grind coarse. Add the fried chana, green chillies and red chillies and grind without water.
3. Add the chopped tomato and salt and to grind smooth. Add little water to adjust consistency, add salt and give a single spin in the blender.
4. Take 2 tsp oil in small tempering Kadai and add in the mustard seeds, after they splutter add the asafoetida, and curry leaves. Pour the tempering into the chutney.
NOTES:
1. Since we have added tomato there is no need to add any other form of sour ingredients like tamarind or lemon.
2. First, dry grind all ingredients and then only add in the chopped tomato, otherwise, they won't get ground evenly.
We would love to hear what you think of this recipe. Let us know in the comments.