Potato Cheddar Bake
This is a very simple recipe and a great finger food/ starter option at get-togethers. Most of the prep can be done ahead and the baking can be done half an hour before serving. This dish can also be a tea time snack and the kids will love it. To make it healthy I have used roasted oats to coat the potatoes instead of cornflour. The baking can be easily replaced by the grilling method( on a girdle /tava).
 The cheddar cheese used in this recipe gives it a sharp taste and a crisp texture, the coriander and oregano give it a herby flavour.   The Cheddar cheese can be easily replaced by Parmesan Cheese, and it also tastes just as good.  I usually don't use a baking/parchment paper for this recipe and directly bake it on the baking tray, but this time I thought why not put it on a baking sheet, which turned put to be a wrong choice as I had to wait for 10 minutes to remove the potatoes from the sheet, so please don't repeat the same. Just grease the baking tray and follow the recipe without the baking sheet.
While you are here please have a look at my other snack recipes like Semolina Cheese Balls, Kothimbir Vadi, Moong dal Kachoris, Baked Wheatflour Papdis, and more…
Here is the recipe for Potato Cheddar Bake for you-
      PREP TIME: 20 Mins                                          COOK TIME: 20 Mins
     TOTAL TIME:40Mins                                           COURSE:  DESSERT
     CUISINE:  WORLD FOOD
                                  SERVINGS: 6
     AUTHOR: Rajni Ram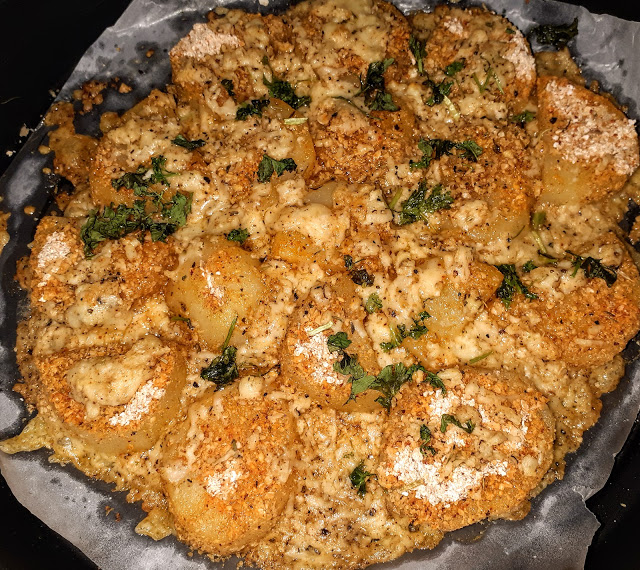 Potatoes small size( baby potatoes can also be used) 5 
Cheddar cheese/Parmesan Cheese 200 gm grated
Oats (instant) roasted 1 cup
Red chilli powder 1.5 tsp
Black pepper powder 1/2 tsp
Peri-Peri powder 1/2 tsp(use more if you prefer)
Coriander leaves finely chopped
Method: Wash and peel the p[otatoes and slice them as shown in the picture. Heat water ina kettle/saucepan and pour the boiling water over the sliced potatoes and cover it and leave it for half an hour. After half an hour drain the water. Prick a fork into the potato, it should pierce with a little resistance. The potatoes should not overcook. Now dry roast the Oats in a pan until crisp ( approx 3 to 4 mins on low heat). Cool it. Put it ina grinder and powder it fine. To the oats powder add salt, red chilli powder and oregano and set aside. To the grated cheese add the pepper powder, salt and Peri Peri powder and mix nicely. Grease a baking tray( don't use a baking sheet as seen in the picture, read intro) with oil, spread a thin sheet of cheese mixture on the tray. Now take a slice of the potato, cover it with the oats powder nicely, such that both sides are coated well and arrange on the baking tray on top of the cheese layer. Repeat for half the amount of potato slices, and keep arranging them on the baking tray next to each other. Now sprinkle the cheese mixture over the potatoes, sprinkle oregano powder, top with some finely chopped coriander and put the tray in the oven. Bake at 200C for 20 minutes. The cheese should have melted and formed a crunchy layer over the potatoes. The cheese and crunchy Potato Cheddar Bake is ready to serve. Enjoy. Bon Appetit.
1. Assemble all ingredients. Peel and slice potatoes. Grate the cheese. Roast and powder the oats.
2. Pour boiling water over the sliced potatoes and let it stand covered for half an hour. Drain the water and prick a potato slice with a fork to check doneness. It fork should pierce it with little resistance. The potato should not be overcooked or mushy.
3. Now powder the roasted oats and add salt, chilli powder and oregano to it and set aside.
4. Take the grated cheese and add pepper powder, Peri-Peri powder(or red chilli powder) and a pinch of salt and mix well.
5. Now grease a baking tray with oil and spread the cheese mixture as a thin film on it. Now roll each potato slice in the roasted and spiced oats powder, such that both sides are well coated and arrange on the baking tray over the cheese mixture. This has to be done in two batches, as potatoes should not be overlapped for more than two layers.
6. Repeat for all potato slices and arrange them next to one another in the tray. Cover with more cheese mixture, sprinkle oregano powder over it, garnish with finely chopped coriander and pop it in the oven. Bake at 200 C for 20 minutes.
The Cheese should have melted and formed a crisp crust over the potatoes. The cheesy and delicious potato cheddar bake is ready.
1. As said in the introduction don't use a baking paper as it takes time to remove the potatoes off the tray.
2. Parmesan cheese can also be used instead of Cheddar or a half and half mix of both can be done.
3. If Peri-Peri powder is not available use regular red chilli powder or Cumin pepper powder that we use for Rasam ????.
4. The preparation of this dish can be done ahead, like blanching the potatoes, making the oat powder mix, making the cheese mixture etc and the baking can be done closer to serving time.
If you tried this recipe and liked it please comment below. I would love to hear from you. If you have a query about the recipe email us and ill respond as soon as I can.
If you would like to receive our recipes on your mail please leave your mail id at the homepage. Every time Rajjo's Kitchen has a new post we will mail the recipe to you.