Ragi Cheela/ Finger Millet Crepes
Eggless Ragi Chocolate Pancakes
Apple Cinnamon Oatmeal Porridge
Banana Pan Cake 2 Ways
Pesarattu/MLA Pesarattu/Moong Dal Chila
This recipe of soaked Moong beans and rice is one of my favourites as it is healthy and tasty at the same time. Simple recipe, just soak grind with ginger and spices and spread on the Tava like a Dosa/Adai and serve with Allam(ginger)chutney or any chutney. Yes, it is that simple. No fermentation.
What makes it special is the way it is served, and that's why in Hyderabad(AP) it is called MLA Pesarattu. Here the Pesarattu is stuffed with Rava Upma and served with Allum Chutney(Ginger Chutney). This whole recipe and serving have a very special place in my heart as it brings back memories of childhood because this is how we have always had the Pesarattu whether at home or from a Tiffin centre. This tiffin centre concept is also very specific to AP. Every locality has quite a few such centres that dole out the best breakfast dishes. They open up for business at about 7 am in the morning and finish by 10 am. These centres are mostly take away places. At night they open up at about 7 Pm to serve simple homemade Subjis and Rotis.   
Here I have given the recipe of Pesarattu and the chutney in detail. The Rava Upma is the usual one that we all make at home so have given only a brief explanation. Let's get to the recipe, but while you are here please have a look at my other breakfast/tiffin recipes like Kuthiraivali/Barnyard Millet Pongal, Adai, Rava Dosa, Moru Aval/Dahi Pohe and more…
Here is the recipe of Pesarettu, Upma and Allum(Ginger)Chutney. This is really a mega post. This is a post of 3 recipes, which can be made separately also as individual dishes.
PREP TIME: 20 Mins+Soak                               COOK TIME: 40Mins
TOTAL TIME: 60 Mins                                        COURSE:  BREAKFAST
CUISINE: SOUTH INDIAN                                 SERVINGS: 5
                                                                            AUTHOR: Rajni Ram
Ingredients for Pesarettu :
Green Whole Moong 400gm(soaked 4 hrs)
Raw Rice 100g or 1/2 cup(soaked 4 hrs)
Green chillies 2 or 3 as per taste
Directions to make Pesarettu batter:
Soak the Moong beans and the raw rice together for 4 hours. Drain all the water, put them in a blender, along with 1-inch piece ginger, green chillies and Jeera and grind to a smooth batter using water as required. The batter should be of Dosa/Pancake consistency.
Heat a girdle/tava and grease with little oil. Now pour 2 medium-sized ladles of batter in the centre of the Tava and spread it like a Dosa. It shouldn't be as thin as a Dosa nor as thick as a Pancake. Cook on one side until crisp.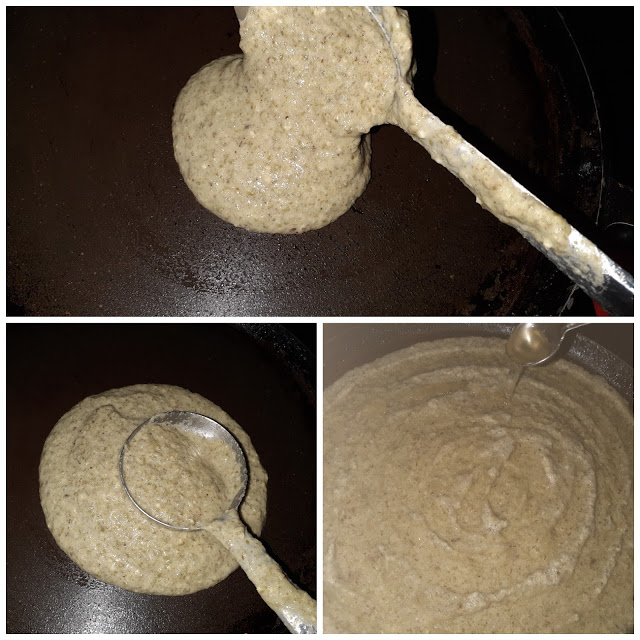 Onion filling for Pesarettu:
Onions 2 large finely chopped
Green chillies 2 finely chopped
Directions for Onion filling:
In a pan pour 1 tbsp oil and heat. Add the cumin and as they splutter add the green chillies and chopped onions and saute. Saute until the onions turn translucent. Keep aside.  
Rava/Sooji(Semolina) 1 cup  ( 1 cup =200 gm)
Ginger small piece finely chopped
Green chillies 2 finely chopped
In a Kadai take 2 tbsp oil and heat. Put the mustard seeds and as they crackle, add the Urad dal, Chana dal and fry until light golden brown. Now add the ginger, green chillies and curry leaves and fry for 30 seconds. Now pour 3 cups water into the tempering( reduce flame before adding water, as the oil will splutter) add required salt and bring to a boil. When the water starts boiling, add the Rava/Suji a little at a time to the water and keep stirring simultaneously. The Rava will absorb all the water and the Upma will thicken in consistency. Put off the flame and add 1 tbsp ghee over it. The Upma is ready.
Ingredients for Allum(ginger chutney)
Ginger 100 gms chopped ( tender ones preferably)
Fried gram dal/chutney chana 1 tbsp
Tamarind a little small than gooseberry size
Directions for making Allum Chutney:
In a Mixer jar put all ingredients except jaggery, oil, mustard seeds, curry leaves, salt and asafoetida, and grind them without adding any water, to a coarse paste. Now add about 1/4 cup( or less) water and grind it to a smooth paste. Add the jaggery and give it a final spin in the mixer. The chutney should not be runny. I added tamarind paste almost atvtye end, as I forgot it before. Temprring is optional. The yummy and spicy Allum Chutney is ready.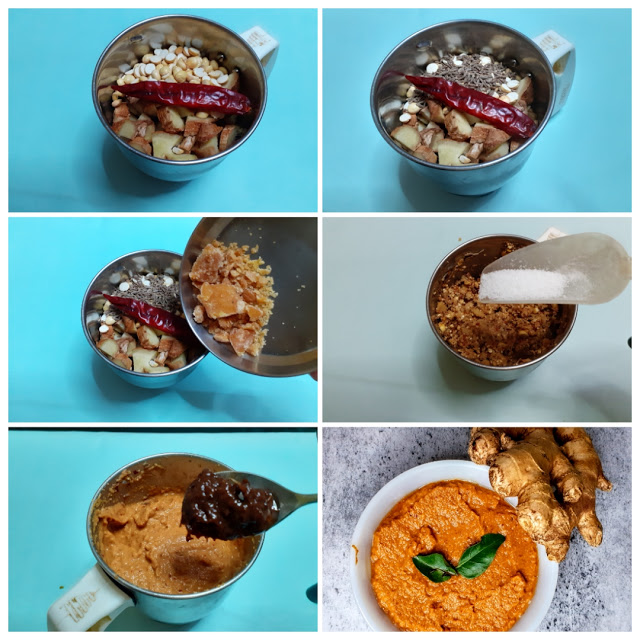 Assembling the MLA Pesarettu:
Once the batter is spread on the Tava, drizzle a little oil and let it cook on one side until crisp. The upper side will get cooked from the heat from below. Check for any rawness in the batter, if still raw on top, wait a few seconds and then spread the Onion filling on the Pesarett. Top this up with a scoop or two of Upma on one half of the Pesarett and cover/close with the other half(like exactly how it is done in Masala Dosa). The Pesarettu is ready. Serve it hot with Allum(ginger) chutney and enjoy this delicious and healthy dish. The video for assembling the MLA Pesarettu is here????.
1. Pictures of Upma have not been inserted. You can make a plain Rava Upma or add little onion and make onion Rava Upma. Adding vegetables to the Upma will make the dish very heavy.
2. All these dishes can be made as individual recipes too.
3. The chillies in the Allum Chutney can be reduced as per requirement. The jaggery can also be increased if required.
4. The Pesarettu can be served just with the chutney, minus the Upma.
5. Idli powder/gunpowder also goes well with this dish.
If you tried this recipe and liked it please comment below. I would love to hear from you. If you have a query about the recipe email us and ill respond as soon as I can.
If you would like to receive our recipes on your mail please leave your mail id at the homepage. Every time Rajjo's Kitchen has a new post we will mail the recipe to you.