Apple Cake (Tea Cake)
Until recently I did not know that such delicious cakes could be made using Apples. I mostly stuck to making the Apple Crumble. I came across this recipe some time ago, and as you know I have to try it thrice without errors for it to feature on the blog. So here is the recipe that is foolproof, also no whisking, just mixing, so mess at all.
This cake has a very delicate flavour and is a crumbly cake, it is very light and a great tea time cake. What more, it is healthy and kids will love it( you could just drizzle chocolate sauce or Nutella over it for them). It tastes best when warm and keeps good for 2 days at room temperature. Just warm before you serve and it is fresh again.
The apple slices that you see in the picture make it look sophisticated, but it is not such a difficult cake to make. The apple slices on top can be excluded altogether, as the cake batter has them already, but I like them with a lot of apples and the glaze and hence I make it this way.
While you are here please check out my other cake recipes like                     Blueberry Cheesecake, Nutella Fudge brownies, Apple Crumble and Pineapple Jam Tart. 
Here is the recipe of Apple Cake for you-
      PREP TIME: 20 Mins                                          COOK TIME: 40 Mins
     TOTAL TIME:60Mins                                           COURSE:  DESSERT
     CUISINE:  WORLD FOOD
                                  SERVINGS: 6
     AUTHOR: Rajni Ram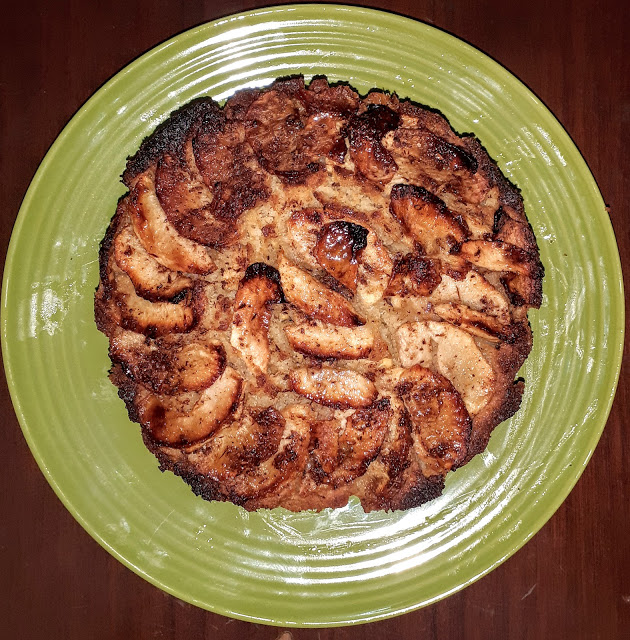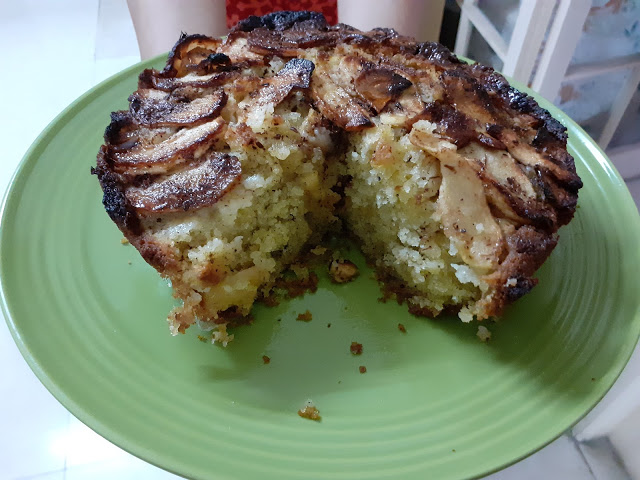 Ingredients for coating apples:
Apples 3 large( any variety) cut half to cubes and half of them in slices.
Cinnamon powder 3 tsp( divided)
Butter 3 tbsp ( divided) 
Sugar 2 tbsp (divided)
Dry Ingredients:
Flour/ Maida 1.5 cups 
Baking powder 2 tsp
Salt 1/2 tsp
Wet Ingredients:
Butter 60 gm melted
Oil ( refined) 1/2 cup
Eggs 2
Sugar ( white) 3/4 cup
Vanilla essence 1 tsp
Glaze:
Honey 2 tbsp.
Directions: 
First, peel the apples and chop 1 1/2 apples to small cubes and another 1 1/2 to slices. Pug them in two separate bowls.
Divide and add the cinnamon powder, butter, and sugar between both the bowls equally and mix. Set aside.
Preheat the oven to 200 c and start preparing the cake batter.
Put all the dry ingredients in one bowl and mix well.
In another bowl combine all wet ingredients( refer to ingredients above)Now add the wet ingredients to the dry ingredients and combine nicely using a spatula. No electric beater required. Once nicely combined, mix in the apples chopped to cubes to the batter and mix gently.
Grease a baking tray and line it with parchment paper/ baking paper. Pour the batter into the tray, tap it once gently and place it in the oven. Bake at 200 C for 50 minutes or until a toothpick comes out clean. Once done remove from oven and leave to cool down a bit. Cut when still warm and serve. The delicious Apple cake is ready to serve.
STEPWISE RECIPE FOLLOWS:
1. Assemble all ingredients.  Chop 1 half of the Apples to cubes and the other half to slices. Put them in 2 separate bowls.
2. Divide and add the butter, cinnamon powder, and sugar in both bowls, mix nicely and set aside.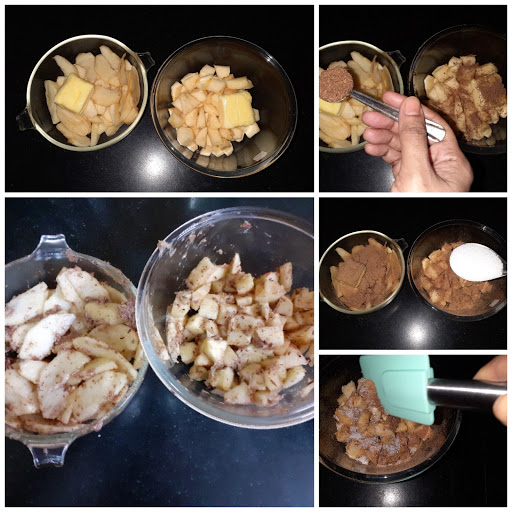 3. Preheat oven to 200 C. Now put all dry ingredients in a separate bowl and mix.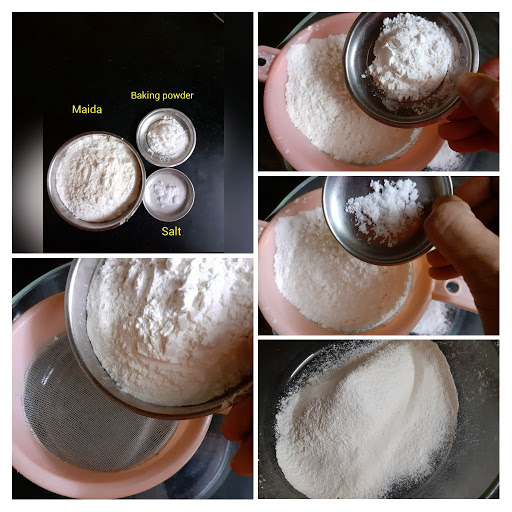 4. Take all wet ingredients in another bowl and combine well. Now mix the wet ingredients to the dry ingredients and combine well.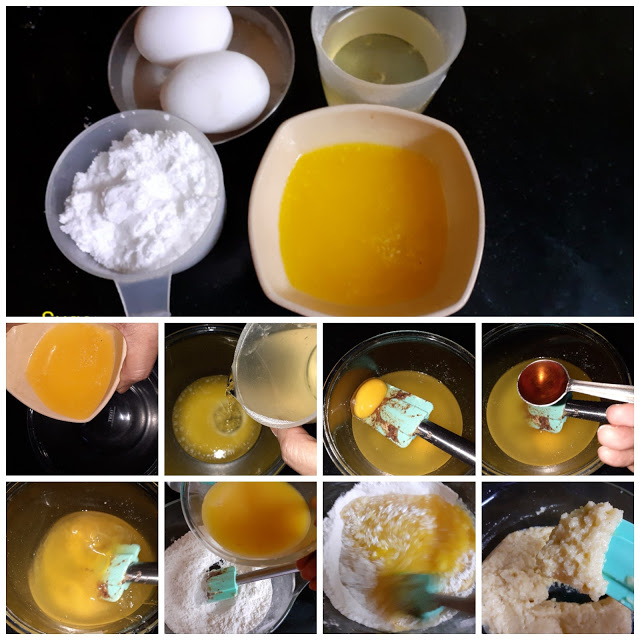 5. Now add the cubed apples to the batter and fold gently. Grease a circular cake mould and line with parchment/baking paper. Now scoop in the batter into the mould.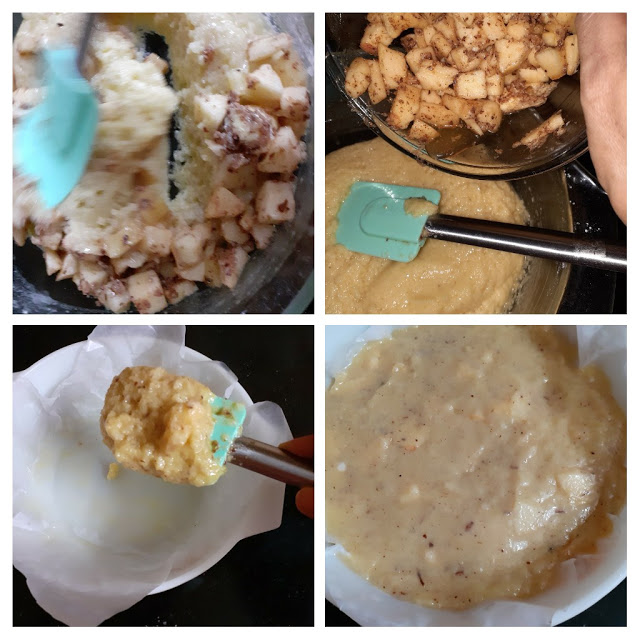 6. Take the sliced apples and arrange them like a fan on the batter. Now it is ready to be popped into the oven. Bake at 200C for 50 minutes or until a skewer comes out clean.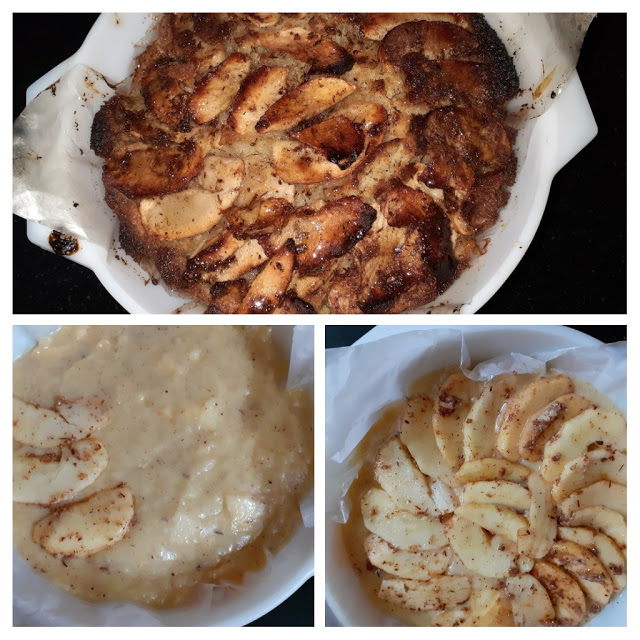 Allow it to cool for 5 minutes and apply the honey over it with a brush and cool it. The honey gives the apples a beautiful glaze. Serve them a little warm.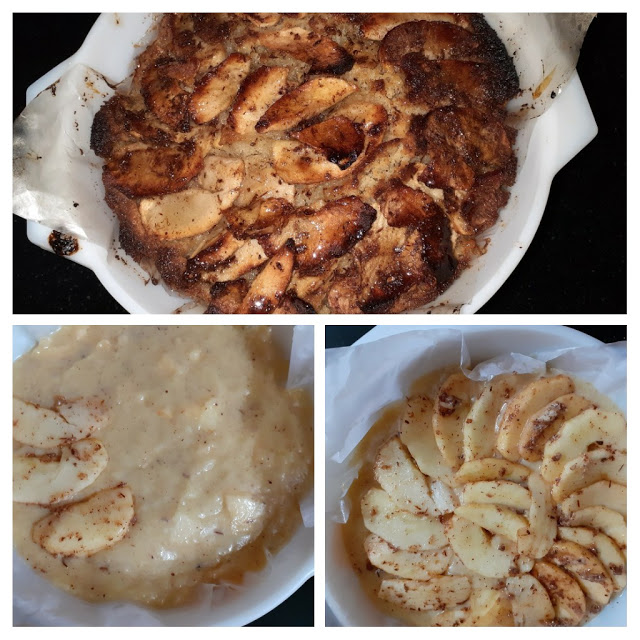 NOTES:
1. Any variety of apples can be used for this recipe.
2. This cake has a crumbly texture, you will know if you look at the picture. It is super moist.
3. It holds good for 3 days at room temperature, for long storage put it in the fridge and warm just before serving.
4. It is also a good snack box idea for kids as it can be made ahead, just remove from the refrigerator, warm it and allow it to sweat, then pack.
5. This cake can be made without the sliced apples on top too. Just mix the chopped apple and scoop mixture into the baking tin/ tray and bake. 
If you tried this recipe and liked it please comment below. I would love to hear from you. If you have a query about the recipe email us and ill respond as soon as I can.
If you would like to receive our recipes on your mail please leave your mail id at the homepage. Every time Rajjo's Kitchen has a new post we will mail the recipe to you.